I'm on the fence with this one, so I'd love to know your thoughts. Called the "Triby" it's a Bluetooth speaker, Bluetooth speakerphone, notification system, internet radio and communication system.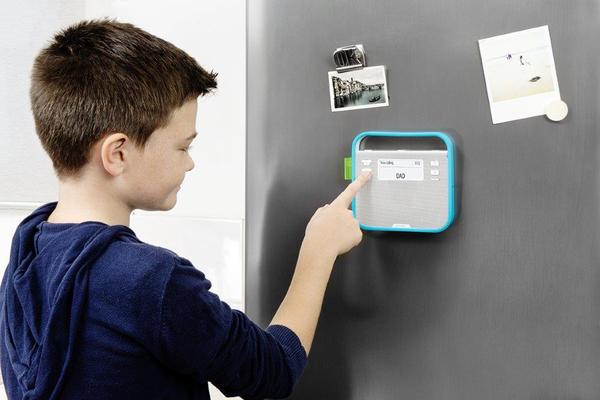 It'll stick via a magnet to your fridge and then lets you make calls or play music. When you do make a call it'll use trick conference-phone-style technology to eliminate background noise so you can walk around the kitchen and continue your call. If you don't want to use your Bluetooth to connect your phone, you can instead dial directly to the device using a smartphone app, so if you're at work you can dial the dedicated kitchen "line".
The app also lets you send little messages home, with a pop-out notification flag letting those at home know that you've sent a picture. Send a post-it note-style notification and it'll show on the high-resolution e-ink display, even if the Triby is in standby.
The radio aspect streams music from your phone via Bluetooth, over the internet via WiFi or good old FM radio.
Tech specs below. Triby will be on sale in autumn 2015 for $199 / 199€, so I assume the price will be around £199 in the UK.
Size: 5.7 x 5.7 x 1 inches
Magnetic fixation on fridge or any other metallic surface
Rugged rubber design
WiFi and Bluetooth connectivity
Li-Ion battery: one month life in normal use
Direct calls between Triby and smartphone apps installed on family members devices
Powerful hands-free: 2x4W speakers
Internet radio
FM radios
Bluetooth speaker for you tablet and mobile (music and voice)
Voice audio quality: 200 to 8000 Hz bandwidth (wideband)
Handsfree with echo-cancellation and noise reduction
Passive radiator
HD mobile voice supported
E Ink display 2.9 inches: High resolution, high contrast, large view angle
iOS app available on the Apple Store
Regargeable via mini-USB port
More details on http://www.invoxia.com/en/triby