If you've got any money left after Black Friday, Panic Tuesday, Boxing Day and the January Sales then I'm quite frankly astonished. However, if there is a bit still floating around in your wallet then you could perhaps treat yourself to this easily-unlockable Motorola Moto G 4G, which is available from Tesco Mobile for £115 in white or black.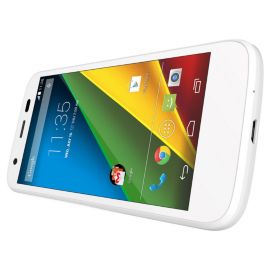 If you're opening a new account with Tesco, use the code TDX-YGPK and it brings the price down to £105! Staggeringly cheap for a 4G phone which is really rather good.
The device is selling on Pay As You Go and features a 4.5″ HD, Android 4.4 KitKat, rear 5-megapixel camera and front 1.3-megapixel camera.
Got £105? Go on, you can probably have a look behind the sofa and find a few quid 😉