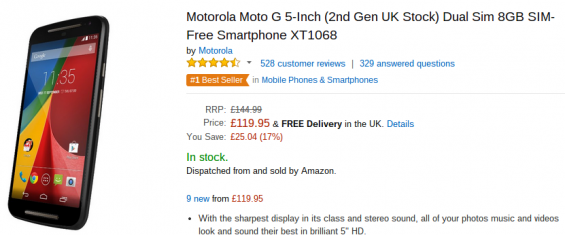 Fancy a good deal? Check out the Moto G for a possible pre-Christmas gift to yourself or someone else. It's the 5″ 2nd generation model with 8GB storage and dual SIM. You can get it for just £119.95 at the moment and, if you hunt around the various coupon code websites you might be able to get it for even less. For example, if you pay with a Mastercard you can get another £5 off the price with the code PRICELES5.
The 5″ Moto G has two front stero speakers, a quad-core 1.2GHz Qualcomm Snapdragon 400 CPU, 8 megapixel rear camera and 2 megapixel front. It also has a guaranteed upgrade to Lollipop.
You can also get Motorola Shells to add your own splash of colour to the device and there's also a 2070mAh battery. It comes with Android KitKat on-board.
Also in the G is 1GB RAM, WiFi, GPS, microSD expansion, an FM radio and Bluetooth.