With all the phone manufacturers making smartwatches – Apple, Samsung, Sony, Microsoft, LG etc it was only a matter of time before a watch manufacturer decided to make a smartwatch, the latest is Tag Heuer after Swatch announced it has a model planned for next summer.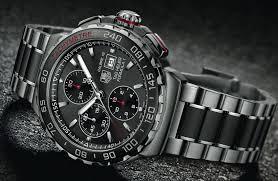 LVMH's (the owners of the Tag Heuer brand) watch chief Jean-Claude Biver said they have already struck several partnerships and has been considering purchases to help come up with an original offering to compete with the Apple Watch. LVMH had previously dismissed the threat of "smart" devices to their portfolio but with more upmarket offerings from the likes of Apple coming next year the decision has been reviewed.
Guy Semon, the newly appointed general manager of Tag Heuer had this to say:
"Smartwatches represent a challenge to the Swiss watch industry that is comparable to the appearance of quartz technology. We cannot ignore this tsunami that is coming closer,"
The new product should be announced as soon as they have a device that fits in with the brands sporty image or by late 2015 at the earliest.
Source: Reuters