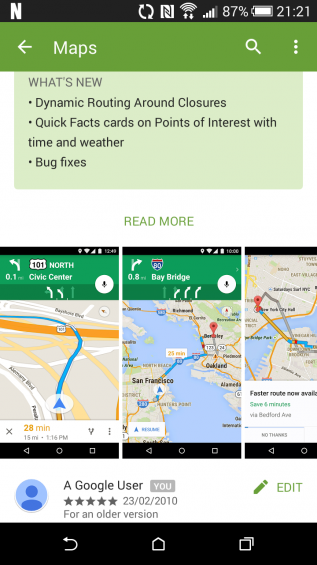 We gotta hand it to them Mountain View folk, and the way both the ecosystem and the apps keep evolving. Google Maps never used to be my go-to application for turn-by-turn directions (telmap M8 was my personal favourite), but the way they have been iterating has been phenomenal.
Now, not only have they brought in live train updates to let you know when there'll be train cancellations and delays (because that never ever happens over here with our rail service), but it now also picks up lane guidance. The US has had it for a while, but they're now bringing the ability to the UK, Ireland, France, Germany, Italy and Spain.
Hopefully that'll mean fewer people cutting us all up when they get to a roundabout and serving to get into the correct lane. That, coupled with the fact that offline maps will let you save six sets of 50 km x 50 km maps for when you lose connection makes things a whole lot easier for getting around, whether you're going by train or car.
We're also getting automatic alternate routing built in for rail delays, and if you need to check out the departure times, then you now have the ability to tap on a rail station to see when trains are due to leave.
Now if they could allow me to choose download the whole of London, or Manchester, that would help hugely – heck, if there's space on the device, why not the whole of the UK? In any case, we're pretty sure you'd rather have this on your phone now, before you need to try and get home over Christmas and the New Year, only to find out you took the wrong exit and you're on the way to Darlington.