HTC have been around for many years now. They've produced some really top end devices such as the HTC Sensation, HTC One X and even back to the HTC Desire which at the time was a specification powerhouse.
The problem seems to be so many people still walk into a phone retailer here in the UK and have no idea just who the company are. Instead they'll perhaps opt for something from a better known brand such as Samsung or of course Apple.
HTC are trying to change all that by bringing more unique features to their latest devices, and the HTC Desire Eye is just one of those. Here it's the front facing camera that is the highlight.
First up, a big thank you to Three for sending the HTC Desire Eye for review.
Video promo
https://www.youtube.com/watch?v=5etNLBHRM9A
Outside

The Desire Eye has an impressive set of specifications for what is, in reality, a mid range device.
You get a 2.3GHz Quad-Core Snapdragon 801 processor and 2GB of RAM which will be enough for most multi-tasking needs and even some graphic-heavy gaming if you think the battery is big enough to last you doing that.
Battery is a big issue here for such a camera focussed device. It packs a 2,400mAh unit which seems a little low for the main purpose – two 13 megapixel cameras, both with dual LED flashes and those BoomSound speakers.
I was able to get through a day if I was not using the camera much or using video playback on my lunch break, if I were to do either of these I would want to top up my battery to ensure I had enough to last me the way home.
Connectivity options are the what seems standard these days – GPS, WiFi and Bluetooth. For mobile connectivity you have DC-HSPA for up to 42Mbps 3G speeds and CAT4 LTE for speeds up to 150Mbps, these are all network dependant and may vary on a wide range of situations.
Right now Three offer LTE with a maximum speed of 50Mbps and this may increase later in time so you will be more than ready for any future network improvements.
Software is very good as normal for HTC with their Sense 6 UI running on top of Android 4.4.4, and we hope an upgrade to the new material design 5.0 Lollipop is coming soon but this has not yet been confirmed.
Sense 6 is great. You get a load of widgets available for you to customise your phone in many ways, you also get Blink Feed which is almost like an RSS feed running on your desktop, but if you are one of the many people who do not like this service you can disable it or swap home screens if you wish in settings.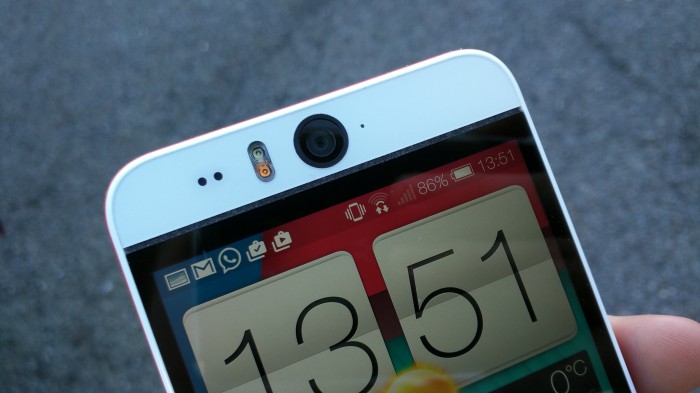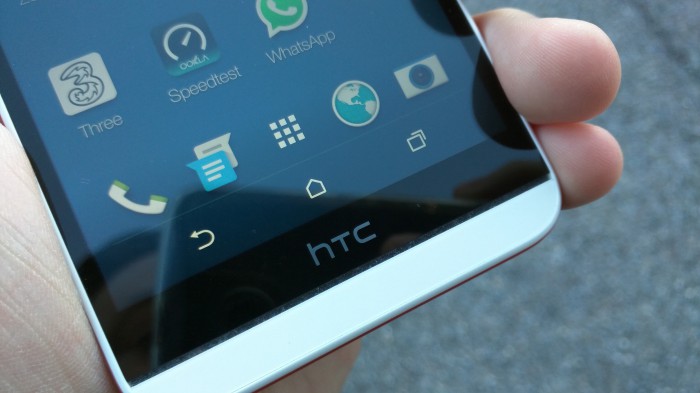 There is no mistaking the stand-out feature here, and the reason for the device name is the very large front facing camera located dead centre at the top.
This front camera, or 'Eye' as it is known, features a massive 13 megapixel lens with a low aperture of f2.2 also paired with a two-tone dual LED flash so that, even in the darkest of evenings, you can get that perfect photo.
The Eyupuploadra can also capture HD video at 1080p resolution which is great for capturing those special selfie moments and then uploading to Facebook or YouTube.
Technically the camera is good enough for 4K but this was left out, something also missed on the back camera….but come on now…. can you imagine a 4K selfie video?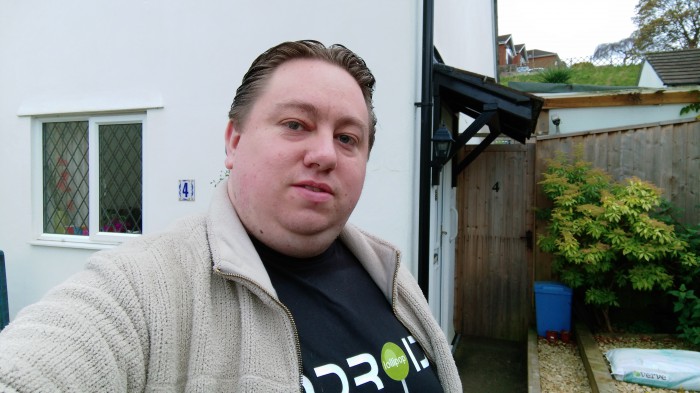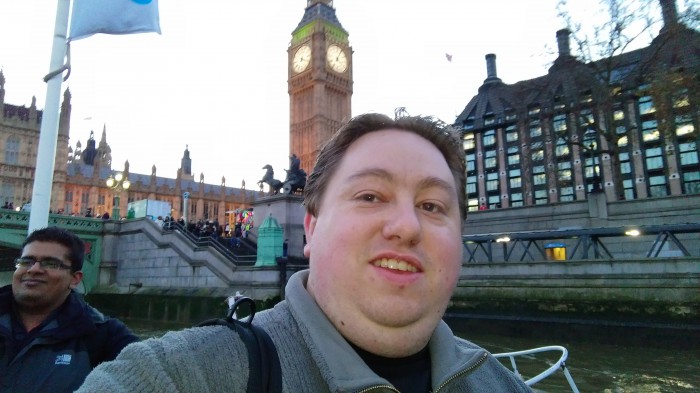 Also up top you get the light sensor to help adjust the backlight and save battery, there is also a LED notification light to alert you to any goings on whilst your screen is off
The screen used is 5.2 inch with a resolution of 1920 x 1080, giving a PPI of 424. Ignoring the numbers and talking about real world use, the screen is actually very nice to use even outdoors, something a lot of phones struggle with.
Screen size is always a personal preference. Personally I had no issue using the Desire Eye with a 5.2 inch screen, whereas someone else might think this is too big.
The only way to really tell is to see for yourself, so if you are unsure you can always visit a store and have a look.
Below the screen is just a HTC logo, there are no capacitive buttons here, instead the controls are all on screen so get hidden when not needed.
This is a great idea as it allows the screen to take over without any need for a bigger phone to fit extra buttons on.
If you thought that was all HTC did with the front, then you are in for a pleasant surprise.
The HTC Desire Eye features the BoomSound speaker technology seen on the M7 and more recent M8. This adds great top end volume and bass to videos, music and even speakerphone calls.
There are two speakers to achieve this, the first is under the Eye camera, and the other is below the HTC logo. If you look at the right angle you will be able to see them.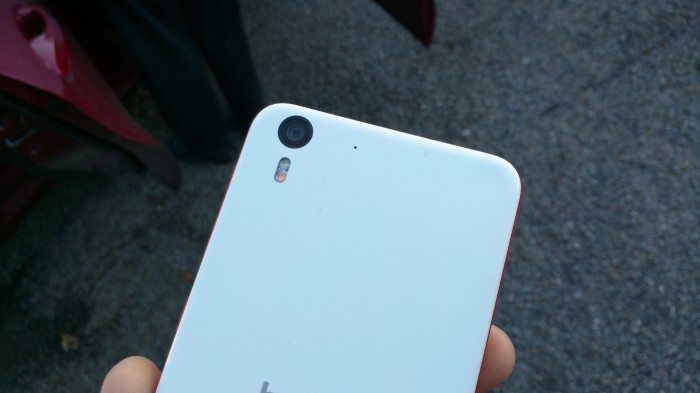 On the back is the 13 megapixel camera complete with an aperture of f2.0 which should result in some great photos, I say should…. question is will it?
To take a photo you now have a total of FOUR buttons you can press to take it. There is the volume up or down, the dedicated camera button or the on screen controls you get once in the camera mode.
Below the camera on the back is a two-tone LED flash, something Apple made famous on their iPhone 5s. This type of flash is better for taking photos of people as it performs well on skin tones.
You also have a small hole on the back for noise cancellation and video recording so you capture some great sound.
Below is a mix of evening and daytime photos so you can see for yourself what the camera is like.
Initial impressions are not too good on the camera, either in daytime or evening with night photos. They appear to be quite noisy where the sky is, and in the daytime photos there seems to be a yellowish tint. This is a shame for a new phone considering that the camera is at the heart of the experience.
You also have access to a large list of settings in the camera mode including 'Face Fusion' which lets you take photos of two people and merge them together which is a lot of fun.
We may… or may not have had lots of fun with this downloading some well known celebrity photos and merging them together. If you have time to spare, give it a go, it is rather fun.

On the top you have just the 3.5mm headset port where you can use either the supplied headset or your own, unfortunately HTC no longer team with Beats so the headset you get is standard. Sadly even if you do plug in a set of your own Beats, this does not trigger any changes like on some of the older devices.
There are a wide range of headsets out there all different sizes, designs and colours so look for a set that suits you best and you can use them on any modern smartphone these days.

On the bottom you have the microUSB port for charging and for data transfer, again very standard here for most smartphones these days with the only real rival here being Apple and their Lightning connector.
As mentioned in the Galaxy Alpha review, if you want to get all your content off the Eye, or even some videos or music, you will need to use some extra software on a Mac to do this.
Windows users will be able to plug-and-play like a removable drive whereas Mac users will need a third party piece of software called Android File Transfer (click to download). You can of course use cloud storage such as Dropbox or Google Drive etc.
There is a little hole at the bottom and this is the microphone used for voice calls but also gets used for recording audio in video.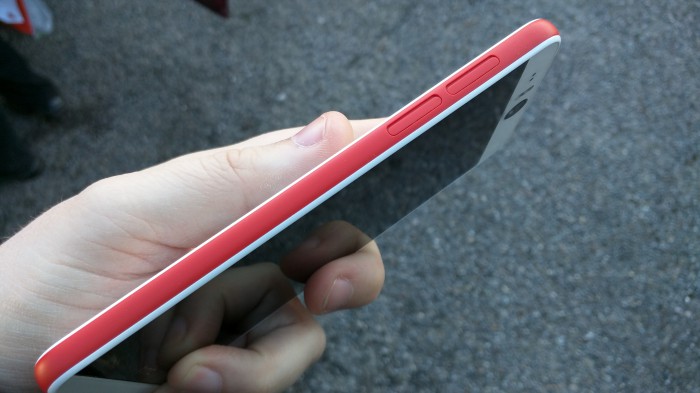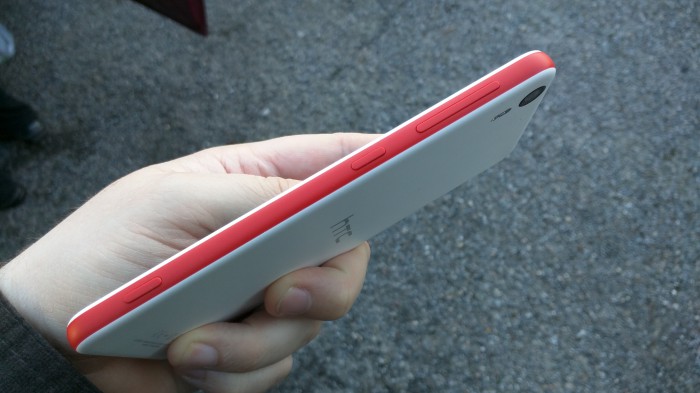 On the left you have two pull out slots which reveal a nano SIM tray as well as a microSD slot which supports up to 128GB cards.
These are rather tough to remove so not ideal for anyone who often swaps their SIM card from phone to phone. Also, after a few weeks of use, the red piece that clips on to the tray appeared to be a little loose which could become an issue should if it becomes separated and SIM or MicroSD cards get stuck.
The big reason these are so tight to remove will be because the Desire Eye is water resistant up to 1 meter for 30 minutes. Whilst you would not go swimming with it, these ports need to be super tight to block any liquid getting in, such as when using the camera on a rainy day or even steam when listening to music in the shower.
Over on the right you have the volume up and down keys, either of these can be used to capture a photo when in the camera mode like a camera shutter button.
In the middle you have the power button, something seen on recent Sony devices. With the 5.2 inch screen making the Eye a little on the tall side, this is perfectly placed for quick access to the phone instead of having to reach up top for this.
Below the power button is a dedicated camera shutter key (yes I know I said the volume keys work too), this now gives you a choice of THREE physical buttons to press to take a photo, some phones lack even a single one where has HTC have given you a choice.
The Good:
Front facing 13 megapixel camera
Good screen size for daily use
Waterproof design adds reassurance 
The Bad:
Pricey for a mid range phone
Very mixed camera results
Low battery capacity 
Conclusion:
I spent a number of weeks with the HTC Desire Eye and had a very enjoyable time using the large screen for watching videos and browsing the internet.
I also loved the design with materials used and the red/white combination also looks really cool.
Then came the part which let me down… at least in what I was expecting. The standout feature -the camera.
The front camera is fantastic for selfie lovers and anyone who uses video chat on apps such as Hangouts or Skype, plus the front facing dual LED flash is ideal to get the best photo of yourself possible to share with family and friends.
But it was the rear camera that really seemed to disappoint, with night photos having a lot of noise in the black areas, and in daylight there appeared to be a yellow tint to the results. These can be seen in the sample photos above.
The video recording was pretty good but does lack 4K recording option which is a shame considering the 13 megapixel camera on the back would have technically been possible. Whilst there might not be many people with a 4K TV, the zooming that 4K video brings would have been a nice extra and would've helped to keepit  in line with other devices such as the Z3 or Galaxy Alpha.
The biggest thing to remember is this is NOT a flagship device, the Desire series is set in the mid range normally, offering great specifications at an affordable price. Instead the 'One' series seems to be the flagship for HTC, and rightly so, it's just brilliant.
This did feel a little confusing because the Eye has some great specs, yet is priced only a tiny bit below a HTC One M8 with the premium metal build.
Don't let this put you off though, the Eye is a great phone for anyone who loves a good selfie photo or video chats, plus the water resistant design means you can enjoy using it even in the rain, something we will see a lot of here in the UK.
The battery at 2,400mAh is a little on the low side, and is also not replaceable, so bare that in mine before you load up the camera to take all those photos you plan on doing and sharing with everyone on social media.
The HTC Desire Eye is available on Three starting from £27 a month on contract or for £399 on PAYG if you do not want to be locked in. Check out the Desire Eye deals right here.
HTC Desire Eye
Design - 9
Hardware - 9
Software - 9
Camera - 7.5
Screen - 9
Battery life - 7
Value for money - 7.5