During Mobile World Congress in Barcelona we saw a totally new type of handset. Up front, the usual bright and vivid screen we see on most handsets. On the back though, what you can mistake to be a cover design is actually a fully interactive e-ink screen.


We were shown just just how easy it was to read books, shopping lists and even browse. Use that to read your books and you're instantly going to improve your battery life. The monochrome e-ink rear panel sucks so much less juice from your battery.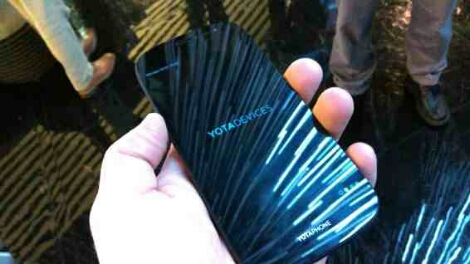 Back in February there was only one working device, but soon you'll be able to get your hands on one of these. Yota Devices have now launched the YotaPhone 2. If you missed our earlier story, here's a couple of quick hands-on videos so you know what to expect…
The YotaPhone 2 will be available right here in the UK today and comes with a 5″ 1080p AMOLED screen up-front and that secondary 4.7″ screen with e-ink at the back. It's powered by a Snapdragon 800 and has 32GB of on-board storage, a 2500mAh battery and 2GB RAM.
https://www.youtube.com/watch?v=HyEvMwMI2JA
Get the full details on this new phone and its always-on rear screen below. It's priced at €499, which is around £393.