The Amazon Fire Phone. It's proving to be a bit "marmite", you either love it or hate it. The handset has a 4.7″ 1280×720 pixel screen at 315ppi, 13 megapixel camera, GPS, WiFi etc.
The reviews may be a bit mixed, and you have to be prepared to completely step away from the Google experience (goodbye Google Play) and into the Amazon work, but there's now a whacking great £150 off the price.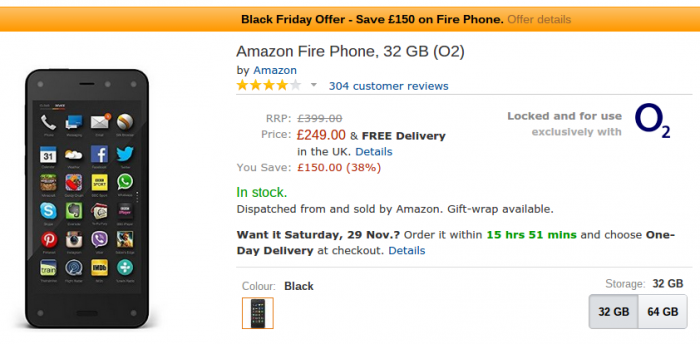 It was £399 SIM-free, now it's "just" £249.99. Perhaps that can make up for the 720p screen?
Other specs include a 2400mAh battery, 32GB or 64GB storage (the 64GB one will cost you more) and a 2.1 megapixel front camera. Don't expect the Android experience, please. THis is Fire OS 3.6. Imagine a Kindle in a phone shape and you're about there.