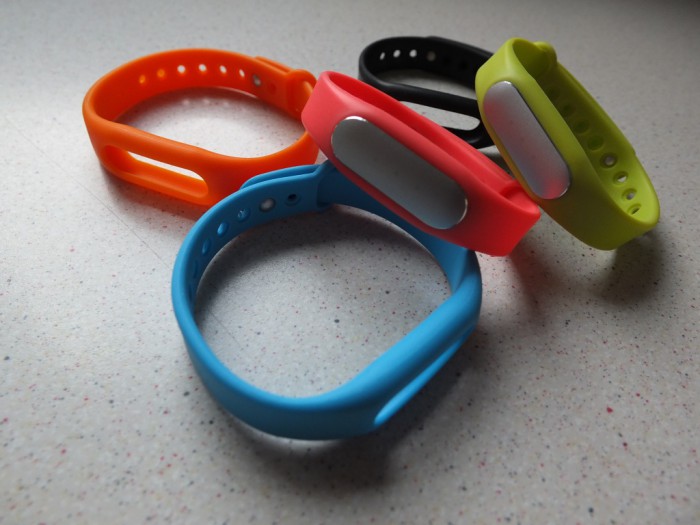 Xiaomi are a big name, a big name across the world, they are the third largest phone manufacturer at the moment, behind only Apple and Samsung. They are from China and along with companies like Oppo, OnePlus and Huawei they are starting to show people you don't have to pay top dollar to have an amazing device. Xiaomi have taken this ethos and applied it to a range of mobile accessories as well, the most interesting being the Mi-Band which is a fitness tracking device for under £25 (depending on how you obtain one).
I ordered a couple about a month ago, as I was an avid FitBit user and my wife was intrigued with it, but when she found out the price she was put off (of a Fitbit Flex that is), so when I showed her what I was going to order, she wanted one too. A few weeks later and I put my FitBit away (I can't remember where) and explained to her all about wearables. We've both been using them for a few weeks now and it's prime time to bring you my review, starting of course with the good and bad points.
Good and Bad
Good
Cheap.
Easy to wear.
Easy to charge.
Once set up the app is quite informative.
Sleep mode is automatically triggered.
No accidental triggering of sleep mode.
Battery life of nearly a month.
Waterproof to IP67.
Quick unlock functionality for Xiaomi phones.
Bad
Set up is quite fiddly, as you have to register with Xiaomi using a mobile number.
Getting a visual indication of progress is fiddly.
No linked social network, so no challenges, friends or comparisons.
Getting replacement bands is difficult.
Elements of the app are still in Chinese.
Design
The Mi-Band looks a lot like other fitness band around these days, in that it fits on your wrist and people will point at it and say "what is that". It is a rubber band with a series of holes in it for the metal clasp and a loop on one end to hold it all together a bit more securely than just the clasp. The middle of the band has a big cut out for the tracker.
The actual tracker is made of metal and is about the size of an AA battery, it pushes into the cutout on the band and sits there quite firmly. The tracker is made of metal on the top and plastic on the bottom and has three LED lights beneath the surface which flash for various actions. The tracker also has two metal contacts on one end to connect into the charging cable.
Overall the design is quite nice, it certainly looks different and my wife seems to have incorporated hers into her jewellery and accessory collection. I do wish that getting the different coloured bands was easier though, I ordered some from a very dodgy looking website that wanted a copy of my passport to proceed with the order. But as you can see they arrived and the really add some flare to the design.
Here's my hands on video with the Mi Band.
Xiaomi Mi Band – Hands On:
http://youtu.be/ipRvWnz0iGc
In Use
The Xiaomi Mi Band really is just a fit and forget product, once you set it up, you just wear it. No fiddling with it to put it to sleep and certainly no charging it every few days, using the Mi Band is really easy, which is part of it's appeal I guess. One of the main features of the Mi Band is the 30 day battery life, which I found amazing. Charging is quite easy to do, you take the cable that comes in the box, attach it to a charger plug and then slide the tracker part of the Mi Band into it, after a few hours the lights stop blinking and it's done.
There are several things that the Mi Band can do, it can track your steps from either walking or running, it uses that info to track distance walked or ran as well and also calories burnt, which is why it needs your age, height and weight. It can also monitor your sleep, advising of the time spent in a deep sleep or a light sleep. It can act as a silent alarm, just vibrating on your arm at the specified time, with a half an hour early option as well.
All settings and statistics is held within the app, you can download the app here on the Google Play Store. It seems to be a translated version of the official Chinese version.
The app does contain a few experimental features that seem to be added each time the app is updated, such as vibrating if you missed a call, vibrating for notifications and being able to unlock Xiaomi Miui phones. Lets have a look at each thing it can do.
Step counter
A step counter is quite a vague name for something that lives on your wrist and counts how much your arm moves around, I've never truly understood, but wristband step counters are now big business. The theory being that when you walk you move your arms around, which to a certain extent I do, but I also move my arms a lot whilst hammering my garage roof back together the other week, boy did I do lots of steps that day!
Hammering aside the Xiaomi Mi Band does count your steps, be it walking or running. The Mi Band app will convert those steps into calories burnt and distance covered. Tapping on the bar chart icon in the top left takes you to a graph showing you total steps over the previous days or months. It is really quite informative and lets you see how many steps you took running for a bus or taking the dog for a walk. I found my FitBit and Xiaomi produced different results with the Fitbit at the end of the day being about 10% higher in the step counts, if you watch the app as you walk around you'll see the counter increase as you go. I think as I'm left handed and wear bands on my right the Mi Band is assuming my right hand is my dominant hand hence the different count, Fitbit let you choose whether the band is on a dominant wrist or not.
Sleep Monitoring
We all sleep most days, some of us at night and some of us in the day. Either way we don't really ever know how well we sleep, I often wake up in the morning feeling worse than before I went to sleep. It is all down to deep sleep, the more deep sleep you get they better you'll feel and the more energy you'll have the next day. Once the app has opened up you swipe to the right and the screen goes purple which shows sleep stats. It decides your asleep by gauging how long you've not moved for, my wife watching TV in the evening often is classed as asleep. Again a tap on the bar chart icon in the top left will show daily or monthly stats.
Alarms
When I read that the Mi Band had an alarm function I instantly thought it was a bit of a gimmick, then as my brain start ticking over I slowly started to think of different use cases for a silent alarm. As you can see below I use it to wake me in the morning, my normal alarm clock is a couple of minutes faster than this so the Mi Band goes off first followed by the normal alarm a few minutes later, it saves me being surprised by the alarm clock every single day. I also use it to remind me it is time for my lunch break, as phones making a noise in the workplace are frowned upon. On nights out I set the alarm to go 20 minutes before my last bus home. If I'm up late playing Xbox and need to be reminded to go to bed at midnight. The potential is really up to you, my wife and I, have both found ideas for alarms. There are a few settings for recurring alarms and also to go off half an hour before the alarm as well, so if you need lots of warning to get up.
Other somewhat experimental stuff
The Mi Band app has a few quite intriguing and potentially useful features. First and foremost and actually working is the vibrate for missed calls option. The theory is that if your phone receives a call and you're too busy to answer the call, the Mi Band will vibrate after a quantified period. The next two features seem to be for some Xiaomi Miui phones only, the first is a vibrate after all notifications and the second is to use the Mi Band as secure unlocking device, whereby you'd swipe the band over your phone and it would unlock bypassing a pin code. Neither of these functions work on any of my different phones, but hopefully the developers will fix the notifications option.
There were a few niggles though, the tracker has three lights on it to show progress, triggering them with an upwards twisting arm movement is fiddly and I only really triggered it 50% of the time. My wife has yet to trigger it successfully. Secondly the app seems to be a translated version of the official one, which suits me, it's just they update it OTA by pushing an apk file to you rather than updating via the Play Store. They update the band firmware at the same time. Lastly is the accuracy, I no longer know what is correct, is my Fitbit with its 10% higher count correct? I'm starting to question both devices accuracy.
Conclusion
Overall I found the Xiaomi Mi Band to be a great piece of kit, it offers pretty much what the big names in fitness tracking offer, albeit without the built in social networking side of things like with the friends and challenges of FitBit. So if you're wanting to try a fitness band and don't want to spend a lot of money and you just want info on your activity and no interacting with other band users, this could just be the stepping stone onto the wearable way of life. Lastly I got mine from Merrimobiles here for £14.01 plus shipping.