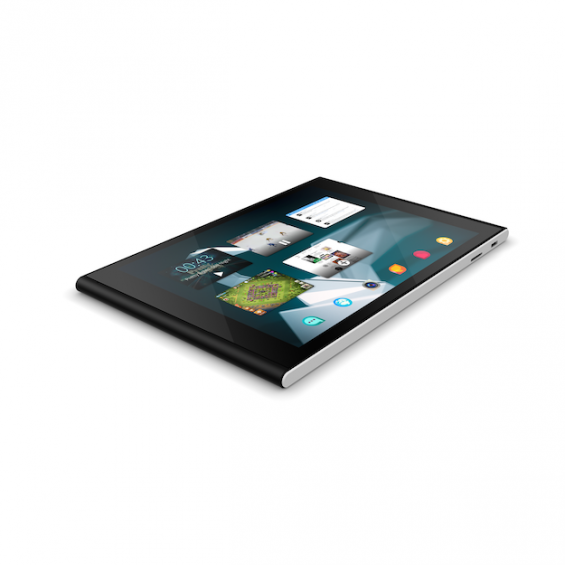 Crowd funding is a great concept, from projects that can include a tub of potato salad right through to a flying bicycle there are some grand ideas out there that range from the sublime to the ridiculous.
One project that could certainly be viewed as promising is the Jolla Tablet.
Jolla are the Finnish company that produced the Jolla Phone running the Sailfish OS which itself was borne from the ill fated MeeGo project.
The Jolla Tablet then is a 7.85″ 2048×1536 330 ppi capacative touchscreen device running an Intel 1.8GHz quad core processor with 32GB onboard storage and 2GB RAM.  A 5MP rear camera is complimented by a 2MP front shooter whilst power is provided by a 4300mAh battery.  The ususal connectivity is provided including GPS, WiFi and Bluetooth 4.0
There is a Micro SD Card slot, Micro USB and a 3.5mm headphone jack to round things off.  All this is set in a frame that measures only 8.3mm thick,
According to Marc Dillon, co-founder and COO of Jolla,
After successfully entering the mobile phone market a year ago with our unique Jolla smartphone, we are now proud to introduce our next major project, the Jolla Tablet. Jolla's independent open Sailfish OS with its cutting edge user experience works perfectly on bigger screen sizes, and we are super excited to bring the world's best multitasking experience to the tablet size. For the Jolla Tablet we are partnering with Intel, to secure the best device performance, and reliability.
Provided that the campaign hits its targets, the Jolla Tablet shipments are expected to start in the second quarter of 2015 for the first contributors on Indiegogo.
So, fancy being a part of something different?  Early contributors (first thousand) can get in on the act for only $189 and the campaign is made available in all EU countries, Norway, Switzerland, United States, India, China, Hong Kong and Russia.
Full information can be found on the Jolla Tablet information page whilst the full press release can be seen below.