Vodafone have just announced preorders of the brand new Nexus 6 made by Motorola for their UK network.
The Nexus 6 is available in 32GB version in Midnight Blue and is free from £44.50 a month based on a 24 month deal.
If you do not like long commitments then Vodafone also offer 12 month plans for a little more money, but with only being tied in for a year you can get your next phone even sooner.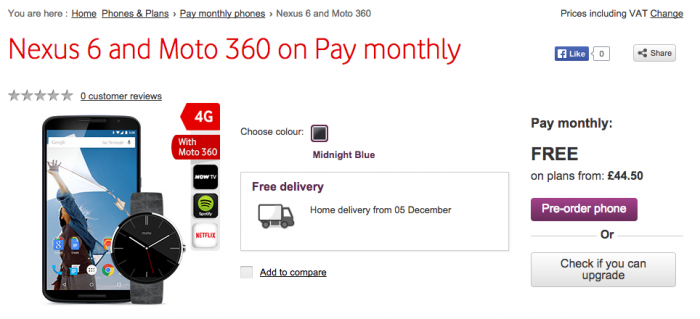 And best of all the first 500 orders get a free Moto 360 smart watch worth £199 free of charge to really get the best out of Google on the move.
Vodafone are the first network to announce preorders of this new phone with Google expected to announce their orders later today SIM free costing £499 for a 32GB model and £550 for a 64GB option.
Vodafone got hands on with the Nexus 6 at the Motorola HQ recently and have given a run through what to expect to see from this new Nexus flagship.
Link: Vodafone