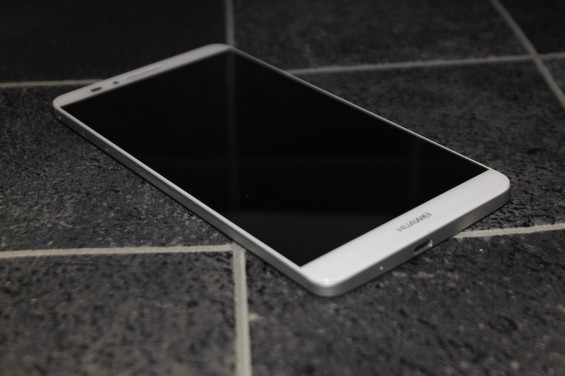 It's all the fault of Samsung.  We had a tablet market and a phone market with a rather clear distinction between the two.  Phones were small, tablets were large and in between we had the Dell Streak with its immense 5" screen that everyone looked at and said "Who would want one of those?"
Then along came someone at Samsung thinking that we'd all love a 5.3" screen coupled with Android and so they launched the Galaxy Note.  Probably to the surprise of most it was a rather large success and so ever since more and more manufacturers have jumped on the bandwagon and launched their own take on the "phablet."
We of course have the Galaxy Note 4, Nexus 6, the LG G3 Stylus, the Nokia 1520, HTC One Max and of course the iPhone 6 Plus.  The list goes on and on.
Now, Huawei have thrown their hat into the ring with the snappily named Huawei Ascend Mate 7.
Luckily for us, Huawei have leant us one of these and thus it's time to bring you our review starting as ever with the good and bad points.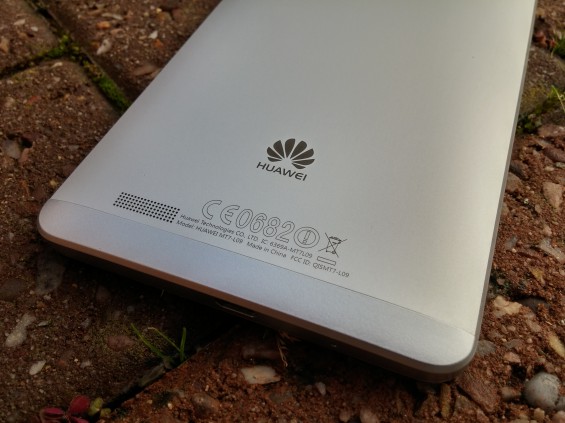 The Good
Excellent fingerprint sensor
The screen – bright and vibrant
Battery life
Design
The Bad
Old version of Android
Too much bloatware
Almost impossible to use one handed
Micro SD slot hard to access
Design
Lets not mince words here, beating around the bush is pointless.  This thing is huge.  Its absolutely massive.  If it were a boat it would be a super tanker.  With a 6" screen flanked top and bottom by some proportionately sized bezels, the Huawei is most certainly a looker.
There is nothing but the Huawei logo on the bottom bezel, a speaker, front facing camera and sensor on the top.  One great thing on the front is that there are virtually no side bezels meaning that the screen takes up a quoted 83% of the device.
The top of the device has the headphone socket and a microphone, the bottom holds the USB charging port with another microphone, the left hand side has the SIM card slot and the Micro SD card slot.  The SD slot is only accessible using a SIM removal tool which I'm not too sure is a good idea and is certainly not handy for swapping cards quickly.  The right hand side houses the power and volume controls.
The back is where the magic happens.  As well as the camera and LED flash there is a fingerprint sensor.
The model that we had is silver and white whilst a black and white and a gold model is also available.
Make no mistake, the Ascend Mate 7 is a good looking device.  It feels pleasantly weighty, the rear is finished in an attractive silver and the aluminium unibody design certainly feels sturdy.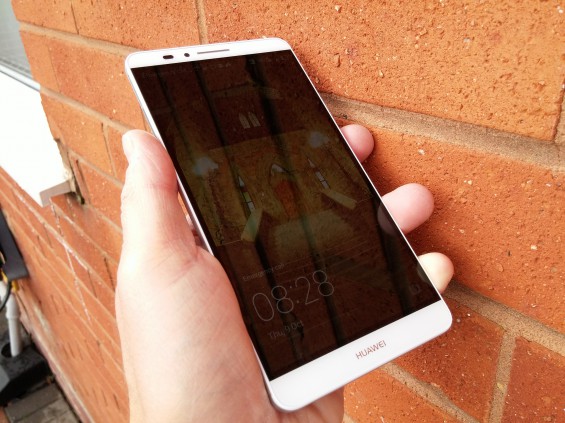 Hardware
Underpowered this device certainly is not.  Whilst the RAM could be a little bigger (2GB is the default)  the processor is a behemoth.
The full specs are as follows:
Size: 157mm x 81mm x 7.9mm
Weight: 185g inc battery
IPS LCD Capacative touchscreen
Display: 6" FHD screen, 1080p (1920 x 1080), 368PPPI, 16M colours
Corning Gorilla Glass 3
Processor: Octo-core Hasilicon Kirin 925 (4×1.8GHz + 4×1.3GHz)
GPU: Mali 628
OS: Android 4.4.2 / Huawei Emotion UI 3.0
RAM: 2GB
Onboard Storage: 16GB
Connectivity: LTE / GPS / Wi-FI / Bluetooth 4.0 / MicroUSB / GSM / UMTS
NFC
Bands: LTE 1/2/3/4/5/7/8/20/28, GSM 850/900/1800/1900, UMTS 850/900/1900/2100
Camera: 13MP rear camera, 5MP front facing, 1080p video recording / playback
Battery: 4100mAh
Colours: Silver / Gold / Black
Accessories supplied: Headphones / Charger / USB cable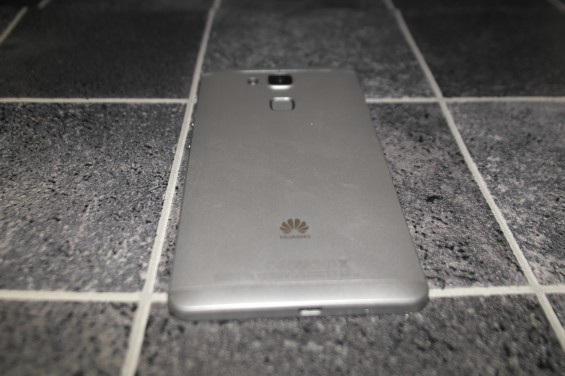 The Ascend Mate 7 is certainly a fully loaded device with every type of connection that you could wish for.  16GB onboard storage does seem a little measly but the inclusion of a MicroSD card slot makes up for that however swapping cards whilst out and about is a virtual impossibility due to the fact that you need a sim card removal tool to access it.  There is a total of 9GB free out of the box.
The speaker placement is on the rear however this doesn't detract from the aural experience and is actually quite loud whilst maintaining clarity at high volumes.  Bass is a little lacking however this is after all a phone speaker.
The outstanding feature of the Huawei is the screen.  Bright even in sunlight, clear and vibrant it really is a joy to behold.  Viewing angles are excellent and of course as it is so large detail is abound when watching movies or television streams.  The lack of bezels along the sides really does mean that screen real estate is maximised.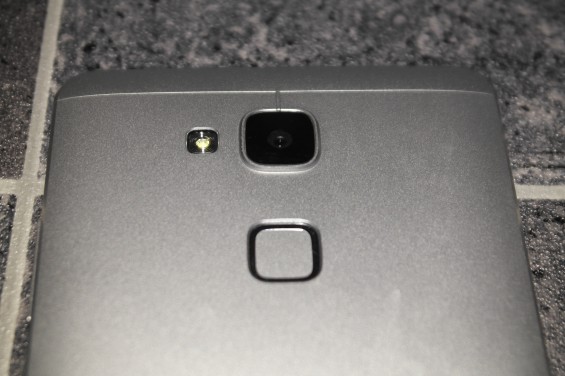 The fingerprint sensor seems to be growing in popularity and the one included on the Huawei Ascend Mate 7 is excellent.  A small setup process whereby each finger that you want recognised is scanned several times means that 360 degree recognition is available.  The sensor itself does a superb job and is backed up by PIN code access should there be any issues (I had none in all the time I had the device).
Software
The Ascend Mate 7 runs Android 4.4.2 which for a premium device is a bit of a disappointment as I would expect the latest version.  This is then overlaid with Huawei's Emotion 3.0 interface which to be blunt feels a bit of a mess.
Confusingly there is no app drawer which means that every app installed has to appear on one of up to 9 homescreens.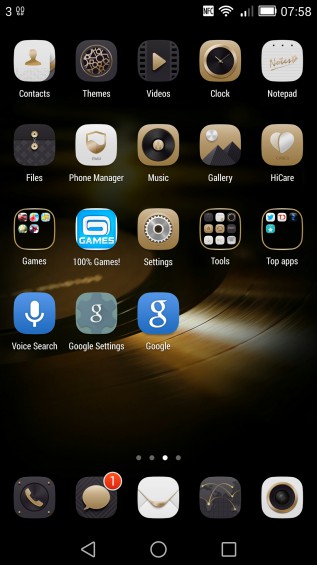 There are many pre-installed apps and games, some of which are useful, some not so.  The pre installed themes are frankly awful and whilst you can download more none are too appealing.
Despite only running Android 4.4.2, Huawei have seen fit to include the Nav buttons from Lollipop, these can be reconfigured in an order that suits the user and also in what Huawei calls one handed mode.  In reality it makes little difference as unless you are Big Daddy or Giant Haystacks (if you know who I am talking about then you are showing your age) then your hands will simply not be big enough.
All of the usual Google apps are bundled along with Huawei's additions.  In short, Polaris Office, Bitcasa, Todoist, Zinio, Asphalt 8, Bubble Bash Mania and Real Football 2015 are all included as well as Huawei's phone manager, music player, gallery, file organiser, contact manager and notepad.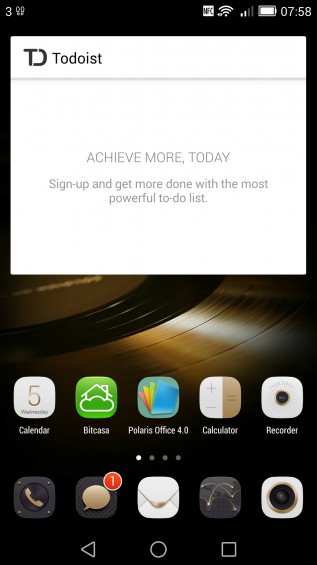 The notification bar has 2 sections, Notifications and Shortcuts.  Notifications does exactly what it says whilst Shortcuts offers a shortcut toggle to many of the settings and includes a Screenshot button, a restart button, a multi screen option and an ultra battery toggle.  These buttons can be edited and removed if you so desire.
The settings menu is vast leading to a massive array of configurable options that could be confusing to someone that is inexperienced with Android.  Even after a couple of weeks I am finding options within the settings that I didn't know existed.  You really do need to spend a great deal of time playing in order to find all the nuances and settings that will get this phone exactly the way that you like it.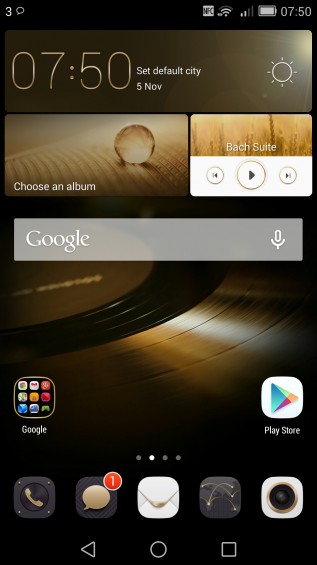 Camera
The camera on the Huawei Mate 7 is a 13MP with LED flash offering and it does rather well.  Whilst very few handsets will ever be capable of replacing a dedicated stand alone camera the Huawei is more than able to provide some good shots and offers up a large range of effects and functions.
There is a beauty mode which smooths out the skin and enlarges eyes when taking pictures of faces, a panorama mode, the standard HDR and a best photo mode (similar to ZOE on the HTC handsets).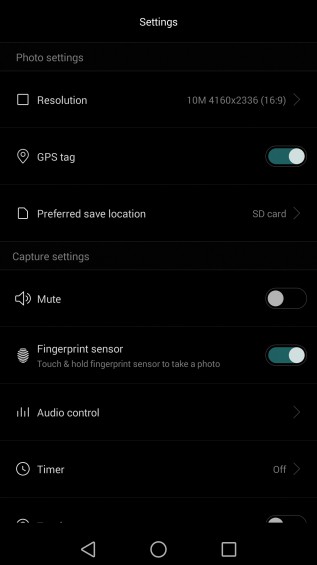 The ability to take a photo with the fingerprint sensor is offered as well as voice control.  As with other areas of the Mate 7, there are multiple functions here including manual ISO adjustment, manual White balance, exposure settings, saturation settings, contrast and brightness settings and the ability to add an audio note.
There is also the option to add a pre-defined filter a la Instagram, modes include Nostalgia, Childhood, Dawn, Dusk, Pure and many many others.
The front facing camera is a 5MP affair and adds the ability to video call using Skype or Hangouts in 720p resolution and offers up a more acceptable image quality.
Sample images are included below.
Conclusion
The Huawei Ascend Mate 7 is a good looking, solidly built handset than has more than a touch of quality.  It feels nice in the hand, is well balanced, has a great screen, plenty of storage options and features galore.
On the slightly less than positive side is the software, whilst there are hundreds and hundreds of options and features it could be construed as a little too confusing.  The fact that the software version is also not the most up to date (meaning 4.4.4, Android Lollipop is a little too ambitious) is also not in the Huawei's favour.
That said, the UI really is of the Marmite variety.  You'll either love it or hate it and if you love it then the Huawei Ascend Mate 7 is an excellent, well performing handset with good battery life and one that is a solid alternative to the more mainstream "phablets" currently available.
Our thanks go to Huawei for the loan of the Ascend Mate 7.