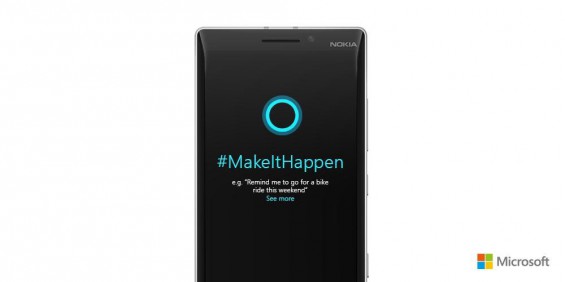 In the past it was Apple that was famed for being able to keep its launches secret until the actual launch (fancy that!). Now you could argue that pre-launch leaks generate interest and publicity and as we all know, tech companies feed on every morsel they can find. Fast forward to late 2014 and Microsoft has recently launched the Band and the Lumia 535. The latter was leaked a few days before its launch, but the former managed to emerge to general surprise. Now Microsoft are teasing another event, this time in good 'ole Blighty, on 19 November.
The official Lumia UK twitter feed has mysteriously posted:
RT to win a pair of tickets to our 19/11 exclusive event at top secret location! #MakeItHappen http://lumia.ms/1xtWgYI 
To enter applicants simply need to re-tweet the message before 1700 GMT on Friday 14 November.  Entrants need to be over 18 and resident in the UK and will be chosen at random.
More importantly is what is this all about?  Is related to Cortana? The official launch of the Denim firmware update? The UK or European availability of the Lumia 535? Or could it be the first release outside the US of the Microsoft Band?  The circle in the image above is Cortana, but the bike ride reference certainly suggests something health-related…