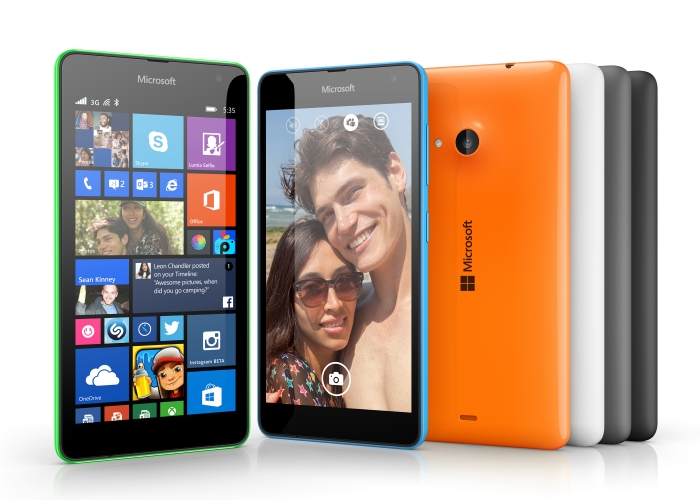 The Lumia brand is now well and truly a Microsoft one and to drill this point home Microsoft have announced their first own brand phone. The Lumia 535 and it's even got "Microsoft" stamped on the back.



As you'd expect from a low end 5 series Lumia spec is pretty basic. It sure looks nice though.
– 5mp wide angle front facing camera.
– 5MP rear camera with flash.
– 5-inch display at qHD.
– 1.2 GHz quad-core processor.
– 1GB RAM.
– 8GB of memory.
– MicroSD card, with support up to 128 GB.
Microsoft are keen to mention the key points of the device, the five integrated Microsoft experiences, a wide-angle 5MP front facing camera and a 5 inch display.
– Fit more into your Skype video calls with the 5MP wide angle front facing camera.
– Pre-installed Office suite and OneNote – to access, edit and share Word, Excel and PowerPoint documents and OneNote notebooks anywhere.
– 15GB of free OneDrive cloud storage to save and sync your media across devices.
– Experience a truly personal virtual assistant with Cortana on hand to anticipate your needs and make tailored suggestions.
– Built in Microsoft Outlook to connect with work and personal e-mails while on the go.
– A 5 inch qHD display to showcase photos and videos or get even more productive with Office.Dual SIM variant for maximum flexibility
As regards price and availability they have said Q1.
Lumia 535 and Lumia 535 Dual SIM will begin rolling out to key markets in November, and will be available in bright green, bright orange, white, dark grey, cyan and black. Pricing for Lumia 535 and Lumia 535 Dual SIM will vary by market and operator, but is estimated to be around 110 EUR before taxes and subsidies.