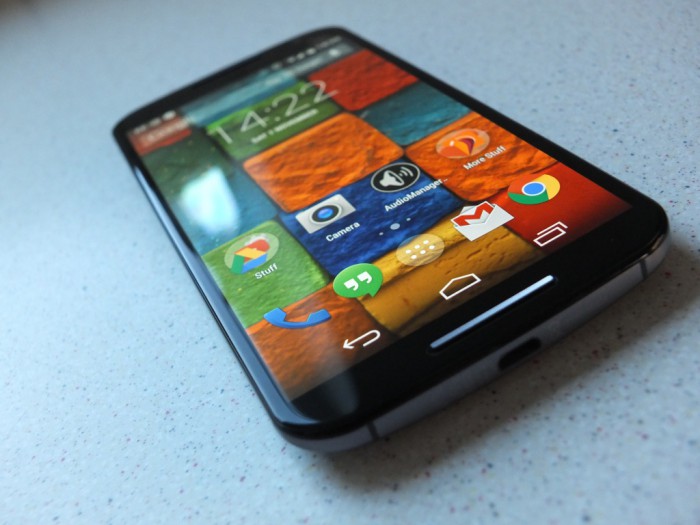 Motorola last year showed the world that you didn't need to have the highest possible specs to create a really decent phone. Last year's Moto X was behind the rest of the pack spec wise and it offered a really good package, this year's model they've increased the specs and as such it's now up there with the other flagships. I've been using one for the last few weeks now and it's prime time to bring you my review, starting of course with my good and bad points.
Good and Bad
Good
Great feel in the hand thanks to the curved back and soft touch material.
Tiny bezel means overall size is minimal yet still having a large screen.
Software additions are really useful.
Lockscreen notifications are really handy.
It will be one of the first non Nexus or GPE devices to get Android 5.0.
Great sound quality with headphones.
Nice colourful HD screen.
Bad
Only a mono speaker on the front.
Nano SIM needs catering for.
No Micro SD slot.
Sealed battery.
Battery life isn't astounding.
Camera is a little bit iffy in low light.
Design
The new Motorola Moto X is a fine looking phone. When I first heard how they'd chosen to increase the size of the phone I was worried. Part of the Moto X dynamic was that it easily manageable in one hand and thanks to some tiny bezels it's not too big and you can quite easily use it one handed. Unless you've got tiny hands that is.
From the front of the Moto X you can almost instantly tell it's a Motorola, no branding. Just a large screen, some tiny bezels and two speaker grilles. The glass actually looks really appealing, with a slight curve at the edges. It almost encourages you to have a feel of its curves. Those grilles on the front aren't both speakers though and they do become a little annoying. The top one is the earpiece and the bottom one is a speaker. Both grilles are actually a solid piece of metal which protrudes from the screen, but the top one kind of gets in the way when you slide down the notification bar. You'll soon learn to swipe beside it instead though. The front of the phone also houses the front facing camera and the various sensors too.
The back of the phone is where all the fun happens, or it does if you've ordered a MotoMaker version anyway.
Motorola Moto X 2014 – Hands on:
http://youtu.be/Wxera9Kzb3E
Hardware
The hardware on the Moto X is pretty good this year. It easily rivals the competition.
Processor: Motorola Mobile Computing System including 2.5GHz Qualcomm® Snapdragon™ 801 with quad-core CPU (MSM 8974-AC).
Adreno 330 @ 578 MHz GPU.
Natural Language Processor.
Contextual Computing Processor.
Storage (ROM): Std: 16GB, Motomaker: 32GB.
Memory (RAM): 2GB.
Display: 5.2" AMOLED, 1080p Full HD, 423 ppi, Corning Gorilla Glass 3.
Networks: GSM/GPRS/EDGE, UMTS/HSPA+, 4G LTE.
SIM Card: Nano-SIM.
Bands (By model): GSM/GPRS/EDGE (850, 900, 1800, 1900 MHz), UMTS/HSPA+ (850, 900, 1900, 2100 MHz), 4G LTE (01, 03, 07, 08, 20).
Dimensions: Height 140.8 mm, Width 72.4 mm, Curve 3.8-9.9mm.
Weight: 144 grams.
Android 4.4.4 KitKat.
Rear Camera: 13 MP, f / 2.25 aperture, Quick Capture, Ring flash with dual LEDs, 4K UHD video capture, 1080p HD video (30 fps), 4X digital zoom, Slow motion video, Burst mode, Auto HDR, Panorama, Tap to focus.
Front Camera: 2MP.
Speaker: Mono Front-ported.
Video Capture: 1080p HD and 2160p Ultra HD Video, 30fps (MPEG4, H.264).
Wi-Fi: 802.11a/g/b/n/ac (dual band capable).
Connectivity: Micro USB, 3.5mm headset jack, Bluetooth V 4.0 LE, NFC, GPS.
Battery: 2300 mAh.
Water Resistant.
Price starting at £419.99 for 16GB basic model.
Base Models: Black, Black with Black Leather, White with Bamboo.
Choose from 25 different backs (17 colors, 4 woods, 4 leathers).
Accents: Choose from 10 accent colors on the back and now the front too.
A few things need pointing out here. Starting with the 16GB model, out of the box you get about 9GB free, which isn't great. Especially as there isn't a Micro SD slot on the Moto X.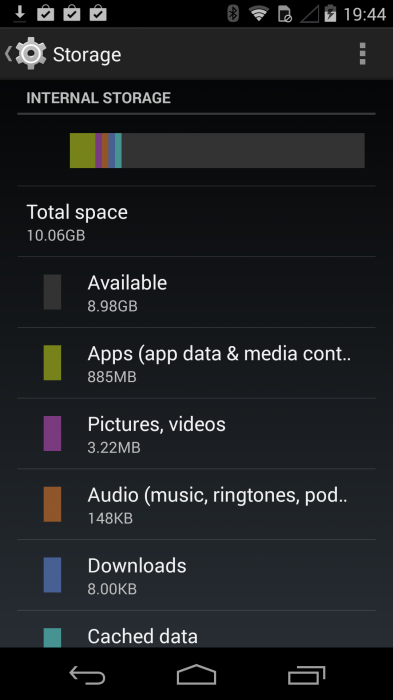 The battery is only 2300 mAh, which is a bit of a let down. In medium usage I could get through a day, see the separate battery life section for more details. Qi Wireless Charging isn't present here either, it would have things a lot easier keeping the Moto X topped up.
The Nano SIM is more prevalent than it was last year with the original Moto X. I even now have one of my main SIM cards as a Nano SIM. Many phones around these days have Nano SIMs so swapping devices is easy. Although if you want to try the Moto X out you'll need to somehow get a Nano SIM.
The display in my eyes is one of the main things about the Moto X, the display is a 5.2″ AMOLED unit. Colours are bright and warm, viewing angles are wide and not in the slightest distorted and the Oleophobic coating on the display really keeps fingerprints at bay. The tiny bezels around the display make for a reasonably manageable device with a decent sized screen, similar to what LG have done on the G3.
Software
Motorola used to make a mess all over Android, in recent times they have been an advocate of stock Android. They basically make the most Nexus like non Nexus devices. It is one of things that Motorola have got right across the board. All of their phones basically run stock Android with a handful of software additions and a few Motorola exclusive apps that you'll find in the Play Store.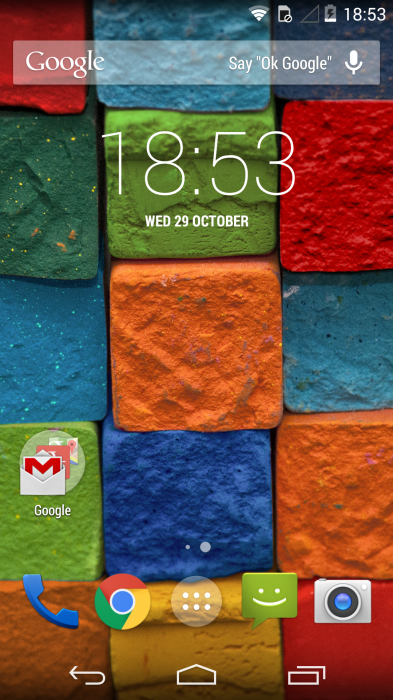 With the Moto X Motorola add a contextually aware processor to almost sense what you're doing or trying to do. It mostly revolves around the overlay lockscreen, which I'll look at shortly. There is also an app called Moto which is the central hub for all the fancy things the Moto X can do, be it voice recognition, muting itself during meetings and reading out your messages whilst your driving.
Motorola have chosen to use the Google Now Launcher, which means a swipe to the right opens up Google Now and also shouting out "OK Google" will trigger the listening mode. Running stock Android does however mean you only get the basics installed out of the box, no fancy gallery or media player and no file manager. Some may say that the pre-installed Google ones are adequate, I always end up looking for alternative third party apps with extra functionality.
The lockscreen on the Moto X is quite useful, or it is if your phone will be sat on a surface for most of the day with you glancing at it now and again. Basically you have a normal lockscreen and then an overlay on top of that, the overlay wakes up when you get a notification and if you interact with the overlay you can unlock the device and be taken straight into the app displaying the notification. You can also trigger the overlay by moving your hand near to the phone and also by moving it, so you just want to see the time or something you can easily wake it. As the display is an AMOLED display only the parts of the screen that are used actually draw power so it doesn't really affect battery life.
It's best shown on a video. Have a watch below.
Motorola Moto X 2014 Active Display:
http://youtu.be/82qOs5XFqdU
The Cameras
Rear – The rear camera on the new Moto X has seen an improvement from last year, with an increase in pixels from 8 to 13. It has also gained a dual LED flash that creates a ring flash style effect when taking photos. Taking photos with any Motorola device these days can often be a fiddly, blurry and frustrating process. I found I would often have to take the shot a couple of times playing about with different focal points to get the shot right. In low light the camera would introduce noise into the shot as well, which made it a pain to use without the flash. Outside in the dark without a flash it took fairly dark shots. I found the camera to be quick at what it was meant to do, with options to press the volume rocker to take photos or to open the camera app with a quick wrist twist or two. I chose to leave the HDR on
The camera app is a bit fiddly, with a variety of options to play with. Such as the option to "tap to take" or "tap to focus",there is also the option to turn HDR on or off and also to auto HDR mode. You can also play about with the resolution of the shots too. You also get panorama mode in the app too. The main to get to grips with and it's the same on all Motorola phones is the touch to focus bracket and accessing the settings. Both of which are based on gestures.
As with most Android flagship device cameras these days I found that it was capable of taking decent shots, you just have to be aware of how it does things and to be prepared to try a few times to get that perfect shot. Video quality is quite good, it is capable of 4K recording. The colours in video are realistic and it auto focus responds reasonably quickly to any changes in the shot.
Here are a couple of videos showing video quality. Click through to YouTube to watch in a higher resolution.
Motorola Moto X 2014 1080p video sample:
http://youtu.be/vPk3Rb-agZA
Motorola Moto X 2014 4K video sample:
http://youtu.be/GgeRCp_goAY
Front – The front camera is a 2 MP unit. It takes selfies but as you'd expect with anything but ideal conditions the quality drops. Here are a few examples.
Benchmarks
Equiped with a SnapDragon 801 processor you'd expect the new Moto X to be up there with the other flagships. It is.
3DMark – 19677 ( LG G3 – 17239, Oppo Find 7a – 20275, Sony Xperia Z2 – 18685, Samsung Galaxy S5 – 18720, LG G2 – 17730)
Antutu – 44253 (LG G3 – 29810, Oppo Find 7a – 35958, Sony Xperia Z2 – 32384, Samsung Galaxy S5 – 27113, LG G2 – 28587)
Quadrant – 21256 ( LG G3 – 13709, Oppo Find 7a – 21907, Sony Xperia Z2 – 17470, Samsung Galaxy S5 – 23264, LG G2 – 19250)
Battery Life
The 2300 mAh battery isn't too bad, in a day and age were people expect a 3000 mAh battery or else.
Another day
Another day
These few days were medium usage, emails all day, some Twitter usage, some music first thing and that's about it. It wasn't amazing battery life. But with that battery you wouldn't expect anything else.
Conclusion
Overall I quite liked the new Moto X, it offers possibly the most Nexus like experience on a non Nexus and because of that you can only really applaud Motorola. However when you compare it to the other flagship devices in circulation at the moment you wonder if that whole "stock Android" thing is really that great. There are devices around at the moment with similar or better specs, better cameras, better batteries and with more expansion capabilities. The only thing that the Moto X really has going for it is the clever software, the fact it will probably one of the first devices to get Android 5.0 and the fact you can design your own model when you order it.
Motorola Moto X 2014 - Review
Design - 8
Hardware - 7
Software - 8.5
Battery Life - 7
Screen Quality - 8
Camera - 6.5
Value For Money - 7
7.4
Overall I quite liked the new Moto X, it offers possibly the most Nexus like experience on a non Nexus and because of that you can only really applaud Motorola.