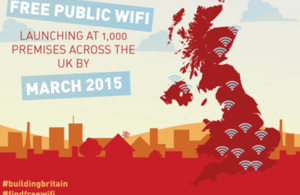 Did you know that we had a 'Digital Economy Minister'? Me neither.  But apparently we do.  His name is Ed Vaizey and he looks like this:

Our Eddy is actually more than just this Digital Economy Minister, though this is part of his portfolio.  His full title is 'Minister of State at the Department for Culture, Media and Sport and the Department for Business, Innovation and Skills, with responsibility for digital industries'.  This thrilling political lesson is necessary because Ed has just announced that 1,000 public buildings will shortly be getting free WiFi as part of the government's 'SuperConnected Cities programme'.
The hotspots will be installed in various public spaces, including libraries, museums, transport sites etc.  Cities will include London, Aberdeen, Birmingham, Cambridge, Cardiff, Edinburgh and Manchester (no Stoke?) and while some are already active, the rest will be switched on by March 2015.
Full press release is here:
Over the coming months, libraries, museums, civic centres, transport hubs, sporting complexes and other buildings around the UK will begin to offer free Wi-Fi – some have already gone live, and the remainder are all on track to be up and running by March 2015.
Millions of citizens, business men and women and visitors will be able to take advantage of free connectivity across the UK, which in turn will support our cities in becoming even more attractive places to live, do business, visit and invest in.
The project is part of the Government's £150m SuperConnected Cities programme aimed at transforming the digital capability of UK cities, ensuring our cities boast world-class connectivity and are equipped to deal with the increasing demands of the digital age.
Digital Economy Minister Ed Vaizey said:
The digital landscape of the UK is undergoing a period of tremendous improvement and is all part of the Government's long term economic plan. For business, visitors and the UK public, accessing wifi in our cities is absolutely vital. These free hotspots will be instrumental in making UK cities even more appealing as places to not only do business, but to visit as well.

Source: https://www.gov.uk/government/news/1000-buildings-in-uk-cities-to-get-free-public-wi-fi