I was recently invited to London to get hands on with some new devices made by HTC. The main device that everyone wanted to get their hands on was of course the Nexus 9 tablet. A tablet from HTC. This is something we've waiting a long time for as they've not released a tablet for many years.
I had about two hours with some of the team at HTC to experience what was on offer. With that in mind please note this is not a review but just hands on with the device.
The Nexus 9 is a stunning device with a large, clear 8.9 inch display. This has a very high resolution helping bring your content to life. The device isn't heavy, so you can carry is around without any problems.
The battery is a large 6,700mAh capacity unit which should get you through a day even with a fair bit of screen on time. This is something we will really be testing later on in a full review.
Powering everything is 2GB of RAM and a 2,3Ghz NVIDIA K1 processor. This is also 64-bit.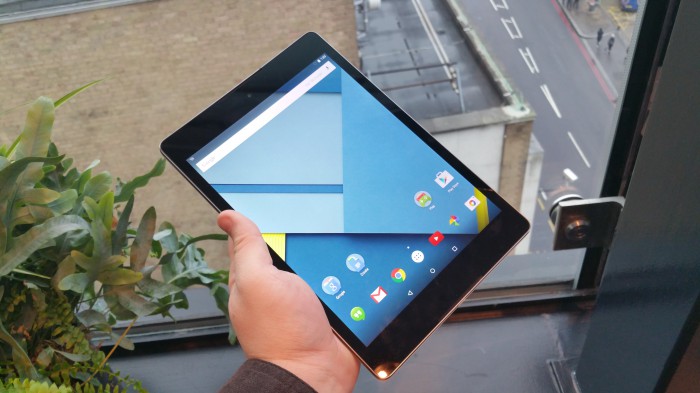 Looking at the front, the main feature is of course that impressive 8.9 inch display with a huge 2048×1536 pixel resolution. That makes it one of the best screens we have seen on a tablet so far. A little strange with the 4:3 aspect ratio and what, on paper, seems a high PPI of 288.
This is not just because of the spec, but just using the screen for browsing content, surfing the internet or watching movies on the go – it'll be great fun on a display like this..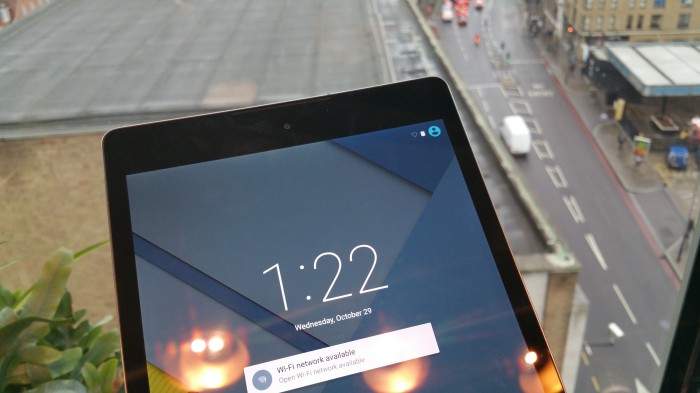 Up top there is a front facing 1.6 megapixel camera which can also record in a 720p resolution, if anyone really records video on this type of camera. The main feature of the camera will be for video chats over applications such as Hangouts and Skype which should be nice and clear with the BSI lens put in.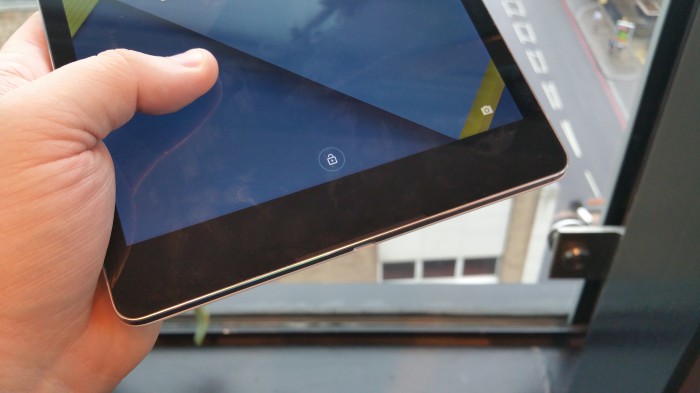 At the bottom, under the screen there is a rather large area with nothing on it. The Nexus 9 uses on screen buttons instead of capacitive ones like you see on some other devices. It seems like a big waste of space, which is a real shame. However this is something HTC were also known for doing on the One M8. The space between the screen and the speaker just had a HTC logo on that.
Whilst I am talking about speakers, the Nexus 9 does come with the HTC trademark BoomSound speaker setup which has two large loud speakers. There's one at the bottom and one at the top. These can be rather loud but also very clear for multimedia playback.

Looking at the top you just have the 3.5mm headset jack near the corner. This will fit any headset using this standard and, as mentioned on other reviews, there's a massive range.
Unfortunately with the content available and no headset with me I was unable to test the sound quality. This will be covered in the full review which will be coming once we have had more hands on time.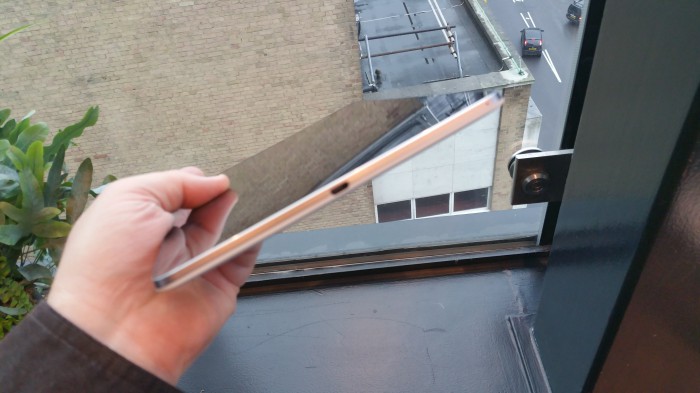 The bottom, like the top of the Nexus 9, is almost bare. Just a single port again, this time the micro USB to charge the device. You can, if you're not into your cloud storage, use this to transfer data etc.

On the right you have the power on/off button at the top followed by the two buttons used for volume control just underneath. This is all pretty standard for mobile tablets these days but the main difference with the Nexus 9 is the metal frame which is used to hold it all together. It looks better and makes the overall experience more premium than if plastic is used.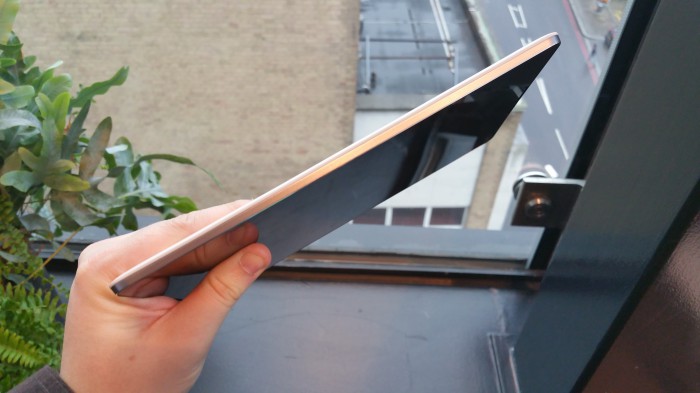 On the left there is nothing to see, no buttons, no covers, all you get is the nice continuous metal frame wrapping around the edge which I will say again, really adds to the premium feel you get with the Nexus 9.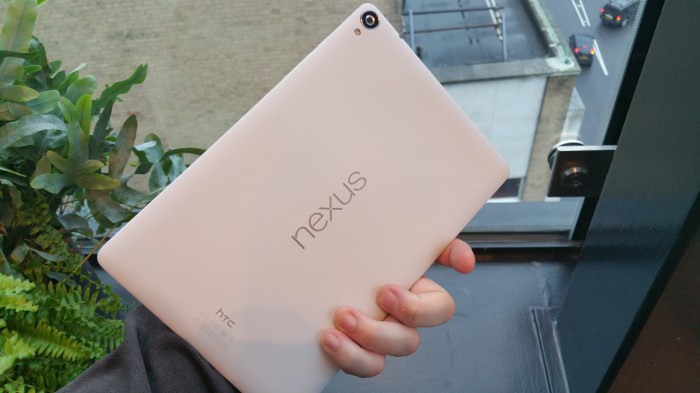 On the back you might think you are looking at a stretched Nexus 5?
This has been said by many people already, and the strange thing is that the Nexus 5 was made by LG, whereas this is obviously a HTC product.Two different companies but the design looks very much the same.
Ar the top is the 8 megapixel camera with a single LED flash and this camera also records in 1080p resolution if you like taking photos and videos on a tablet.
Due to the enclosed location and conditions we weren't able to really test the camera out to see how good it was, so will wait to pass judgement until we have one in for the full review.
In the middle is the traditional Nexus logo that you now expect on their own devices. Just below this is the HTC logo with some other numbers printed really small for trademarks etc.
Final Thoughts
In my short hands-on time with the tablet I was very impressed with the hardware, however I wasn't too surprised as HTC always make great hardware. Pair this with the new Android 5.0 Lollipop OS and this becomes a very desirable tablet.
I will be looking forward to getting more hands on time with the Nexus 9 once our tablet comes in for review. Expect a full review with many more photos plus an unboxing and a battery / camera test.
The Nexus 9 is available in White, Black and Sand with 16GB and 32GB options over on the Play Store right now starting from £319.99,. There is also a 4G LTE version listed in a 32GB option for £459.99, but this is still listed as 'Coming Soon'.
Thanks for checking out our initial hands on view on the new Nexus 9 tablet and be sure to come back for even more content once we have one in for a full review shortly.
Once we have this in we will be able to talk about a lot more including the final version of Android 5.0 Lollipop, camera examples, battery life and a whole lot more.
The biggest competitor to the Nexus 9 right now is the Samsung Tab S which specs-wise has a higher resolution screen, more RAM and a better front camera so it will be interesting to put them head to head.
A big thank you to once again to HTC for the invitation to London to check out the Nexus 9 and to get some hands on time so we can give an initial impression and at least get a glimpse of what to expect.
Image Gallery