It is here. The day I've been waiting for. My newly acquired Xperia Z3 Tablet Compact has arrived.
Although I had to wait a little longer than I would've liked (due to issues with the shipping companies), it's here now. So, let's find out if it was worth the wait.
Here we have the 32GB model, which came from Sony UK. It is selling for £379 but Sony are offering £30 off that price at the moment.
Let's start with an unboxing video..
As you see in the video above, the Xperia Z3 Tablet Compact is a neat little device that weighs next to nothing. This alone is a very impressive feat when compared with the likes of the Lenovo Tab S8 (I will be referencing this as a competition device a lot). In fact, here is a picture of them both side by side..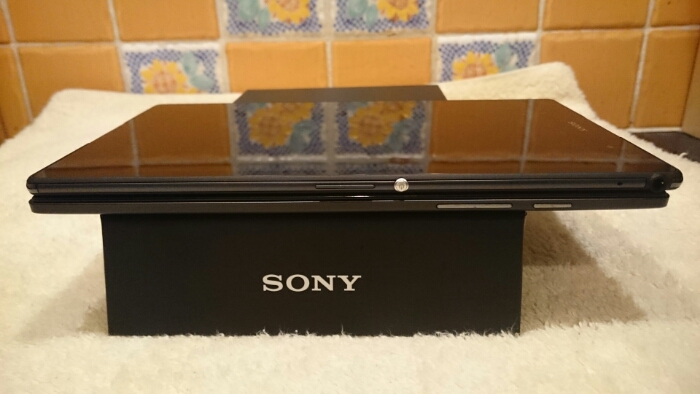 You'll see that there really isn't a huge difference apart from the Z3TC (as I'll call it for ease) being noticeably skinnier at 6.4mm instead of 7.9mm. Here is a breakdown comparing the tablets to each other.
Xperia Z3 Tablet Compact
Display: 8.0 inch
IPS LCD,1200 x 1920 pixels, 283 ppi, Scratch resistant tempered glass
Processor: Snapdragon 801 CPU Quad-core 2.5 GHz
Internal Memory: 16/32 GB (I bought the 32gb), Micro SD up to 128 GB
RAM: 3 GB
3D stereo sound, High Res audio, S-Force Surround
Bluetooth v4.0
Battery: Non-removable Li-Ion 4500 mAh
GPS with A-GPS
Rear Camera: 8 MP, 3264 x 2448 pixels, autofocus
Front Camera: 2.2 MP, 1080p
Android 4.4.4.WLAN: Wi-Fi 802.11 a/b/g/n/ac
Dimensions: 213.4 x 123.6 x 6.4 mm
Weight:270g.
Lenovo S8 Tab
Display: 8.0 inch
IPS LCD,1200 x 1920 pixels, 283 ppi.
Processor: Intel Atom Z3745 CPU Quad-core 1.86 GHz
Internal Memory: 16 GB.RAM: 2 GB.Micro SD up to 32 GB
Dolby Digital Plus sound enhancement
Bluetooth v4.0
Battery: Non-removable Li-Ion 4290 mAh
GPS with A-GPS
Rear Camera: 8 MP, 3264 x 2448 pixels, autofocus, LED flash
Front Camera: 1.6 MP, 720p
Android 4.4.2.WLAN: Wi-Fi 802.11 b/g/n
Dimensions: 209.8 x 123.8 x 7.9 mm (8.26 x 4.87 x 0.31 in).Weight:299g.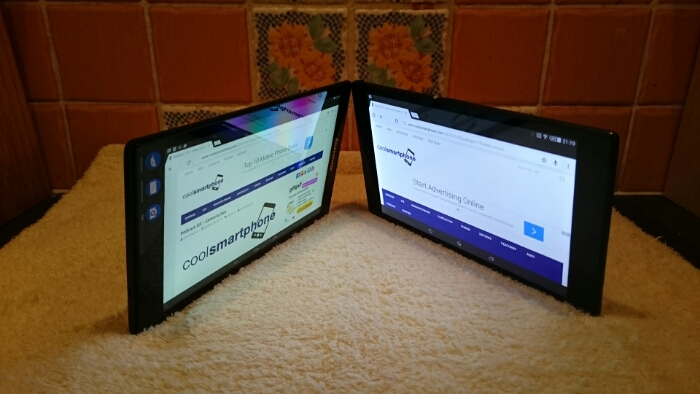 Having owned several of the Xperia devices in the past 4 years I have become very familiar with the Sony UI and its customisation. However, this time around I have to say that initially I didn't like the high DPI being used. It's forgivable on a phone as it makes the whole device easier to use but the same cannot be said on the Z3TC as it makes it feel "toy like" and it really minimises the amount of useable space on the screen. Particularly when using the device in landscape for things like web browsing. I would love to see Sony add an option to make this adjustable for the user without the need to root the device.
The screen is as usual superb and what I have come to expect from Sony. This is perhaps one area where the Sony can justify the difference in price between the S8 and itself.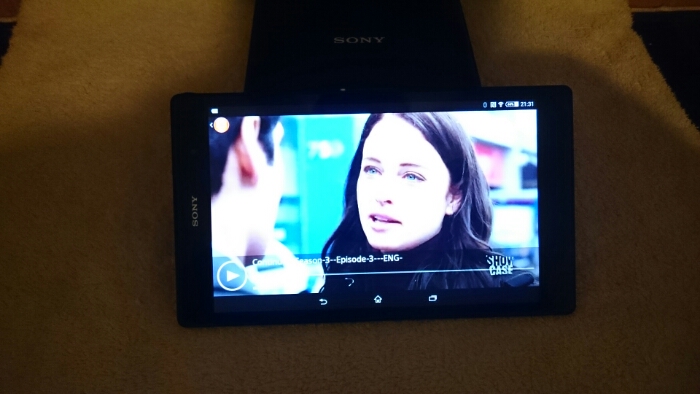 Another area is the connectivity options. As you will have seen above the Z3TC has a larger capacity for expanding the memory. It also supports NFC for file transfers and contactless payment, if it ever really takes off in the UK.
Overall I am impressed with the device and I am glad I waited but is it worth the premium you pay over the S8? This is not something that I can answer right now as I have to really spend some time with both devices until I can draw my conclusions. In the mean time here are some comparison shots
The Style cover
As an aside, the eagle eyed reader will have seen that I also unboxed the Style cover for the Z3TC. This came as part of the pre-order package deal. It is a fairly nice cover and it is a very tight fit. It covers all the bits it needs to and alleviates any concerns with carrying the Z3TC around day to day. The stand feature is a good way of propping the machine up for viewing content but it is not really suitable for use when typing.
I have a Bluetooth keyboard case that I will be testing with the devices. This may improve the productivity, however I wish Sony had thought about this and provided a Surface-style docking keyboard as an option.
Keep it here for the Lenovo S8 Tab  and the Xperia Z3 Tablet Compact review over the next few days.