This last quarter –  Q3 – has seen the operating profits at Samsung Electronics hit $3.8 billion. Whilst that may sound like a high number it's a 60% year-on-year drop and their Mobile division have seen a huge 73.9% drop in profits.

Revenue from their mobile devices has gone down 39% according to the figures released by the company, who explain this is as so…
Despite slight growth in shipments, earnings declined QoQ as ASP decreased due to weak smartphone product mix and sales decrease put pressure on the cost structure.
Well priced competing handsets from other manufacturers are putting a big squeeze on Samsung and, although they're expecting to see better numbers during the festive season, it's more than a little worrying for the company.
Meanwhile, according to figures released by Kantar World Panel (and I'll leave it up to you to decide how seriously you take their stats), the Windows Phone (or Windows phone OS, whatever it's now called) has seen its market share (which was already fairly slim) shrink everywhere except Italy and Japan.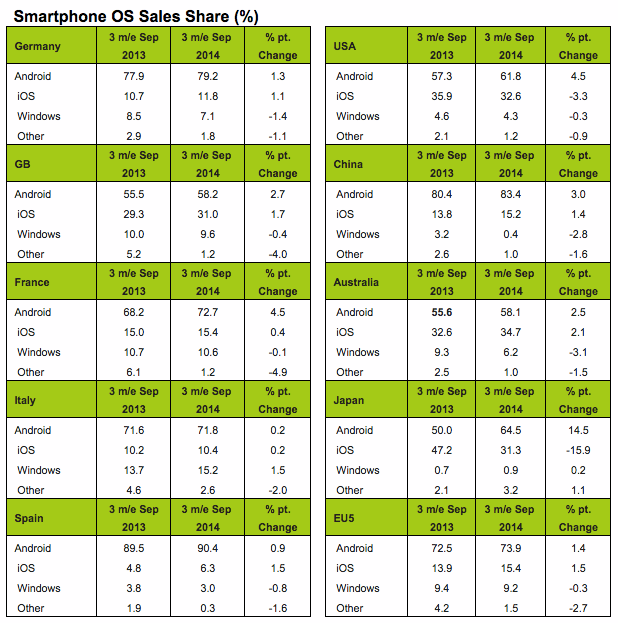 Again, increased competition is having an effect and these figures, from the summer, show that US market share has dropped from 4.7% in August to 4.3% in September. It was 4.6% in September 2013.
Here in Europe it was maintaining a 9.5% market share, but is now on 9.2%.
Sales of the newer Lumia 735, 830 handsetsetc are not included here so these figures will probably change – hopefully for the better – in the next report. It also remains to be seen how the dropping of the Nokia name will alter sales.