Nokia would like as many people as possible to get a Windows Phone in their hands and enjoy the experience. In fact Microsoft would also like that as it helps build out their platform even further, which is why the two companies working together under the Microsoft brand going forward might actually be a good deal for consumers.
Something the company does well is to give everyone a large choice of devices depending on your specification, wish list or price.
Below is a sneak peek video featuring Brendan from Three. He is always great at showing off the best features of a new phone on camera.
Right now you have the choice of the Lumia 630, 635, 735, 830, 930 and 1520. All have their unique selling point at a wide range of prices and they start from around £60 and going up to around the £500 mark.
With Windows Phone pushing forward all the time and, with great updates adding much needed features, people are starting to take notice. New features such as Cortana, folders for Live Tiles and more developers building great apps for the platform, this is a viable alternative to iOS or Android.
Check out the full review below for more thoughts.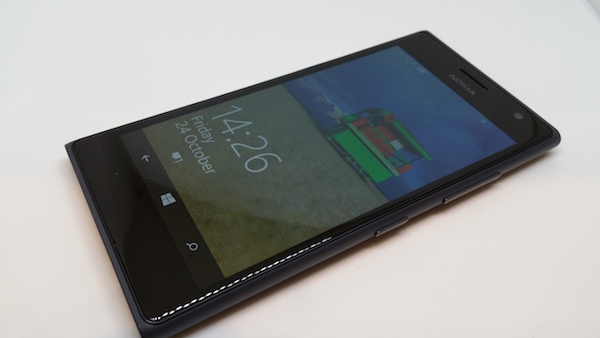 Specs wise the Lumia 735 is not going to blow you away, it has some good mid-range features but that also helps keep the price down. This is something Nokia account for in the Lumia range by offering a wide range of models at any one time.
There is 1GB of RAM which will be enough to get you though most multitasking needs and I had no real issues even with HD video and graphic-heavy games.
There's a new Snapdragon 400 Quad-Core processor clocked at 1.2Ghz helping to run everything, and whilst this does not seem like much, Windows Phone is very good at running on lower powered devices perfectly well. So there's not necessarily the need for a 2.7Ghz with 3GB of RAM to get a good smooth experience.
The battery is 2220mAh and is also removable, which will please many readers of this review. Whilst the capacity might seem on the low size, the AMOLED screen technology paired with the very power efficient operating system means you can get a day of use with no problem, including camera use and using 4G signal if you want too.
The Lumia 735 also comes with Qi wireless charging built in. If you have one of these chargers at home already, it makes topping up the phone even easier.
Connectivity options include the what now feels standard 802.11 b/g/n including being able to tether over WiFi. You also get Bluetooth 4.0 and GPS for that all important navigation when you get lost in the middle of nowhere.
There's also NFC, DC-HSDPA for 42Mbps maximum speed and CAT4 LTE which will support up to 150Mbps 4G (once this rolls out in the UK) and is also network dependant.
Then again, 100Mbps maximum on a mobile connection is more than enough for most people. You can tether on the move and anything more is for big business users who need the quickest possible speeds.
Software is the latest version 8.1.1 also known as "Windows Phone 8.1, Update 1" or Nokia Denum. This brings a few nice additions to the table including finally being able to create folders for Live tiles. This helps to sort out your home screen, plus you get the new voice assistant – Cortana.
If you have used Siri on an Apple device or Google Now on Android, Cortana is just like that, but with some extra additional features that you will love using.
One I used all the time was reminders, but not just for a time but on locations or contacts. For example..
 'Next time I speak to home remind me to ask about dinner' 
..and when either I called or received a call from my contact called 'Home' this notification would pop up.
Cortana does much more though, it will learn things like your favourite sports team to give you results. It'll also give you information about local travel, entertainment news, weather updates and even listen to music playing to tell you the song name and artist.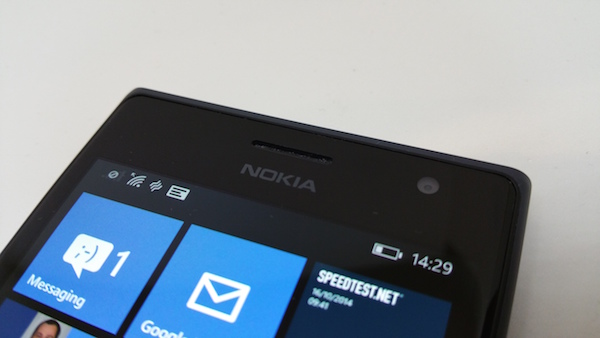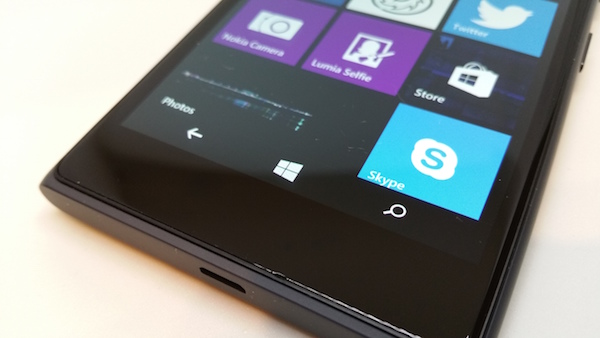 Up on the top of the phone there is the speaker, the Nokia logo and the 5 megapixel front facing camera. This is one of the highlights of the Lumia 735 considering that most facing cameras are between 1 and 2 megapixels at best.
Whilst the 5 megapixel camera might be more focussed towards the current selfie craze spreading around the internet, it does have it's benefits for other things too. You can have better quality video calls over Skype (great on the move), plus you can use it for video blogging if you are into that.
The screen is 4.7 inches and uses the Clear Black Display technology. This is fantastic to use outdoors, unlike a lot of other phones out there which can really struggle with being used in sunlight.
Resolution is 720p (1280 x 720 pixels) with a PPI of 312 making it a mid range screen. This is expected but on an operating system made up of square tiles you don't really notice a huge difference unless you get into watching videos, taking loads of photos etc. For most people this will be plenty good enough for a phone.
Below the screen you would normally find 3 capacitive buttons for going back a screen, the Windows key and for Search.
I say you 'would normally'  because with the Lumia 735 this has been replaced with on screen buttons. This means that they can hide when they're not needed but be swiped up if you want them.
This takes a little getting used too but is a good idea. It's a shame the space could have been used for a larger screen instead of having a large black bezel at the bottom that does nothing.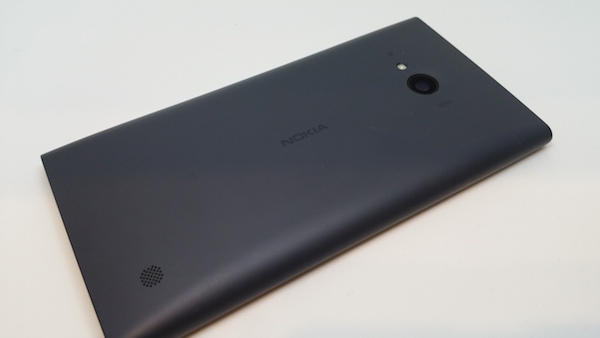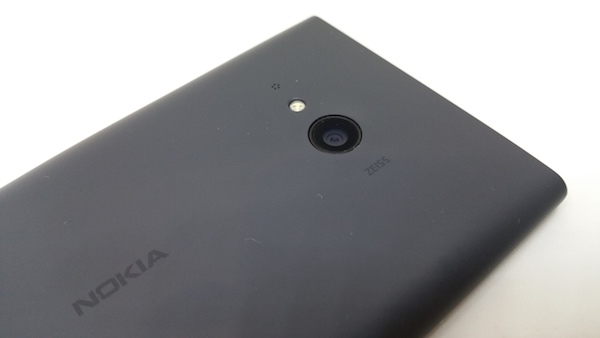 The camera on the back is a 6.7 megapixel sensor with Zeiss optics. Nokia love using this and it can help capture some fantastic photos, however the Lumia 735 does not carry the PureView branding so is not being pushed as one of their camera flagships or anything.
Whilst zooming would be possible, better results will be had by getting closer to the object instead. Then you can use the manual focus within the Lumia Camera app to get a great in-focus shot.
Video recording gives multiple resolutions up to a maximum of 1080p. This is great for sharing videos but, as you will see with some of the photos, the lower resolution lens can struggle to capture a lot of detail that you would find on the Lumia 830 and Lumia 930.
Something worth pointing out is that although the Denim update on certain models will allow 4K video recording, to capture 4K resolution clips you need at least an 8.3 megapixel camera so this would not be possible on this device.
Not that this is a bad thing, so far phones that capture 4K are limited in recording time or they throw up a warning about heat and can shut down.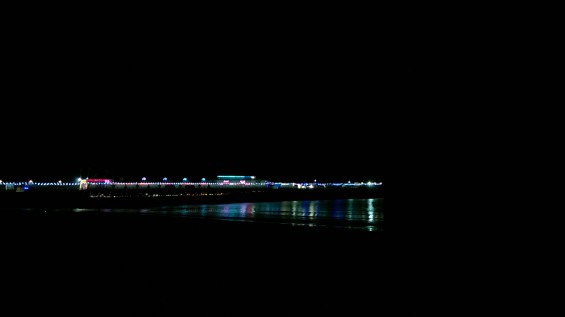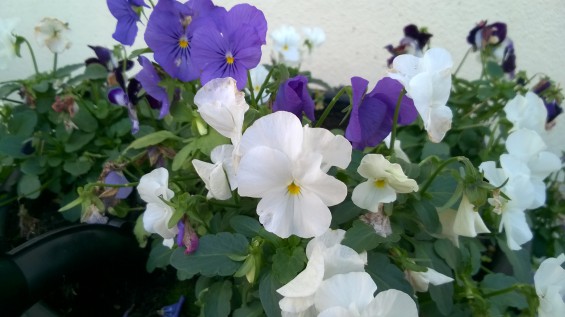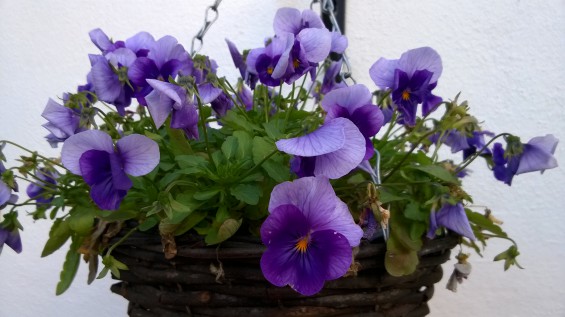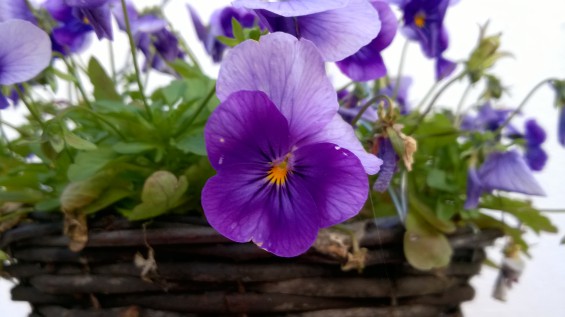 On the top is the 3.5m headset jack which can be used with and headset that has this connector type, of which there are thousands of different ones from the local £1 store to the £300 Beats if you want such a headset.
Something to note is that the box I received with the Lumia 735 in, there was no headset supplied and the list of things included printed on the box also has no mention of a headset. It looks like you won't be getting one in the retail package, however we're waiting on this to be confirmed.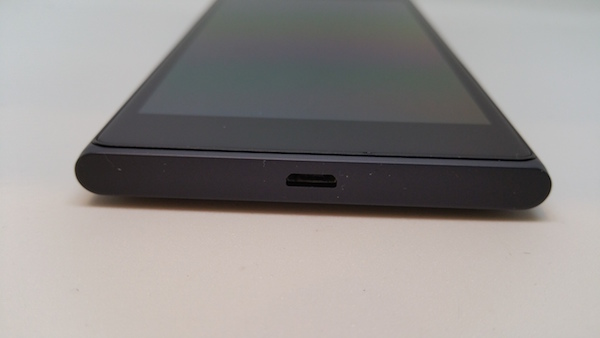 On the bottom you have the micro USB port for data transfer and charging. Any normal micro USB charger will work here so chances are you won't even have to take this out of the box, you can use your one already plugged in.
Also remember the Lumia 735 comes with Qi wireless charging built in so if you have one of these you will not even use the cable for charging, just for data transfer of your content.
Not sure how the 'plug and play' works on a Windows computer, but on a Mac you will need 'Nokia Photo Transfer' app to be able to copy over your photos and videos.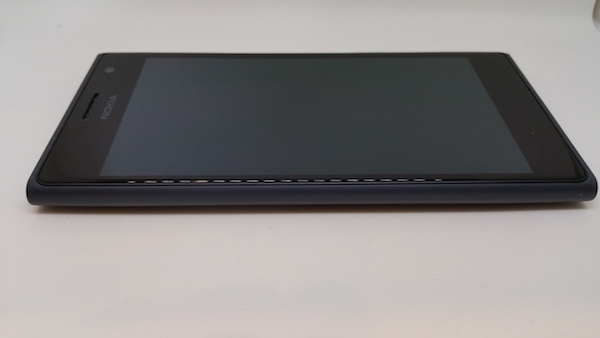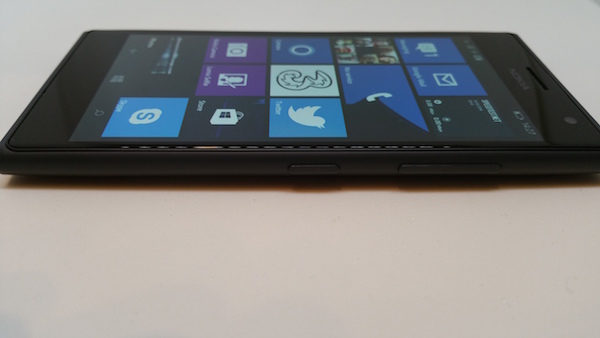 The left side has nothing at all to see, all the buttons are on the right side .
Looking over to the right you have the volume up and down buttons plus a power button right in the middle, but something to note was no dedicated camera shutter button which is a shame considering the camera focus Nokia have on the 735.
The Good:
5 megapixel front camera great for video chats
Latest 'Nokia Denim' update adds new features
MicroSD card support for more storage
Qi wireless charging out of the box
The Bad:
Low resolution main camera at 6.7 megapixels
720p screen resolution can lack detail
Small battery compared to other models
Conclusion:
Nokia have a wide range of Windows Phone devices on sale now, each with their own strengths. The new Lumia 735 is no different thanks to the larger 'selfie' front facing camera.
The camera on the back is not a bad one, just not up there with the best. The lower 6.7 megapixel sensor means that you might struggle to get that extra sharp detail.
The battery got me a whole day of life and, although in testing this was on 3G coverage, the Lumia 735 is a 4G device and battery should be a little worse if that is what you are using most of the time.
A great feature of the Lumia 735 is the built in wireless charging case which uses the Qi standard, whilst you do not get the charger in the box for this, if you pick up one of the many versions available then you can always top up your battery.
Many thanks to the team at Three for the device on loan before it even went on sale on their network, this should be a great device for a christmas present in 2014 and something both the selfie fans and Skype users will love using thanks to the large front camera.
Nokia Lumia 735
Design - 8
Hardware - 7
Software - 7
Battery - 7.5
Camera - 7
Screen - 7
7.3
A great mid range camera phone for the selfie lovers or Skype fans.