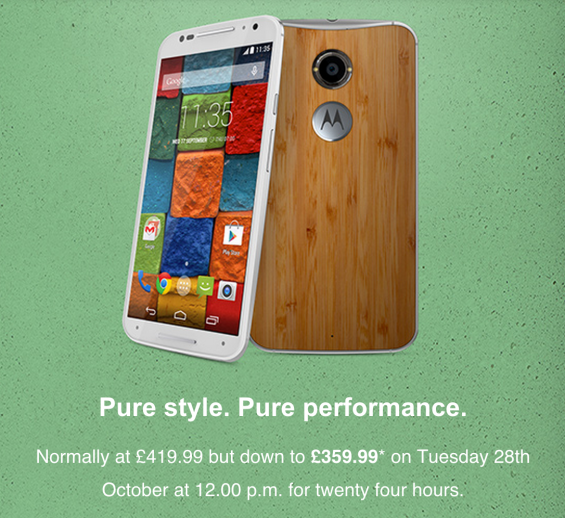 Ever since the Nexus 6 announcement, some of the Android faithful over here in the UK have been holding their breath as they waited for the UK pricing of the $649 phablet to be announced. At today's exchange rates, that would equate to the £400 region which would still be an acceptable price. Unfortunately we know it just doesn't work like that. Even if we added sales tax at say 8%, that only bumps up the price of the phone to around £435 which still comes in below the cost of the Sony Z3, Note 4 or even the Galaxy Nexus 5.
We know it doesn't work like that for US-to-UK pricing, especially when it comes to tech. There would be a zero chance of surprise if it topped out at the £500+ mark. Like, none.
All of which makes it a really nice surprise to learn that the Moto X will be having a one day sale to bring it price down to £360 (yes, we aren't playing that game where if you take a penny off, its looks that much cheaper) including delivery. That's a heck of a lot better than the £420 (16Gb)/£440 (32Gb) mark of the Moto X at its standard price.
How to take advantage? Mosey on down to the Motorola website and the Discount is applied at checkout with purchase of a Moto X. The promotion is valid from 12:00 p.m. GMT on 28/10/2014 to 12:00 p.m. GMT on 29/10/2014.
All of a sudden, the choice on whether to wait for the Nexus 6 becomes just that little harder to make.