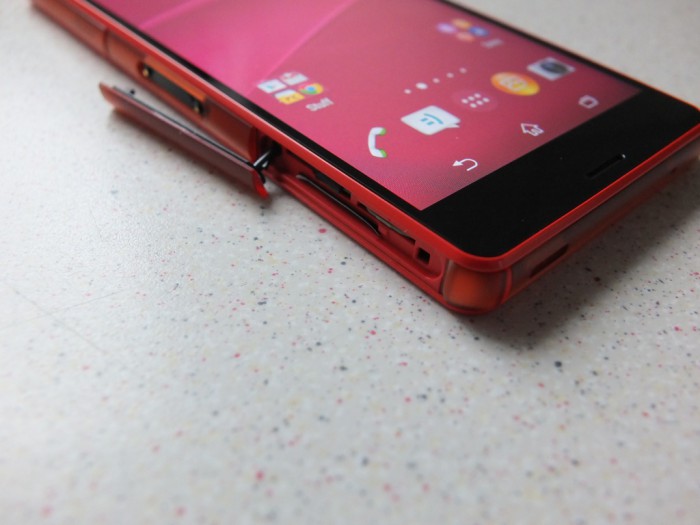 Iterative products are just a way of life these days. We get a new slightly updated device every few months, sometimes every six months, sometimes even every year, Sony have mastered the iterative product cycle, releasing new products every six months ensuring they stay current. A manufacturer finds a new niche or use case and sometimes it's a hit with the consumer, the Sony Z1 Compact was one such phone, for a while to buy a small compact Android device meant you'd have to compromise on specs, build quality and design. A few companies had tried something different but none had really made a success with them. Sony last year decided to offer a high spec device in a small chassis that would appeal to those people who wanted the latest flagship spec and high performance, but didn't want a huge great 5″+ device that needed two hands to operate. This year they've gone and updated it, on paper it's basically the same as the larger Xperia Z3 that was announced a few weeks ago at IFA, only a few minor details are different. Anyway I've been using one for a few weeks now, thanks to getting one pre-ordered with Clove, I ordered the red one, I just wanted something a bit different and it kind of matched my watch. So onto to the review, as always starting with my good and bad points.
Good Points
Great size, great feel in the hand, great design.
Great build quality.
The display despite being 720p is sharp, colourful and bright.
Feels really quick through the UI.
Software is pretty intuitive.
Micro SD slot.
Water and dust proof.
Great sound quality with either speakers or headphones.
In the right conditions the camera is great.
Some of the Sony software is really rather nice, such as the Gallery and Walkman apps.
Bad Points
The camera seems to be a little bit off in certain conditions.
Front speakers distort at high volume.
Flap longevity is a concern after having to replace my Z2 flaps recently.
The Sony launcher and bundled software is getting a little much.
Design
The Sony Xperia Z3 Compact or Z3C as I'll call it from now on, is a great looking piece of kit. It is a mix of nice soft touch plastic, some underlying metal and two panes of glass. I was quite surprised when I took the Z3C out of its box, mainly because small devices always surprise me and also that the edges were made of plastic. I had seen them on various hands on videos from IFA but seeing it in the flesh was quite a shock. Not that the translucent plastic doesn't look nice, I just expected something a little bit more premium feeling.
The sides of the Z3C are made of a soft touch translucent plastic, which is convex so if you were to drop the phone it might protect the phone much like a bumper case would. I did say might though, you'd more than likely smash the glass if you dropped it.
The left hand side house two flaps and the magnetic charging point. The top flap houses the Micro SD slot and the Micro USB charging port. The bottom flap houses the Nano SIM slot. Both flaps are opened from the ends with this generation as opposed to the sides. This might help phantom opening, I don't really know yet.
The right hand side of the phone is where you find the various buttons, arranged in the same order as before, the round power button at the top, volume rocker just below that, some may say almost too close to the power button and then the camerabutton at the bottom. The camera button still triggers the camera from sleep or within any app, which is quite handy. The volume and camera buttons are made of plastic this time round, in the same colour as the side panels, if anything these buttons add to the "Not as premium as I'd hoped for" feeling I have with the Z3C. If they were metal like the power button it'd be better.
The top and bottom of the phone don't really hold many surprises; the top has a microphone and the headphone socket. The bottom has another microphone hole.
The front of the phone is pretty basic, the Z3C now has front facing stereo speakers, which are inset from the edge. The back of the phone is a sheet of coloured glass, which feels nicer than last years plastic back. The back bares branding for Sony,Xperia, NFC and also the camera and flash are in the top left.
Overall the Z3C looks nice, it feels nice and you can use the entire screen with one hand, which is always fun.
Here's my hands on video of the Z3C as well.
Sony Xperia Z3 Compact – Hands On:
http://youtu.be/3YMhW3MCFaA
Hardware
Spec wise the Z3C is pretty much perfect. With only really the screen lacking in any way. Although saying that you can't tell it's a 720p display, it's bright, colourful, crisp, viewable from all angles and fairly readable outdoors.
Display: 4.6″ display (1280×720 pixels),with TRILUMINOS and X-Reality tech built in.
Processor: Qualcomm Quad-core Snapdragon 801 at 2.5 GHz.
GPU: Adreno 330 GPU.
Internal Memory: 16 GB (about 11 GB free out of the box).
RAM: 2 GB.
Rear Camera: 20.7 MP camera with auto focus, 8x digital zoom, IS0 12800 maximum, Sony Exmor RS.
Front Camera: 2.2 MP, HD 1080p for video.
Sound: Sony 3D Surround Sound technology (VPT), Clear Audio+, xLoud Experience, DSEE HX, High-res audio.
Connectivity: GSM GPRS/EDGE (2G), UMTS HSPA (3G), LTE (4G) (not available in all markets), aGPS, Bluetooth 4.0, 3.5 mm audio jack with Digital Noise Cancelling (DNC), DLNA Certified, NFC, GLONASS, Native USB tethering, ANT+ wireless technology.
Battery: 2600 mAh non removable, Talk time: up to 14 hours, Standby time: up to 920 hours, Music listening time: Up to 110 hours, Video playback time: Up to 10 hours.
Dimensions: 127 x 64.9 x 8.6 mm.
Weight: 129 g.
Extras: Micro SD slot up to 128 GB (inc SDXC), PlayStation(r) Certified for PS4 Remote Play, Waterproof and dust tight (IP65 and IP68).
Software
Sony have skinned their Android devices for years now, in my eyes it has always been one of the least offensive skins around. These days the Xperia Launcher and skin feels very much like the stock Android launcher but with some nice icons, some cool wallpaper and a few themes to change the overall style. When I use a Sony device I never really feel the need to use an alternative launcher. Which, for me is saying something.
The Sony skin ever has nice touches like notification badges on icons like messaging, calls and Facebook. The contacts app even has Facebook integration which is always handy to populate those blank faces in the contact list.
Sony do however though pre-install quite a lot of apps. This sounds bad, but it isn't all that bad, the Sony Gallery app, the Walkman app the LifeLog app and the File manager app are all really nice apps. They haven't done everything quite as nicely though, you also get a Garmin Sat Nav app, AVG Anti Virus, a load of camera lenses, the Kobo ebook app, a variety of Music and Video apps from Sony, the Sony update centre, the Xperia Lounge and a few others apps which all in all I don't feel add anything to the device. I wish manufacturers just published their apps on the Google Play Store and let you install them if you wanted. Yes things like the Launcher really need to be pre-installed but the Kobo ebook app, Garmin Sat Nav and AVG Anti-Virus just feels like they've took money from the app developers to pre-install those apps.
Sony have added some features to the Xperia Z3 compact that make it a pleasurable experience, such as the launcher now  has larger icons, more in keeping with the icon size in the Google Now Launcher, which on a smaller device really is quite nice. I also spotted something useful when you go to turn the phone off, normally on a Sony device you get power off, airplane mode and take screenshot. Now on the Z3C you also get restart and record screen, which will take a video of what you do on the phone, so if you are demonstrating how an app works to someone you can take a quick video save it and then send it them. Not exactly a deal breaker, but it is nice to see mainstream manufacturers add features that have previously been used in custom ROMs.
Overall I was pleased with the software experience on the Z3C, little things like the customisable drop down power toggles, the nice Walkman app, the speedy launcher and the pop up small apps really make theZ3C a nice phone to use. Even nicer is that you can do everything using just one hand.
Other notable stuff
The Cameras
Rear Camera
The rear camera is rated at 20.7MP, which on paper or said out loud sounds great. In reality it can be great, sometimes, if the lighting is just right. Most photos will be in Superior Auto mode, which takes shots at 8MP. The idea is that it taking the photo with a lot of pixels and having the camera resize them to 8MP means in theory you should get a better picture. Sometimes you do get some great pictures, it's just sometimes you don't. I found low light shots noisy and out of focus, shots with movement out of focus, towards bright sun over exposed and a bit washed out, macro shots a bit hit and miss as the auto focus chose to not focus at times.
As I said though, if you don't take shots in the above situation you'll no doubt take a great picture, I've taken quite a lot of photos with the Z3C as I took it abroad recently and it's certainly capable, you just have to be aware of various settings and quirks. Such as putting the camera in manual mode to take actual 20MP shots or not pointing it at the sun. As an aside the 20MP images don't really look any better than the 8MP shots I've took.
Front Camera
The front camera is predictably poor, I found most shots either out of focus, noisy or over exposed. It's just a bit like the rear camera as regards lighting and you can't tap to focus. it just focuses on whatever it likes. Here are some ill advised selfies.
Benchmarks
As the Xperia Z3 Compact has the latest and greatest Qualcomm processor it's going to benchmark pretty high, here are the scores
3DMark – 19117
Antutu – 45490
Quadrant – 20770
Battery life
The battery on the Xperia Z3 Compact is pretty impressive, I was amazed that with light usage I could basically use it for two or three days, turning it off at night. I ended up with 2 days powered on with about 4.5 hours screen on time. It really is a great battery, obviously under heavy load you'll kill it in a day as you'd expect, when I synced everything for example.
Sound Quality
Sound quality is an important part of my opinion of a device. I was actually surprised at how good the Sony Xperia Z3 Compact sounded. Using a set of decent headphones you get a really good sound, with decent bass. If you want to buy HD music you can via the Sony Music store and you'll need compatible headphones, the provided ones are just basic in ear Sony ones. Sound from the speakers was good as well, with more depth and volume from the newly positioned front stereo speakers. They weren't HTC Boomsound sort of loud or quality, but they were better than my Z2. At high volumes they tend to distort a little almost rattling the glass screen.
Overall sound wise I was impressed.
Conclusion
Overall I really liked the Sony Xperia Z3 Compact, I hoped it would be a little Android powerhouse and in that respect I wasn't disappointed. The design and the quality of the Z3C is top notch and I often found myself inexplicably staring lustfully at the phone. I did however feel a bit let down by the camera on the Z3C, in low light or bright light the auto mode just did too much processing, leading to odd colours and digital noise in the shot. In normal light though the camera was spot on.
A big thanks to Clove for supplying the Sony Xperia Z3 Compact you can pick one up here for £349 inc VAT.
Sony Xperia Z3 Compact - Review
Design - 7
Hardware - 8.5
Software - 7
Battery Life - 8.5
Camera - 7
Screen Quality - 8
7.7
Overall I really liked the Sony Xperia Z3 Compact, I hoped it would be a little Android powerhouse and in that respect I wasn't disappointed.