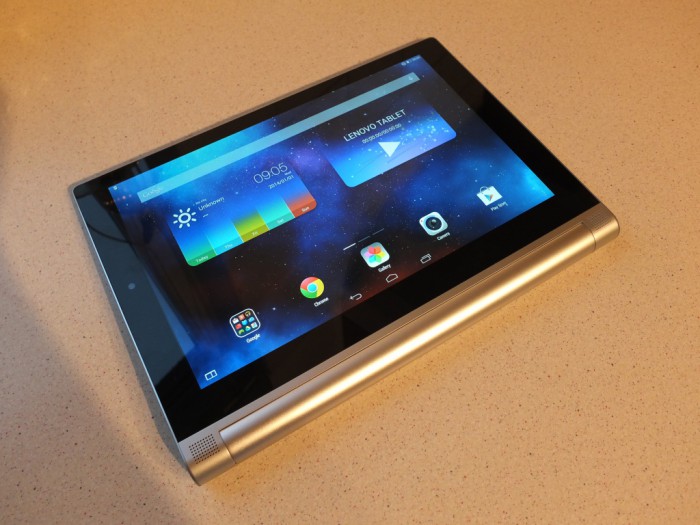 Lenovo are gradually becoming a household name in the UK. Thanks somewhat to their rather nice looking and great value for money laptops and also thanks to their range of tablets. Last week they announced a new range of tablets, the Yoga Tablet 2 and the Yoga Pro Tablet 2 (or something like that). They were basically upgraded versions of last year's Yoga tablet with some new software and some fancy new hardware features. Oh and you could choose from several different sizes, optional 4G models and also the choice of Android or Windows.
Lenovo have sent me the 10″ Android tablet which they are asking for £279.99 for on their site, so let's start my initial impressions with my good and bad points.
Good Points
Metal kickstand is actually quite useful. Bright colourful screen.
Micro SD slot.
Nice overall feel to the tablet.
Front facing speakers.
Overall the device feels really quick.
Bad Points
Cylindrical battery makes it a weirdly weighted device.
You feel like you can only really use it in landscape mode.
Custom Lenovo launcher is a bit fiddly.
The plastic backplate is a bit flexy.
Strangely positioned rear camera.
The price of £279.99 seems a bit high.
Design
Design wise the Yoga Tablet 2 is great looking piece of kit, with a few real metal accents here and there. Of course there is some plastic too, which is no doubt to keeps costs down a bit. The eyes are drawn to the cylindrical edge/end which really does dominate the entire design, so let's deal with that first. The bulge is many things, it houses the power button, the headphone socket, two front facing speakers, a wall bracket mount and of course a great big old battery. It does add weight though, it makes it heavy in use and sort of forces you to use the tablet in landscape format to avoid having to hold the non symmetrical device aloft.
The front of the tablet is basically just the huge big display and the front facing speakers, in the bezel above the screen lives the sensors and the front facing camera.
The sides only really have the volume rocker and Micro USB port, the power button and headphone socket are on the ends of the battery bulge.
The back of the tablet only really bares the Lenovo  and Intel branding. The Kickstand hides the Micro SD slot and the kickstand also where the hole to hang it up on is.
Hardware
Hardware wise the Lenovo Yoga Tablet 2 is similar to the Hudl 2 I looked at earlier in the week, albeit in a more fancy looking shell and with a cool kickstand. The Intel chip used on the Hudl is a Z3735 but it's clocked higher. Here is what you get.
Processor: Intel Atom Quad Core Z3745 Processor( 1.33GHz 1066GHz 2MB).
Operating system: Android 4.4.
Display type: 10.1″ IPS LED LCD Touch 1920×1200.
RAM: 2.0GB LPDDR3 1066 MHz.
Internal Memory: 16GB (about 10.75 GB free out of the box).
Network: 802.11 abgn WLAN.
Bluetooth: Version 4.0.
Warranty: One year.
Battery: 3 Cell Li-Cylindrical Battery Life Up to 18 hours.
Dimensions: 255 x 183 x 3-7.2 mm
Weight: 619g.
Rear Camera:8 MP f2.2 with auto focus and advanced BSI-2 sensor.
Front Camers:1.6 MP.
Speakers Front-facing, large-chamber stereo speakers with Wolfson® Master HiFi™ audio processing and Dolby® surround sound ports.
Micro USB port with USB OTG , Micro-SD card, 3.5mm audio jack.
It's quite a rounded package, I'd say it could do with slightly more internal memory and maybe an IR blaster to really make it an appealing device.
Software
Lenovo have always applied a skin to their Android devices and this latest generation of Yoga tablets are no different. To tell you the truth it looks a lot like an iOS skin on a custom launcher and it feels like Miui V6 with its skinned notification zone and setting slide up panel. Don't get me wrong here, it's nice. It also seems really quite quick, whether that's the new device with not much running in the background or whether it's some fancy work Lenovo have done with Intel to optimise the software to work with the chip remains to be seen.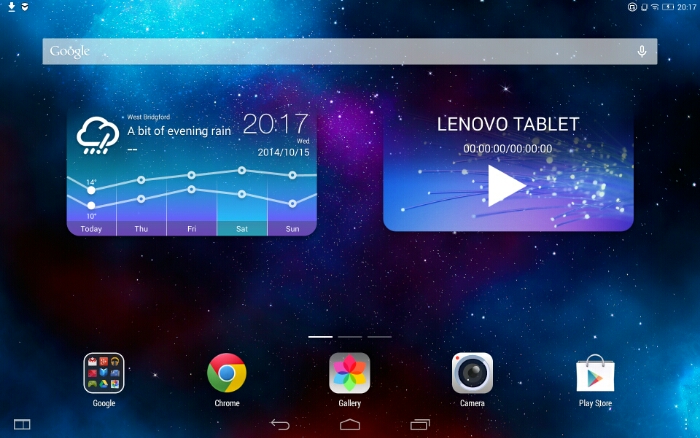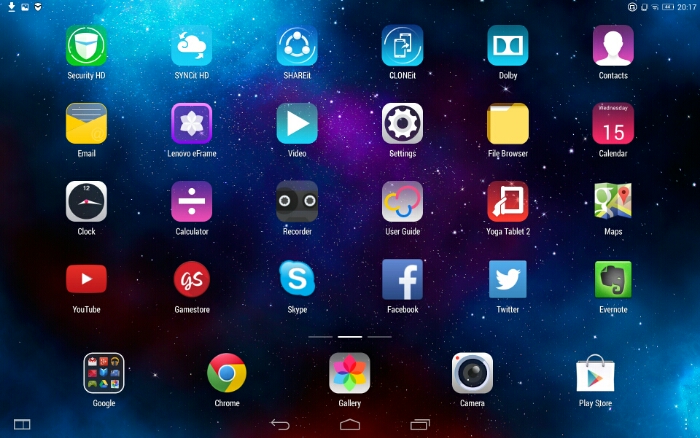 There also isn't an app drawer so the whole iOS feel continues through the launcher. This even extends to the notification drop down and the power settings that you access with an upward swipe on the navigation bar.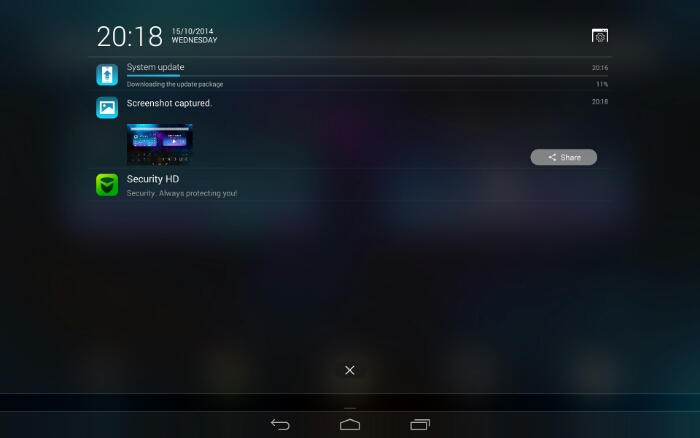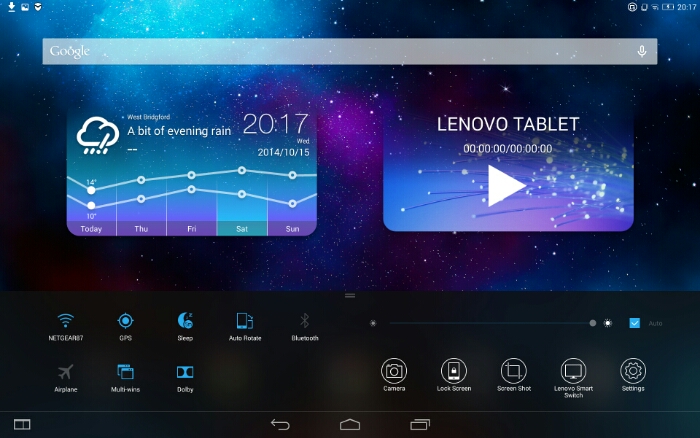 Conclusion
My initial conclusion is that the Yoga Tablet 2 is rather a nice tablet, I like the Kickstand, the speakers and the nice display. The battery is a little bit annoying as it is not so ergonomic to hold it in portrait with it, although a 10″ Android tablet should only ever be used in landscape so my point is redundant. Either way I look forward to testing this out.
I'll be bringing you the full review in a few weeks once I've had a really good play with it. If you want any apps testing or you have a question leave a comment below and I'll do my best to answer.