Yesterday we heard that Vodafone were offering a cheap 4G tablet for pay as you go customers, today not to be outdone EE have announced that they'll be selling the slightly cheaper and slightly smaller Alcatel One Touch Pop S. Which can be yours for £99.99 and it comes with a regular data allowance of 100MB.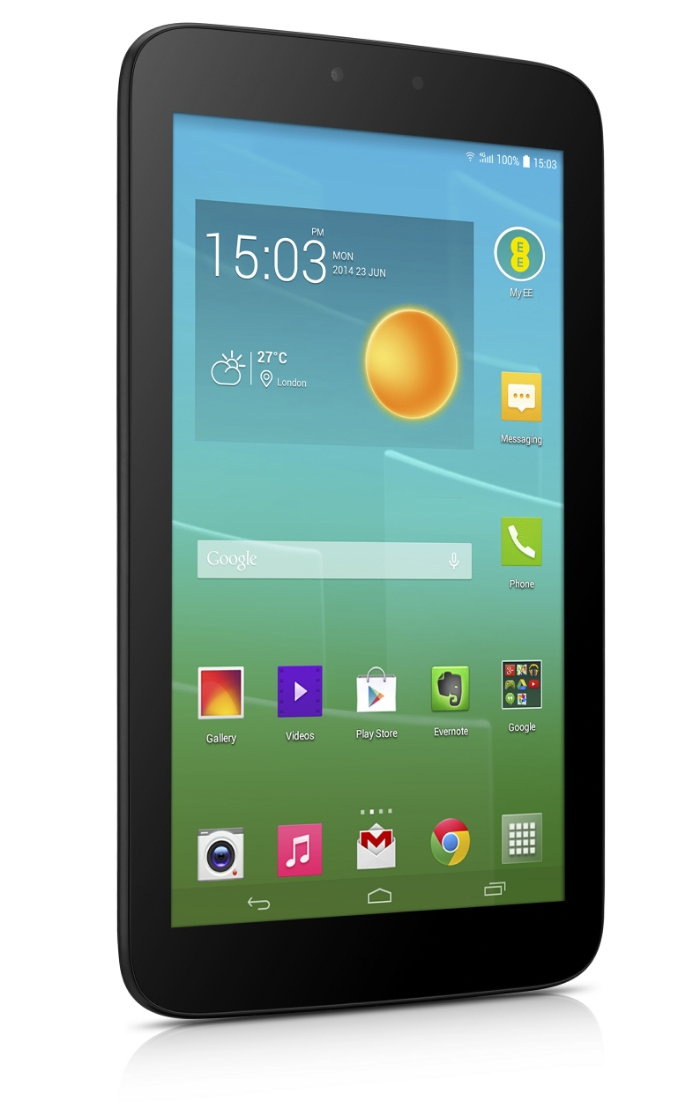 – EE announces the UK's most affordable 4G Pay As You Go (PAYG) tablet in time for Christmas with the Alcatel ONE TOUCH Pop 7S at just £99.99.
– EE also unveils a 2014 Christmas gifting offer – providing all new EE PAYG smartphone and 4G tablet purchases with 100MB of free mobile data each and every month.
– All new 4G tablets launched on EE between now and 31st January 2015, and smartphones between now and 28th December 2014, to be included in the Christmas promotion.
Christopher Traggio, Director of Pay As You Go, EE said: 
"The Christmas sales have come early this year for those shopping for a new Pay As You Go smartphone or tablet. With the most affordable 4G tablet in the UK, plus free data each and every month on the UK's biggest and fastest network, we're helping customers purchase a gift that will keep on giving, long after the festive season is over."
Quite how capable this tablet is remains to be seen. The only EE supplied about the tablet is as follows:
The thin and light tablet has a 7" screen, a front and rear camera, a quad core processor, 8GB hard drive and MicroSD slot. The tablet also comes with three colourful back covers at no extra cost.
The Alcatel website paints a different picture though. Quoting a dual core processor and Android 4.2.
The tablet is equipped with a 1.3GHz Cortex A7 dual-core processor and is powered by AndroidTM 4.2 (Jelly Bean). With up to twice the performance of a single core tablet, the POP 7 tablet offers faster multi-tasking capabilities, allowing users to simultaneously launch multiple apps, edit photos, and play graphic-intensive games.

The VGA megapixel front-facing camera make video calls a snap, while the 2 megapixel rear camera captures crisp photos and 1080p video.