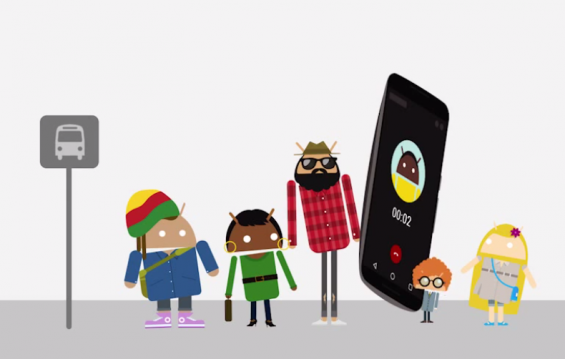 We've been waiting a while for Google to launch their operating system and the accompanying hardware. All that flatter looking, Material Design goodness looks like its coming that one step closer for us to get our hands on with the launch of these three YouTube ads.
The first one has five people waiting at a bus stop when one of them pulls out a hugenormous phone. If that isn't a tongue-in-cheek suggestion that all the leaks over Google's 5.9 inch phone isn't right on the money, then nothing is.
[yframe url='https://www.youtube.com/watch?v=hCCnqLzeQJQ']
Then things start to get a little interesting… the second adverts tag line is "be together, not the same". This could easily be a reference to the HTC made Nexus 9 that we think is coming. That's the most likely reason, naturally.
[yframe url='https://www.youtube.com/watch?v=mS0tqSFP9f4′]
Its almost absolutely, unequivocally definitely the reason. but maybe, just mayyyybe, Google has played a blinder in the secrecy stakes. What if the earlier rumours of the 5.2" Nexus 6/Shamu phone were right on the money? What if Google were planning to release a second Nexus phone, but only let the information about the larger phone leak online? I mean, if Apple were able to release 2 new 'flagship' phones this year, why couldn't those crazy cats over at the Googleplex? Motorola has already released a 5.2″ phone with the Droid Turbo, so why not?
That makes the third advert just that little more interesting to watch, because when you see its tagline "be together. not the same." that could quite easily mean two phones this year, not just a phone and a tablet. Maybe, its the rebirth of motocool. Who'd want to bet against them doing something that outrageous?
[yframe url='https://www.youtube.com/watch?v=yQhWff9QWNw']