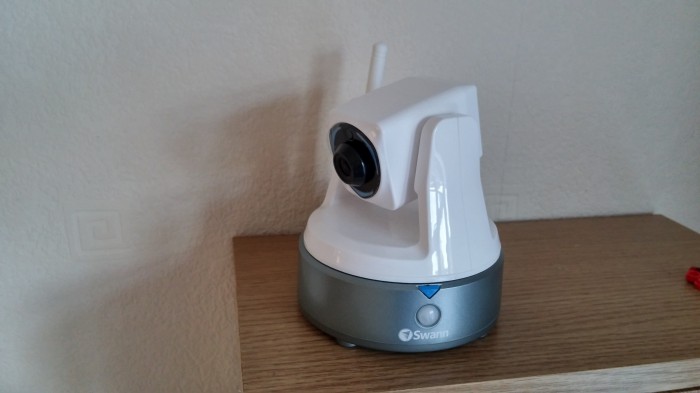 Having the latest smartphone or tablet is one thing, but doing something really useful with it is another. Now, in the past we've seen security systems here at Coolsmartphone that'll talk to your iPhone, Android or Windows handset. Remotely monitoring your home or getting informed when there's movement is always useful, even if you only ever use it to see if your cat is all right.
The people from Swann sent me this, the SwannCloud HD Pan & Tilt WiFi Security Camera, to review. It's easy to setup and can use ethernet or WiFi to connect onto the web. You can then interact with it from anywhere in the world that has an internet connection. Oh, and the operative word there is "interact", because you get to control this camera – moving it left, right, up, down or snapping photos remotely from your phone.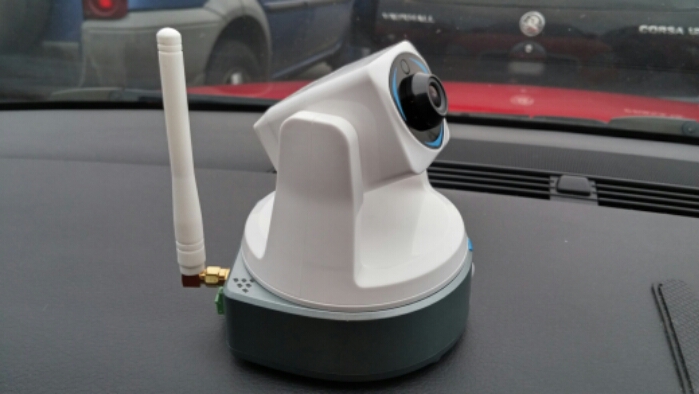 It's a robust little thing when it plops out of the box. I don't want to compare it to a toy too much, but it has that rigidity and strength that I've seen on some of my sons toys. This is something that gives you confidence – it'll sit quite happily on a bookshelf and you don't feel the need to guard it from prying hands.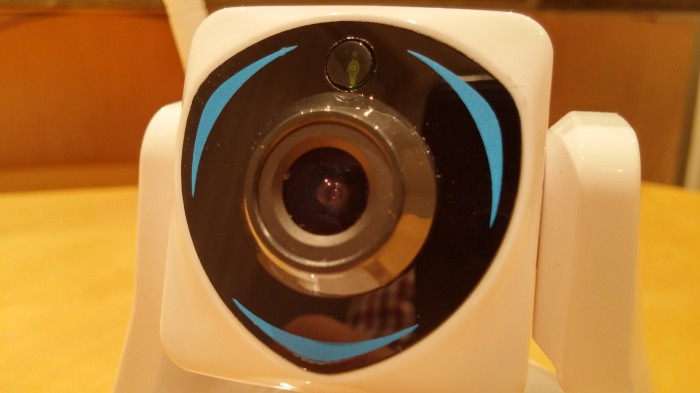 You can, if you wish, use it just as a fun remote camera. You don't need to turn on all the extended functionality (I'll go onto this in a minute) and you can instead just use it to see if your child has got home safe, whether your dog is in the kitchen, whether it's raining at home and so on.
Getting started
I didn't fancy getting this plugged in via ethernet. For a start that would restrict where I could position the camera, so I decided to put it on top of a book shelf in the lounge and use the WiFi instead. We don't actually use that book shelf for books any more sadly – it's filled with junk but hey, that's another story. 🙂 Plug in the camera, place it down and it'll start beeping.
As I never read the instructions I then couldn't really figure out what to do, so I continued ignoring the nice simple quick-start guide and went off to download the SwannCloud app. It's available for Android and iOS and it's free. This is the app that'll let you control your camera and you can grab snapshots from the camera on the fly too. It'll let you configure the camera, enable / disable alerts and will give you access into your account where HD 720p videos are stored if an event is triggered.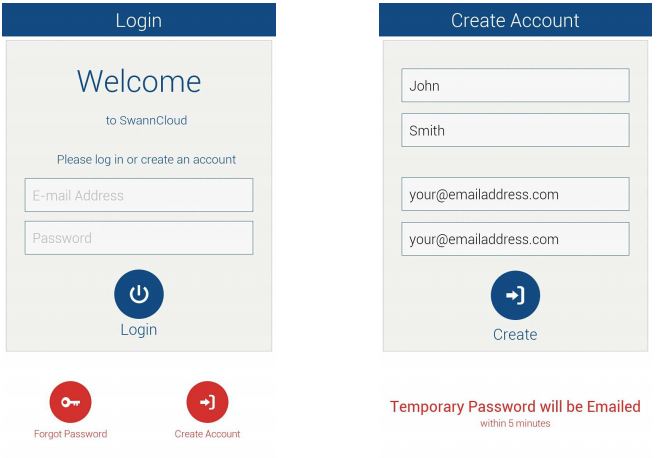 Anyhow, I'm getting ahead of myself. After downloading the app you need to setup an account. This is all pretty simple and you'll receive a temporary password via email. You then click a link and enter a password of your choosing and, without even talking to the camera, it'll use the WiFi on your phone to sniff out WiFi hotspots. When it's grabbed a list, you just choose the one you want to use to connect and enter the password. Once you've entered that, it'll display a QR code in the app with the relevant WiFi connection details. The "beeping" from the camera is actually the unit trying to tell me that it need the WiFi details (or that it has no connection), so you simply position your phone (and the QR code) in front of the camera lens and it'll beep to signify that it's got the WiFi details. That's a pretty sweet setup process, I must say.
At this point the camera will now be connected to your WiFi and it will register itself with your SwannCloud account. You can then (from anywhere in the world) connect to your camera and turn on additional features or simply control it. I liked the HD video quality and the fact that sound was sent via the stream too, but I did find that I had to notch down the quality a little when I was on some 3G networks. This isn't the fault of the camera of course, but I was glad that the adaptive streaming technology and the fact that you could reduce the quality yourself.
A Tour
If you do actually read the Quick Start Guide then it's all pretty simple and easy to understand. Up front, above the camera, is a light sensor which automatically switches the camera to infrared (night) mode when there's no enough light. You can disable this if you wish, or have it on auto. Around the main lens you'll find the LED lights that do the night-vision magic. These will glow red in the dark.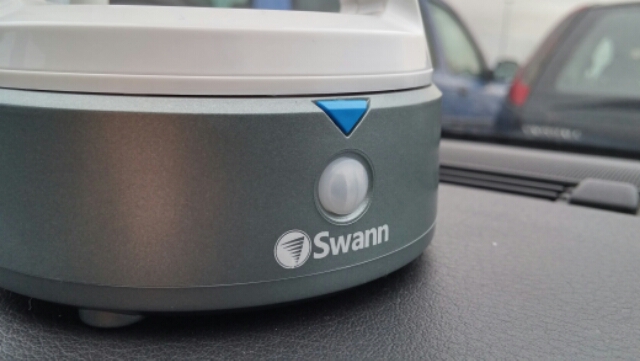 Under the small blue triangle on the front is a small infrared sensor. The whole upper white section rotates around.
On the right side of the device there's a couple of slots. One is a microSD card slot (shown here as a "TF" slot) and lets you capture a series of snapshots and videos directly to the card. The people at Swann tell me that this is for more "advanced" users only. To be honest I preferred to store images in the "cloud" as any thief wouldn't be able to destroy the images by breaking the camera or the microSD card in this slot.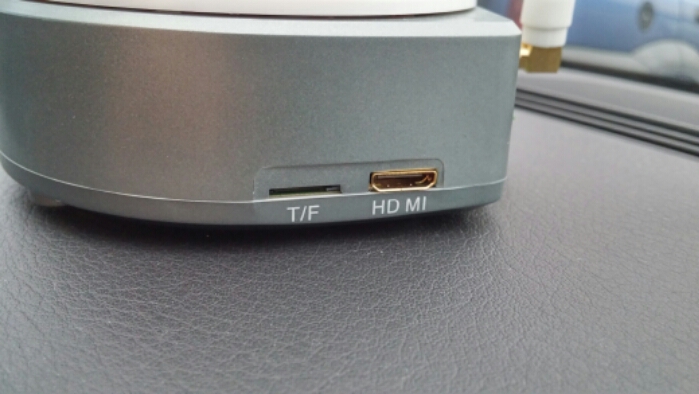 Here there's also a mini HDMI port so that you can see the live image on your TV. If you have a cable long enough this means that you can use it to see a high quality image on your standard television.
On the back there's a range of connectors. First is a WPS button, which lets you connect to WPS-enabled routers and WiFi hotspots. Press and hold it for a few seconds to enable this.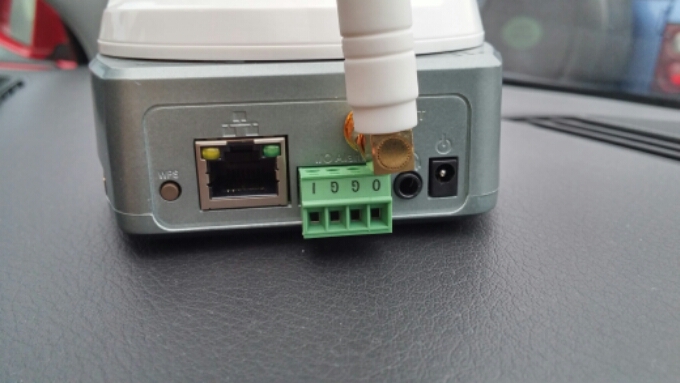 There's also the standard RJ45 / ethernet port if you prefer a wired internet connection and, to the right, there's some slightly more advanced connectivity in the form of an Alarm I/O block. Use this if you're setting up the camera to work with external alarms and sensors. I didn't try this bit, but there's an OUT, GROUND and IN, which alarm installers will probably be more familiar with.
Obviously you then have your WiFi antenna and, although it's not used currently (they might enable it later but to be honest I don't see a need for it), a 3.5mm audio out port. I guess this could perhaps be fitted to a big speaker if they did enable it, then you could shout at your intruder 😉
Next to that, the power socket.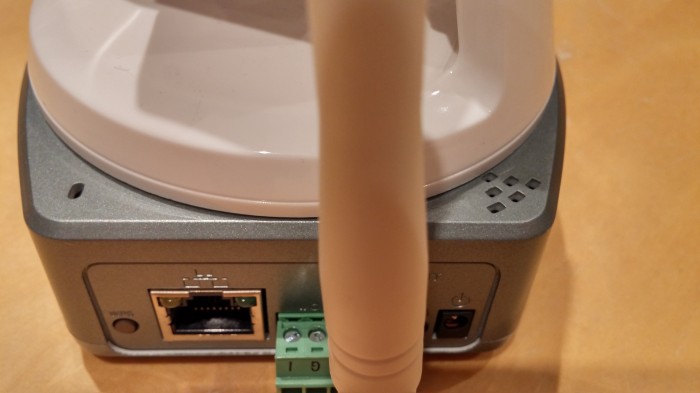 Meanwhile, on the base there's a microphone and a small speaker that makes the various bleeps and alarms to let you know of an issue. You can also mount the camera to the supplied bbracket and there's a reset button underneath which you'll need to hold down if you want to reset the device.
SOFTWARE
After setting up the camera you now do everything with the app. We've already created our account and logged in, so the first thing you should now see is your camera. At the top it'll display the last two events that have occurred. Below that there's the total amount of events for the day. An "event" is a motion or intrusion event – you can turn these on or off.
Below that you can see how many cameras you've registered and how many are currently offline. The main navigation is done via the options at the bottom. You've got a tab for this home screen, one for your events (each one is recorded as a 10 second file), the camera list and a "more" option for tweaking your profile, logging out or going through the online manual.
Click into your camera and it'll show you a small preview next to the name. You can then click into this to start moving your camera around. On this next screen there's also the option to enable the Night Vision setting, take a snapshot of the live video (these snapshots are stored on your mobile device) or you can go ahead and start moving the camera with the "PTZ" option. The "PTZ" abbreviation stands for "Pan, Tilt and Zoom". Sadly this particular camera doesn't do the "Zoom" part, which would've been cool, but the movement works well and one tap on your phone makes the camera move a set amount up, down, left or right.
The video below is the best way for me to show this in action. Don't forget that I could be anywhere controlling this camera..
These images (borrowed from the manual) are a good introduction into the extra settings. Click into the camera and you can enable the Motion Detector. However, it doesn't just stop there, you can adjust the sensitivity, size of the person, the motion area and the event delay. This is full of features.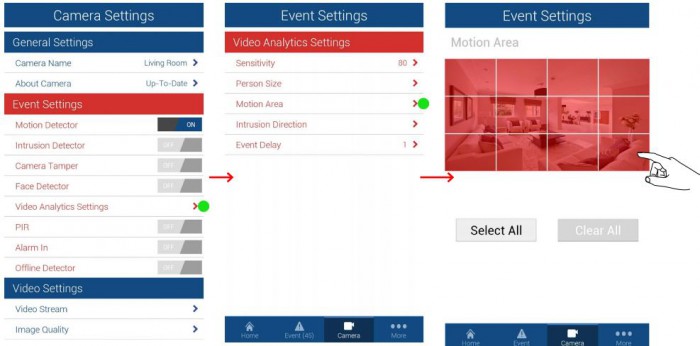 Likewise, a similar "Intrusion Detection" system is included. As an example, if someone is entering the camera view from the left and moving towards the right, you would set the "Right" direction value for the intrusion to be detected. That's the sort of thing you'll need if this camera is pointing out over your driveway and you need to see who's coming into your drive etc.
The sensitivity is very granular, with event delays, person size and height / width settings also available to change.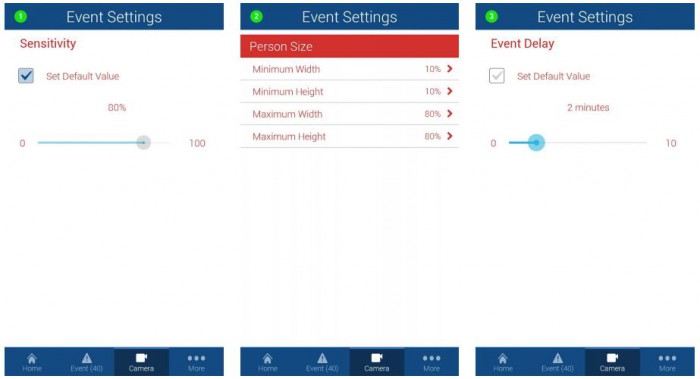 There's also face detection and PIR detection, so you can use the sensor on the front to see if there's any movement instead. Swann also offer help in choosing the best type of detection method…
Intrusion Detection – Intrusion detection is really useful if you want the camera to detect movement in a particular direction. For example, if an object is moving from left to right, you would select "Right" as the intrusion direction within the app.

Motion Detection – Select motion detection if you want the camera to detect any type of motion within the camera's viewpoint. You can also notify the camera to detect motion in a particular area of its view, a window or door for example.

PIR Detection – This detection method utilizes the PIR sensor that is located at the front of the camera. PIR technology can measure infrared light radiating from an object; therefore selecting this will ensure you won't get false events recorded. Please note; the PIR sensor has a shorter range of detection, therefore it is mainly used to record movement that is closer to the camera's view. It is recommended to enable this if you have selected motion detection.

Facial Detection – Facial detection technology determines the location and size of a human face. It detects facial features and ignores anything else such as buildings, trees and other objects. This is recommended if you are monitoring the front entrance to your house or garage.
It's also worth pointing out that you can rotate your mobile to "landscape" view to see a full live image from the camera. The PTZ / night vision controls will then appear on an overlay and, as before, you get to hear the sound in the room too.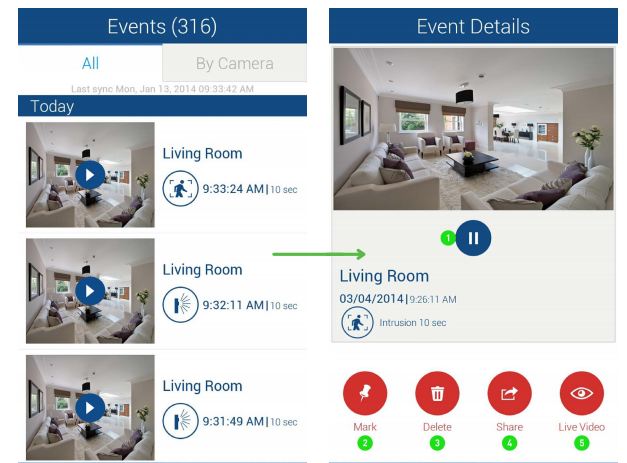 Once you've setup your events you'll start getting notified when they happen on your main home screen. Click into "Events" and each event will be listed along with an icon telling you what type of event it was – an intrusion, someone tampering, motion, PIR or a face detection. It'll also tell you if the camera is off-line. You simply need to click on the event and it'll play. You can pause the video or "mark" the event, which prevents it from being auto-deleted from your cloud account. You can also delete or share (via email or download / saving it).
If you don't have your phone, you can also access all this via the Swann Cloud portal. To be honest this is a pretty brilliant portal, and gives you full control over everything I've covered so far. Have a look, as an example, at the sensitivity interface on the website..
There's also the full range of video settings, which can all be modified via slidebars, drop-downs and helpful buttons. Very nice.
Conclusion
Now, I've had a quick read of the two customer reviews for this produc. They're both negative. However, in my humble opinion, they must be bonkers. The setup is extremely simple, there are no "drivers" (as one reviewer states he had trouble finding "drivers" and the apps work very well indeed. I liked the build quality of the camera, I liked the web interface, and I liked how many options were available too. Not only that, but the audio was a great addition and meant that I could hear if anyone was in my house even if they weren't necessarily in the room where the camera was.
Price-wise, you're looking at around £129.99 (Amazon) for this and in my opinion it's well worth it. A lovely bit of kit with a brilliant and descriptive manual, online portal and accompanying app. Highly recommended. The only thing I wished this had was a zoom function, other than that, it's a great security product.
Get more details on this product on the Swann website.
SwannCloud HD Pan & Tilt WiFi Security Camera Review
Build - 8.8
Setup - 8.8
Value for money - 9.2
8.9
A tough and rather clever little camera with a huge array of options. Great app and web interface too.