I'll let you into a secret. Sometimes, just sometimes, PR agencies get in touch with us and try to promote their product by sending over some sort of survey that they did. It's usually something like this…
Bobs Accessories, makers of the epic Bluetooth Boom Box version 4 (available now for just £99.99) conducted a survey to find the most popular sausage. 25% liked the Saveloy, 24% people liked the Frankfurter, 20% the Chipolata..

If only they had the Bluetooth Boom Box version 4 – it'll play all the bangers you love..
..and so on.
They're basically trying to get people interested in running the survey, hoping that the mention of the product and company will just slip right in there like butter. Anyhow, the people that make the Click Stick did this. It was a survey about who takes selfies and who doesn't or something. They wanted to promote this thing, but the link they sent us went to a page where they were out of stock. Luckily we found this other link where you can actually get the same item cheaper, which is always a bonus.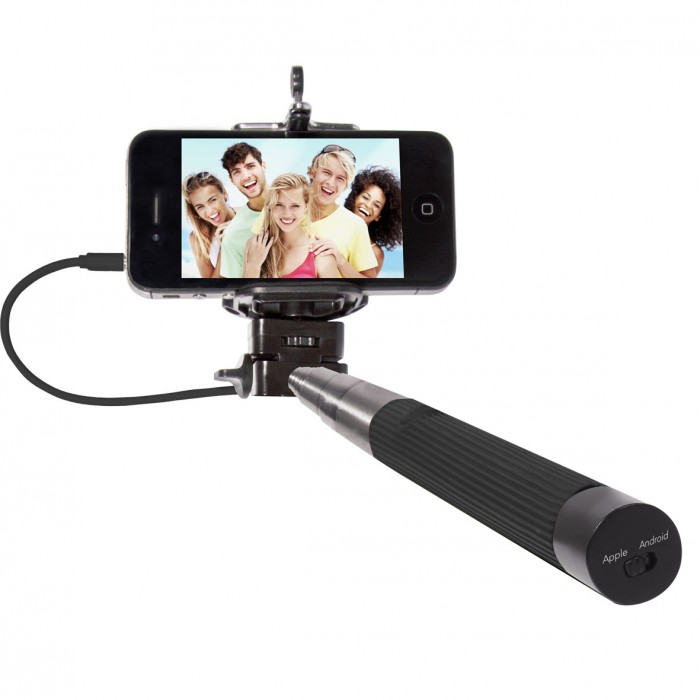 I actually spotted someone using something like this on a walk recently, and they're not actually as ridiculous as they might at first seem. there's no Bluetooth, no pairing, no batteries. It just plugs into your headphone socket and you can start snapping. Check it out – it even has a switch at the bottom so that you can choose Android or Apple depending on your device.
Clamp your phone in one end (this can be angled too) and the stick is a mere 26.5cm (just over 10 inches) at rest. Then, when you're ready for a shot, just extend your pole out to 1m (3 feet 3⅜ inches), use the rubber grip and snap away.
Ahh.. look. An idyllic shot of a man, his extended stick and his two lady friends. I'm saying nothing. NOTHING I tells you..