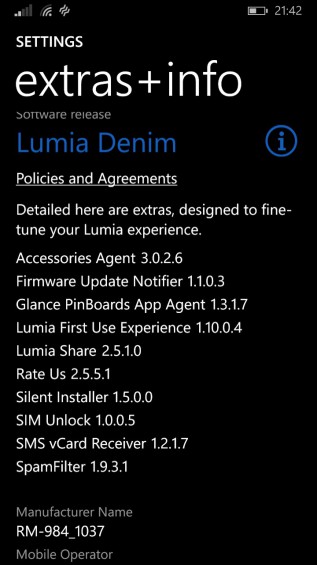 One of the most exciting things about getting a new phone is checking the latest version of the OS.  On Windows Phone this takes two forms: the OS version (currently 8.1) and, if you're running a Lumia phone, the firmware version.  Cyan is still being pushed out to many phones but with the release of the Lumia 830 and 730 handsets there's a new kid in town.  Lumia Denim is here to stay.  It brings with it a number of camera improvements, including the ability to shoot 4K videos for the first time.
According to Nokiapoweruser, Microsoft has confirmed that those using the Preview for Developer's option can look forward to Denim within a few weeks. Here is the message:
Lumia Denim may start rolling out in phases to Lumia devices starting last week of October to First week of November. The complete roll-out schedule may stretch to 2 months and it may not be before end of December that it rolls out to all the Lumia devices out there.
Changelog details:
* Lumia Camera – Lumia Camera is faster and more intuitive.
* Speed – Pocket to capture speeds are superfast, and it only takes milliseconds going from shot to shot.
* Moment Capture – A long press of the camera button starts 4K-quality video recording at 24 FPS. With each frame at 8.3 megapixels, you can save individual frames as high quality still images. Lumia 830 shoots Moment Capture in Full HD, and not 4K, and with reduced 2-megapixel per frame quality.
* Rich Capture – Auto HDR and Dynamic Flash are now welcomed into the already-impressive feature set. Shoot first and adjust the camera settings later for that perfect photo.
* Improved image processing algorithms – Updated to give you clearer photos, even in lowlight.
* "Hey Cortana" Voice Activation – Gone are the days of pressing the microphone button to wake-up Cortana. Simply say "Hey Cortana" while the phone is idle and Cortana will activate.
* Glance Screen – updated to now include Bing Weather, or Bing Health & Fitness data, in addition to time and date, notifications and application data.
Exciting stuff indeed.
Source: http://www.nokiapoweruser.com/2014/10/10/this-is-what-we-heard-about-lumia-denim-update-roll-out/