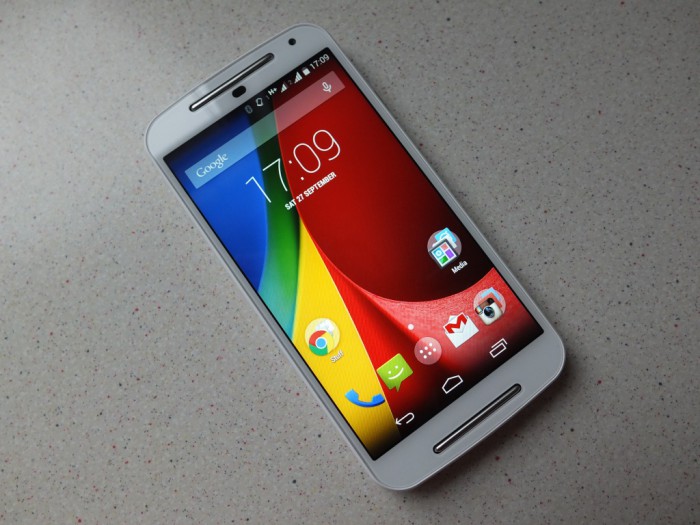 The original Motorola Moto G was a great phone, it redefined a genre, it showed people that a reasonably cheap device could offer performance and an experience similar to phones costing way more than it did. Not only did the Moto G offer a whole load of bang for your buck it also offered a range of customisation options with a wide range of cases and shells in all sorts of different colours. But most importantly it wasn't huge, which for me was possibly its most endearing feature.
The new Moto G has a lot to live up to, it has to perform well, not cost a huge amount, offer a range of customisation options and hopefully still be manageable using one hand. Can it live up to all of these? Well I've been using one for the last few weeks and it's a different creature entirely really, so lets have a look how in my review, starting of course with my good and bad points.
Good Points
Budget pricing.
Micro SD slot.
Dual SIM.
Feels nice in the hand.
In daylight the camera is reasonable.
Navigation throughout the UI is nice and smooth.
Bad Points
720p on a 5" display looks a little pixelated here and there.
Overall build quality feels more like a large Moto E.
The camera struggles in low light.
Front stereo speakers are pretty basic, lacking depth.
Multi tasking at times is a little slow.
Data speeds seem slow compared to other devices.
Battery life isn't great using dual SIM.
Design
The new Moto G instantly looks and feels familiar, not because I've been using the original Moto G, but because I recently used the Moto E. Yes I think it feels more like a larger version of the Moto E more than a larger version of the Moto G.
The layout is pretty much the same as last years model, with the volume rocker and power button on the right hand side. The left hand side is devoid of any features. The top has a centralised 3.5mm headphone socket and a secondary microphone. The bottom edge has the Micro USB port for charging and USB on the go connections.
The front and back are where the minor changes are this year. The front now has two metal strips above and below the screen where the stereo speakers are, sound quality isn't HTC Boomsound here, it's just as you'd expect for a budget phone. Above the screen is where the front facing camera and the proximity sensors are, which on the white model I had they look a little odd. The back of the Moto G is the same layout bar the speakers which have moved. It's nice to see the return of the dimple on this model.
Size wise the Moto G is where the changes are, it is a fair bit larger than last years model, it feels more like a Nexus 5 size wise. Which I feel moves the Moto G into another arena really, competing against sub 5" phones the previous model was a no brainer, competing against 5" plus devices it's a whole different ball game. Thankfully the price, the Dual SIM functionality and the Micro SD slot help it out. But don't think this is a replacement of the older model, this is a pivot in direction for the Moto G, it's now targeting the big boys; literally.
Motorola Moto G 2014 Hands On:
http://youtu.be/3ENDHsrsWvQ
Hardware
The spec of this years Moto G is basically the same as last year. With only really the improved camera, the dual SIM slots and the Micro SD slot being any different. These added features really do help to compete with similar sized phones. Only a lack of 4G is the thing that lets it down.
Processor: Qualcomm® Snapdragon™ 400 processor with 1.2 GHz quad-core CPU.
GPU: Adreno 305.
Display: 5″ 720p HD.
Internal Memory: 8 GB + Micro SD Card Slot.
RAM: 1 GB.
Rear Camera: 8 MP Auto Focus and LED Flash.
Front Camera: 2 MP.
Battery: 2070 mAh Non Removable.
Networks: GSM/GPRS/EDGE (850, 900, 1800, 1900 MHz) UMTS/HSPA+ (850, 900, 1900, 2100 MHz).
Extras: 2 Speakers front-facing, 2 Mics, Wifi 802.11 b/g/n, BT 4.0LE, 3.5mm Headset Jack.
Android 4.4.4 KitKat.
Dimensions: 70.7mm x 41.5mm x 6.0-11.0mm.
Weight: 149g.
There are positives and negatives here with the spec, first and foremost being the internal memory, it is classed as 8GB and out of the box you get about 5.5GB for app installation, as long as you put a Micro SD card in as well. Some apps put themselves onto the SD card when you install them. If you want this device for install hundreds of games on then I'd possibly look elsewhere.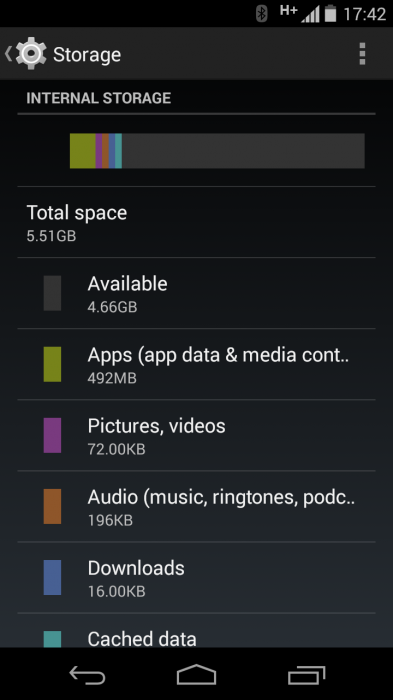 The lack of 4G is a little annoying, I'm guessing the decision to not include 4G was either a cost thing or Motorola are planning on releasing a 4G model soon, like they did last year.
In previous years I would have yearned for a 5″ 720p display, nowadays not so much. Having used no end of Nokia devices with 720p displays, also having used the original Moto G for nearly a year now and no end of other phones with 720p displays, I thought I'd seen everything. At times certain elements of apps would appear pixelated. Normally when the app devleoper had used a bold text element it would appear blocky. I don't know whether it's because I've been using an LG G3 for months now and I may be used to higher resolution screens, it could just be that at 5″ a 720p display starts to look iffy.
Software
Motorola have got a name for themselves these days for pushing out Android updates in a similar time scale to Google with the Nexus devices. By having their own apps on the Play Store and having a virtually stock build of Android they can push out updates pretty rapidly. The Moto g runs Android 4.4.4 and it will no doubt be one of the first devices to get Android L when it arrives. In the time I had the Moto G, Motorola pushed out an update making the Google Now Launcher the default launcher, which was nice of them.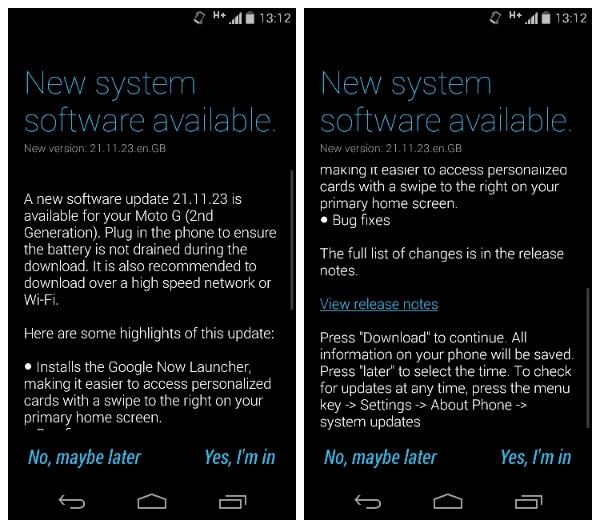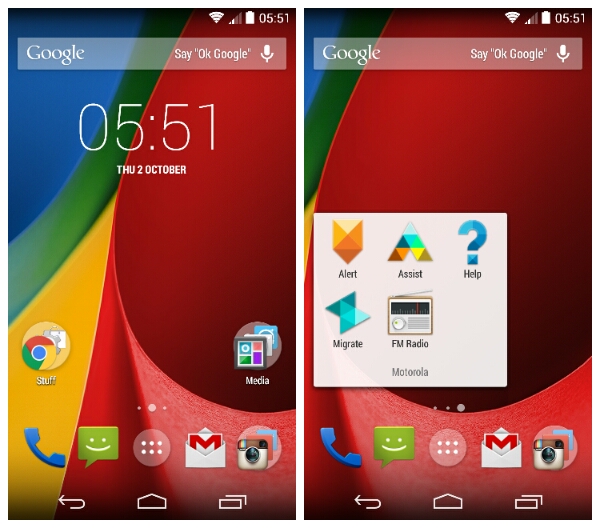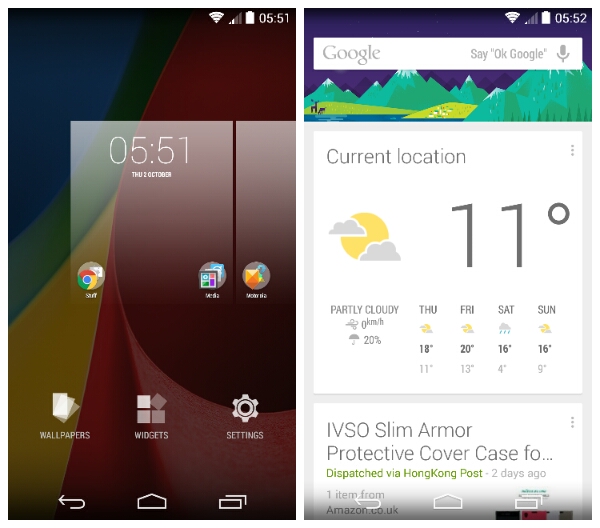 The Motorola apps that come pre-installed are mainly geared towards the more basic user, helping to transfer settings, SMS and pictures from an old phone. Setting up lost phone tracking or alerting contacts to emergencies. Motorola have also improved some of the contextual stuff they introduced last year, so it can read out texts whilst your driving or mute calendar reminders during the night. On paper it sounds useful, in real life this sort of stuff mainly remains unused.
The dual SIM part of the phone is possibly the most interesting part software wise, as you've seen from the hands on pictures there are two SIM slots, which is surprisingly useful. Basically you tell the software what you want it to do. Be it data from one SIM and voice on another? Send SMS via one SIM to all contacts apart from that one special person who you contact using another SIM? No problem. You can quickly toggle the different SIM slots as well, so you can disable them at will. If you have data enabled on SIM 1 and disabled on SIM 2 then SIM 2 just sticks to the GSM network, so voice and SMS still come through. If you stick with the stock messaging app you can choose which SIM sends the messages too. There are lots of little tweaks like this dotted throughout the phone and messaging apps.
Overall software wise it's nice. It feels very Nexus esque, that'll be down to Google Now and the fact you have to find apps yourself to do anything really. Although the dual SIM stuff does make using third party messaging or phone apps a bit fiddly, even using Hangouts for SMS was a pain.
Other notable stuff
Benchmarks
Benchmark wise it is predictably low. The Snapdragon 400 is a basic chip so the results are rather predictable.
3DMark – 4612
Antutu – 17585
Quadrant – 8806
Camera
The camera on the new Moto G is slightly improved over last year with a jump to 8 MP from 5 MP last year. At first I thought it wasn't that great, it bares all of the hallmarks of last years model, the clunky Motorola camera app, the poor performance in low light, the inability to focus on what you actually wanted. But after using it for a while I soon got used to it's quirks and found if you take the shot a few times more often than not you'll have captured a decent one in the batch. I also remembered that the volume rocker also doubles up as a shutter button, which helps you to stabilise the phone to capture a non blurry image.
In decent light the camera performs well, often using it's auto HDR mode to enhance shots, although often you'll find it does on one and not on another. You can make HDR stay on the whole time though. In low light noise creeps in and in the dark it just doesn't really try to take a shot of any worth.
As you can see below I managed to get some quite nice shots where the lighting was just right and HDR kicked. I also managed to get some downright plain shots too. Just don't go expecting the new 8MP camera to be amazing and you'll be good.
You can download the original images here of you want to crop in and inspect.
Battery Life
Battery life with the Moto G is as good as you want it to be really, the original model was famed for its longevity. The new model is capable of getting you through the day, just as long as you don't use it in dual SIM mode, shove all of your emails, social media and connect your Pebble and FitBit to the phone as well. I did this and it was basically dead by early night. Used in single SIM mode I got more life out of it, which isn't surprising really. Either way on the Moto G 4G model I recently had I was getting over 5 hours screen on time.
Conclusion
In conclusion I'd say that the new Motorola Moto G is a nice budget device, albeit not quite as fully featured as you'd hope. But as is always the way adding extras like a 1080p display, a bigger battery, a better camera, more memory or possibly better speakers would all bump the price up. The Moto G is about a price and Motorola don't want to ruin that. Personally I felt it felt more like a large Moto E as opposed to an updated and larger Moto G. Personally I felt the new Moto G is just a little bit too compromised.
You can buy the new Moto G from a variety of online retailers, phone shops and of course Motorola now have their own shop here costing £149.99 for either a black or white model and it's SIM free also.
Motorola Moto G 2014 - Review
Design - 6
Hardware - 7
Software - 9
Battery - 7
Camera - 7
Screen - 7
7.2
In conclusion I'd say that the new Motorola Moto G is a nice budget device, albeit not quite as fully featured as you'd hope.