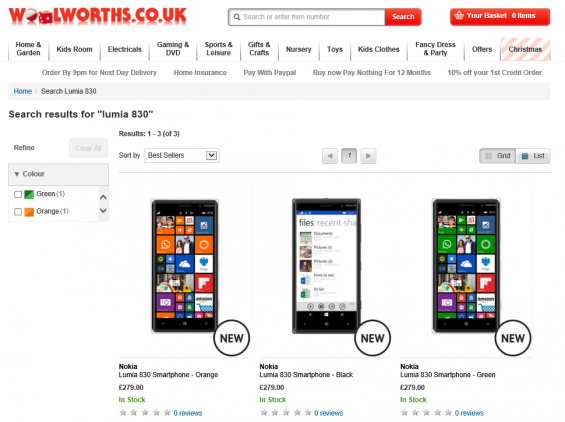 The first pre-orders for the Lumia 830 are being despatched today.  Last week we detailed some of the prices for the phone, but for anyone looking to purchase it the best deal at the moment is with, wait for it, Woolworths.  Yes, the long forgotten face of the High Street still exists, albeit only online.  Not the most obvious of places to look but actually worth checking out. The phone is available in black, orange and green, though the rear covers are replaceable.  The price is listed as £279.
For canny shoppers there are more savings to be had: signing up to an account will save an additional 10% if it's your first order, and buying it via Quidco will save a further 7%.  If my maths is anything to go by (or, rather, I can use a calculator), that means the phone will cost £233, or thereabouts.  Pricing and details are here: http://www.woolworths.co.uk/e/q/lumia-830.end?_requestid=317328
As a reminder, the Lumia 830 has the following specs:
Main camera sensor: 10 MP, PureView
Display size: 5"
Display resolution: HD720 (1280 x 720)
Processor name: Snapdragon 400
Maximum talk time (3G): 14.8h
Battery capacity: 2200mAh
Wireless charging: Built-in (Qi standard)
It also comes pre-installed with the latest version of the OS, and the new Lumia Denim firmware.