Apple doesn't seem to be having too good a time at the moment, with Bendgate going on and numerous reports of bugs with iOS 8. However Apple was quick to react to the bugs and released 8.0.1 which was supposed to address the following:
Fixes a bug so HealthKit apps can now be made available on the App Store
Addresses an issue where 3rd party keyboards could become deselected when a user enters their passcode
Fixes an issue that prevented some apps from accessing photos from the Photo Library
Improves the reliability of the Reachability feature on iPhone 6 and iPhone 6 Plus
Fixes an issue that could cause unexpected cellular data usage when receiving SMS/MMS messages
Better support of Ask To Buy for Family Sharing for In-App Purchases
Fixes an issue where ringtones were sometimes not restored from iCloud backups
Fixes a bug that prevented uploading photos and videos from Safari
It didn't quite go according to plan with users soon taking to Twitter and the support forums complaining that Touch ID wasn't working and that their phones weren't picking up any reception – just saying no service despite manual searches and toggling airplane mode. Touch ID you can live without but a phone that doesn't pick up any signal is not a lot of use, almost takes Apple back to Antenna-gate.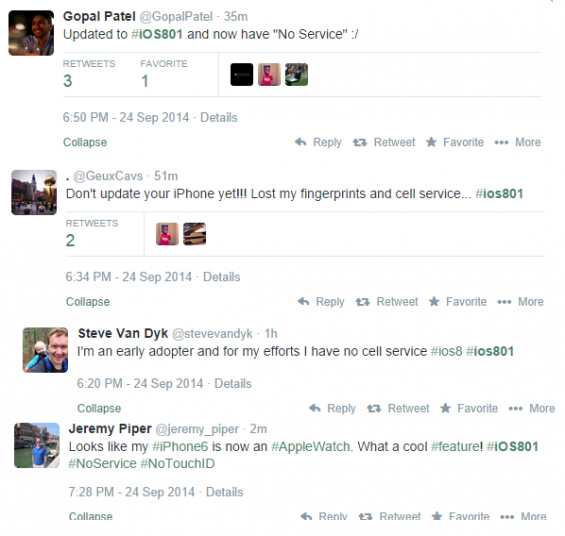 Apple were quick to react to the uproar and pulled the update a couple of hours after it launched but that still left quite a few users who had already installed the update with somewhat broken devices. Officially they are stuck until Apple release another software fix to sort it all out but lots of people are downloading the ipsw file for iOS 8.0 and rolling back their device, please note this is not official and we take no responsibility if you brick your phone doing this.
Let us know in the comments below or via the contact us form if you've been affected especially if they problem still exists after rolling back to 8.0.
Update:
Apple have now released a support page regarding the issue, and advised customers on how to roll back the software version on their device to 8.0. The statement at the top of the page reads:
We have a workaround for you if you have an iPhone 6 or iPhone 6 Plus and you lost cellular service and Touch ID functionality today after updating to iOS 8.0.1. You can reinstall iOS 8 through iTunes by following the instructions below. We are also preparing iOS 8.0.2 with a fix for the issue, and will release it as soon as it's ready in the next few days.