We've had a variety of speakers here at Coolsmartphone and there's a big range in quality. Some are quite small, lightweight and OK for carrying around on holiday. Others are definitely beefier, with some hefty sound and more suitable for sitting at home or the office.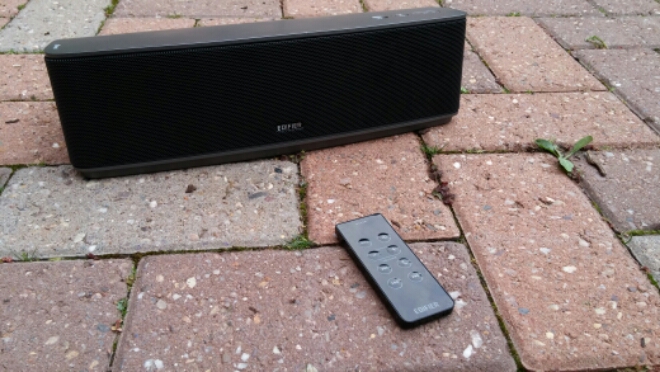 This is in the middle in my book, although it is very portable. I say it sits in the middle because it's got a few home luxuries, including a remote control and conference calling, plus it's got extremely decent sound quality. That plus the fact that it uses 6 AA batteries and the 12V power input won't charge those batteries.
First impressions are very good indeed. The Edifier Bric looks very slick indeed and has a good style with metallic side bass ports that would look equally at home on a sports car. Although it does have a "cheese wedge" type look to it, the overall rectangular design does indeed make it look fairly brick-shaped.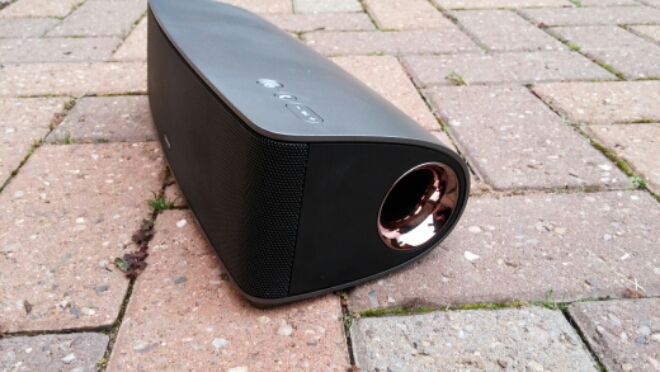 Hidden underneath in a slot is the remote control which lets you power the device on or off, switch inputs (a 3.5mm audio port is also available around the back), adjust volume, skip tracks, play / pause and you can answer calls too.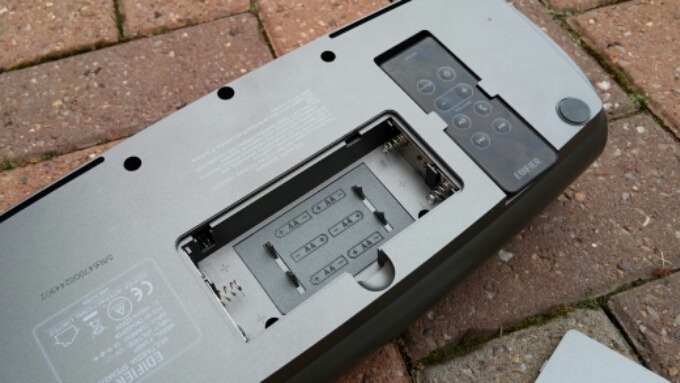 Once you plug in the accompanying 12V power supply and use the remote, I doubt whether many people will be moving this one around the house much. Most Bluetooth speakers we review have an in-built battery which is charged off the mains, but here there's a flap for inserting 6 AA batteries, which you'll either need to charge yourself (if they're rechargeable) or you'll have to go out and buy some batteries. That in itself involves an element of planning, so if you want to throw this in the car for a weekend camping, don't forget to grab a couple of packs of batteries on the way. This'll add weight to the device too, which is why I think this'll mostly be sat in your kitchen or office.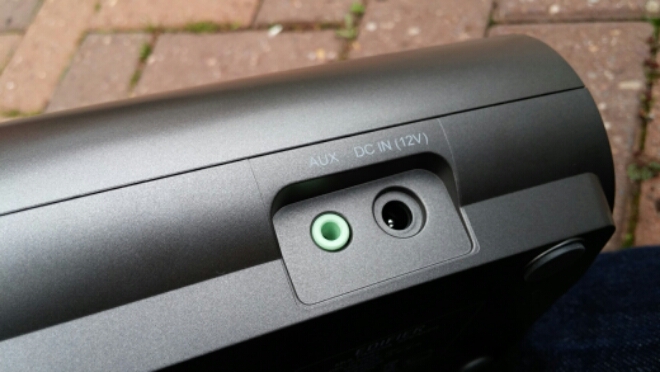 The dual 2.75″ (70mm) 6W are positioned behind the grille up-front and you can also use the controls up front to adjust volume / power and answer calls if you don't fancy using the remote.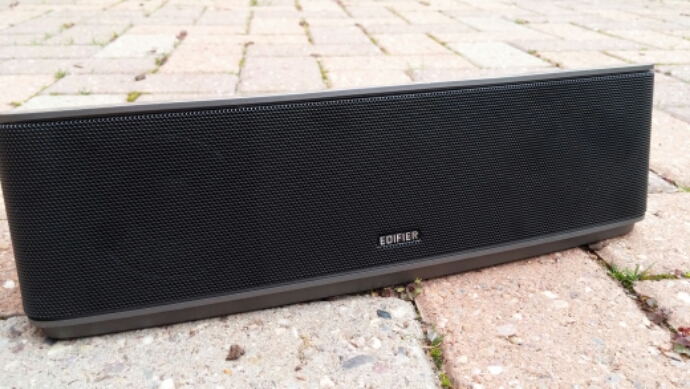 Pairing with your tablet, phone or laptop is pretty simple and we found that just powering it on sent it into pairing mode
If you do want to make or take a call there's a built-in microphone, so you can have this sat on a conference table in a meeting room and have hands-free conversations. It does have a definite "office" style about it and the presence of a big "call" button on the top makes it feel more like a conference calling speaker more than a sound system.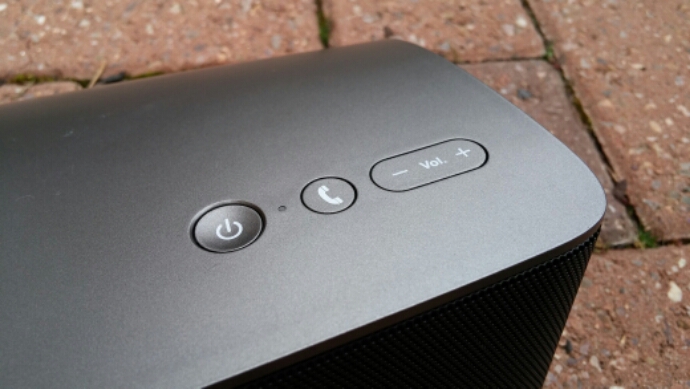 Sound quality
There's no distortion at all here and the sound quality seemed decent enough. I was a little surprised at the maximum volume, which when I cranked it up to full, wasn't exactly earth-shattering. The quality is maintained throughout though, and you could hear hear a great deal of the music and all of the instruments within perfectly well. The side bass ports did help the bass a little, but again it wasn't exactly going to rattle your windows. The audio quality was there, yes, but I wanted it to go up a few more notches on every level. A touch more bass, a touch more volume.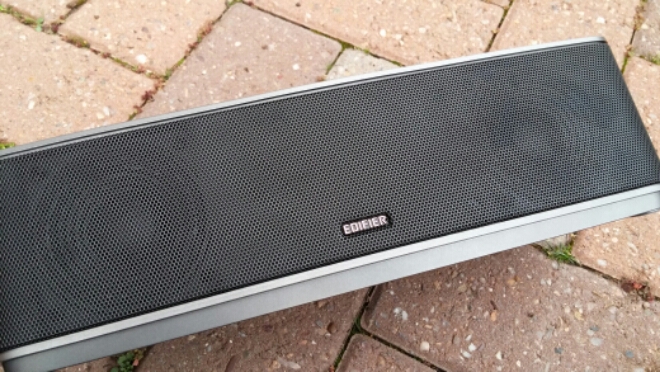 Overall
This is priced up at £79.99 and comes in the darker shade you see here or "hi-gloss" white. It's a professional-looking device which would look at home under any posh LCD screen, whether it be the TV in your front room or the one in your meeting room at work. Due to the required 6AA batteries (not supplied) for mains-free usage and the decent-enough sound, you'll probably see this sitting on desktops and office desks rather than in a field or at a party.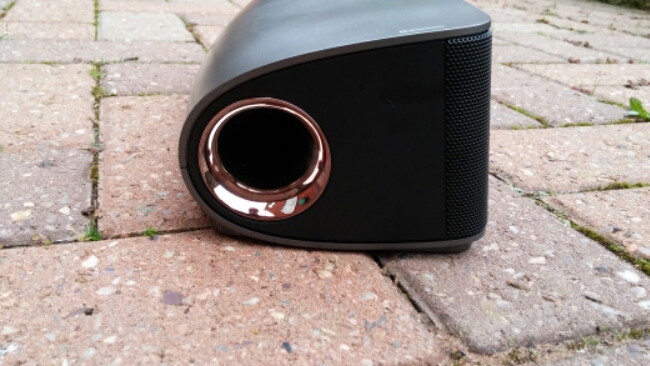 It's a great looking thing which worked well and I liked the addition of the remote control, especially when answering calls. If you had one of these at work you could conduct Skype calls or normal calls through a mobile and still have that professional look and feel of a conference calling system. You can also easily switch to the 3.5mm input, which for me meant that I could have this pumping out the audio from my home TV and then answer a phone call without having to move. In the office you could have it plugged into your projector, then make a call over the Bluetooth.
It's got smart looks, it feels well built and it's executed well. The Edifier Bric Connect Bluetooth is available at £79.99, but if you hunt around Google you can find it a little cheaper.
Edifier Bric Connect Review
Build quality - 8.5
Design - 9
Sound - 7.6
Value for money - 7.8
8.2
A smart-looking speaker which feels more at home in the office. A multi-functional, remotely controlled speaker that'll also answer and make calls.