A slight improvement in specs, but not a great deal else from what we can see here. The new Kindle Fire HDX 8.9 is still the same price as last year but with an uplift in specs (2.5GHz quad core Snapdragon 805), Dolby Atmos surround sound and a new Dynamic Light Control feature for tweaking the white balance to make it match your surroundings. Oooo.. 🙂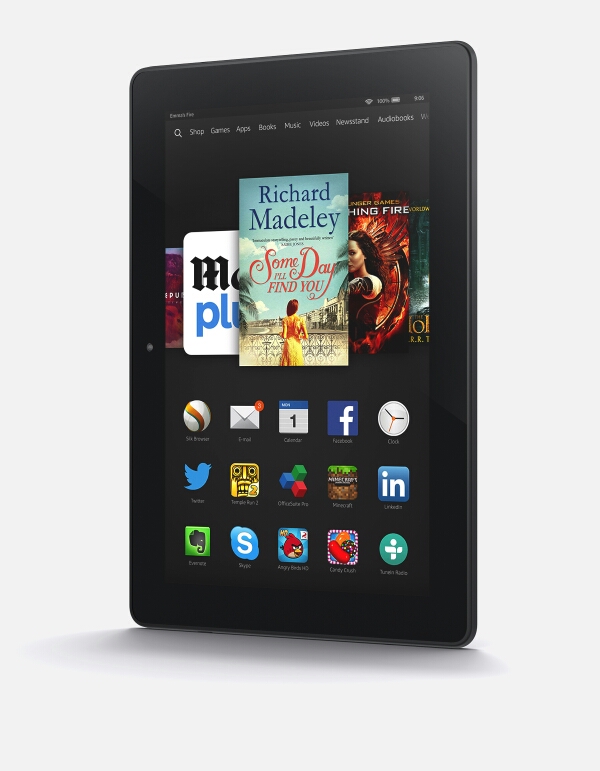 The new Fire OS 4.0 (Sangria) is available and there's the usual large dollop of content from Amazon in the form of books, movies and Fire TV – a system that'll guess what you're searching for and will begin buffering it before you've even chosen the item.
The shopping-helper, Firefly, will let you scan and buy items and … Well, when you get the Fire 4.0 OS update on older models you'll pretty much have the same thing, albeit a smidgen slower.
Full details and features include..
– Powerful 2.5 GHz processor with a 70% faster graphics engine.
– HDX display (339 ppi) with Dynamic Light Control, which makes the pages of a book resemble a real piece of paper more closely in different lighting conditions.
– Lighter than the iPad Air.
– Exclusive new audio—with crisp, clear sound and no distortion.
– Faster Wi-Fi, with support for 802.11ac MIMO
– New Fire Keyboard with a trackpad to make productivity and navigation easier
– Family Library lets all members of your household access your apps, games, books and Prime Instant Video content, even if they use a different Amazon account.
– Free, unlimited Cloud storage of photos taken with Fire tablets,backed up automatically and wirelessly.
– Front-facing HD camera makes it easy to stay in touch with Skype; 8 MP rear-facing camera
– The Mayday button delivers live tech support free.
This new Fire HDX 8.9 starts at £329 and you can pre-order today at www.amazon.co.uk/hdx. It'll start shipping on 4th November. The 4G version starts at £439 for 32GB, so get that one on www.amazon.co.uk/fire-hdx-8.9-4g and it will begin shipping on 4th November.
Full details below.