Amazon have just announced latest mobile phone – the 'Fire' – is to launch in the UK on the O2 network. Customers can register for more information right now.
Visit your local O2 store and pre-order ready for launch on the 30th September when signing up to a £33 monthly Refresh plan. This also gives you access to the 4G network. You can sign up for more information online.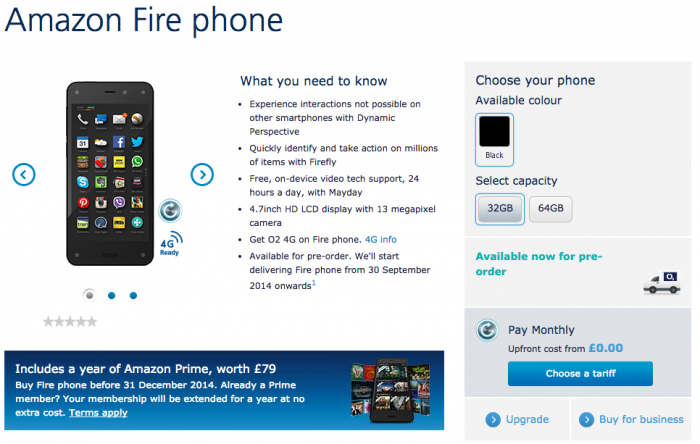 This device has been on sale in America on AT&T for a little while now, and this is the first time it has left the US.
Specifications include a 4.7 inch HD screen, 13 megapixel camera, 2.2Ghz Quad-Core processor, 4G LTE networking, stereo speakers and is available in both 32GB and 64GB storage versions.
An added bonus for anyone joining before the end of the year, you also get a whole year of Amazon Prime included free of charge. This not only gives you video on demand, but also free next day shipping on a massive range of items on the Amazon UK store.
If you want to see EVERYTHING to do with the Fire then you can always check out the full YouTube video from Amazon when it launched below.
Is this the phone you have been waiting for, or are you still waiting for a certain Apple device being announced tomorrow before deciding what to get next?
https://www.youtube.com/watch?v=w95kwXy_MOY
Here is the full press release from Amazon and you can check out more information over at http://www.o2.co.uk/fire. Probably best to read the reviews from US buyers first… ahem..