The Motorola Moto X and Moto G put Motorola back on the map last year, they showed the world that you didn't need to have the latest and greatest specs or a huge great screen as both of them had screens under 5″. So when rumours starting appearing about new models we all wondered quite what they would do for the second generation. Today Motorola announced the new Moto G and Moto X and fans of the previous small size are going to be a bit miffed, as both models are about 5″.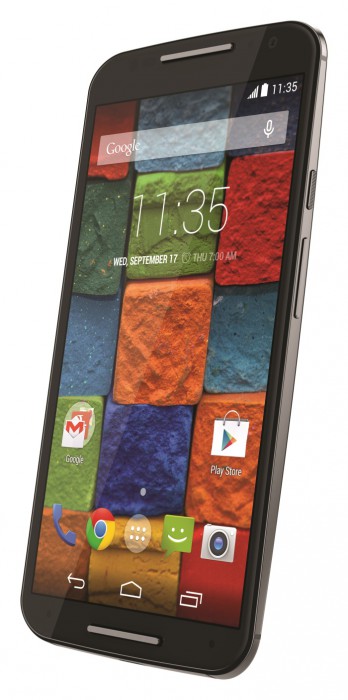 Leigh already covered the new Moto G earlier today so I'm only going to cover the Moto X here.
Spec wise the new Moto X shares many specs with the current flagships, lets have a look.
Operating system: Android 4.4.4 KitKat.
Capacity: Storage (ROM) Std: 16GB, Motomaker: 32GB.
Dimensions: Height 140.8 mm, Width 72.4 mm, Depth 9.97mm, Weight 144 grams.
Cameras: Rear camera: 13MP F2.25, Front Camera: 2MP (1080p).
Audio: Speakers: front-facing and at bottom.
Processor: MSM8974-AC 2.5GHz Qualcomm Snapdragon 801 with quad-core CPU.
RAM 2GB.
Display: 5.2" (423 ppi), 1080p OLED, Corning Gorilla Glass 3.
Connectivity: Wifi 80211.ac, BT 4.0LE, USB centered at bottom, 3.5mm Headset Jack.
Battery: 2300 mAh.
Motorola made a big thing of the Motomaker service last year where you could create a unique looking device on their website. It allowed you to change the colour of almost every part of the phone, resulting in something totally unique. When the Moto X eventually made it to the UK they didn't bother with Motomaker, but this year it will be available. Roll on my green and yellow phone.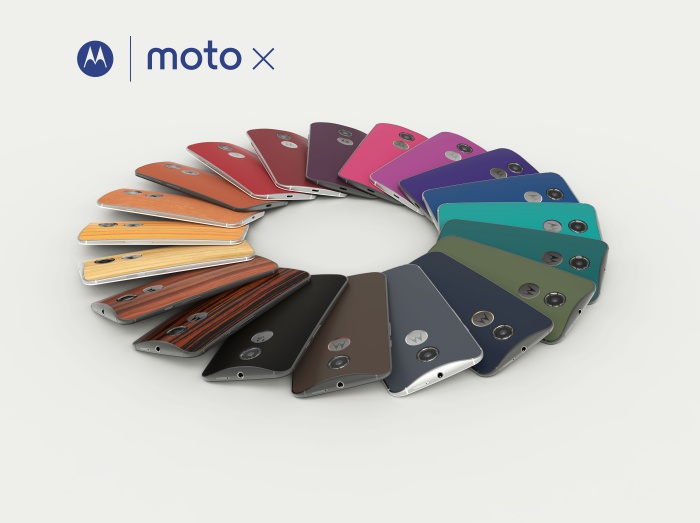 As regards price and availability Motorola have said the following:
Moto X
Black 16GB, leather 16GB and bamboo 16GB
Starting from £419.99
Available from Amazon from the end of September
Moto Maker
Moto Maker 16GB – starting from £419.99
Moto Maker 16GB with wood/leather – starting from £439.99
Moto Maker 32GB – starting from £459.99
Moto Maker 32GB with wood/leather – starting from £479.99
Overall I am liking the idea of the new Moto X, it's bigger, has a better camera, it still has the fancy lockscreen notifications, personally I can't wait to get my hands on one.
Motorola have published a couple of videos on their YouTube channel, take a look below.
Choose the new Moto X:
http://youtu.be/uSAs0-ur6sc
The New Moto X Camera:
http://youtu.be/tmErftjdXPI
Fancy a read of the press release? Just hit the button below.