If you bought yourself a HTC device in the last year or so you may have been pleasantly surprised by the inclusive Dropbox storage space. It usually pops up when you're setting up the device and you'll get some space to save all those precious pictures of your cat and videos of you chucking ice on your head.
However..
HTC owners are now even luckier, because Google are dishing out some Drive space. Provided you own a HTC Android (so, not this one), you can get even more storage. Oh and Google, let me tell you, are being quite generous here. It's as if they want you to buy into their whole ecosystem thing.. 😉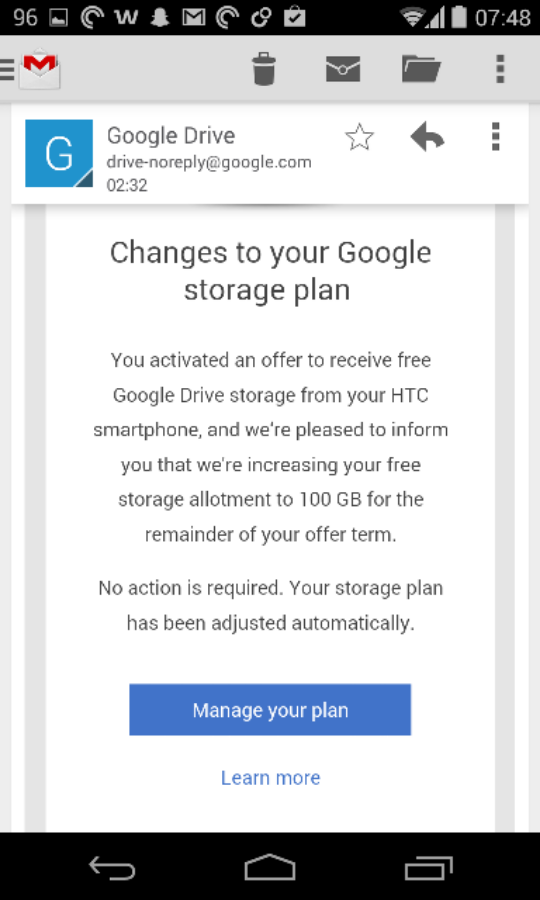 Which HTC Android devices are eligible for additional storage on Google Drive?

New HTC One (M8) (+100GB for two years)
HTC Desire 816, HTC Desire 610 (+100GB for two years)
HTC One max (+100GB for two years)
When upgrade to HTC Sense 5+ and Sense 6 becomes available on certain 2013 HTC models, including HTC One, HTC Butterfly S, HTC One Mini and HTC Desire 601. (+25GB for two years)
All you need to do is launch the preloaded Google Drive app on your phone and then whack the "Redeem" button. You need to be logged in with your Google account (which you probably are) and it's a per device offer, so make sure that your mates don't "borrow" your phone so that they can top up their own Google Drive accounts (waves fist).
The offer is valid until January 1st 2016. Once you've claimed your storage you can pretty much backup everything on your phone so, if this happens, your photos and videos are all safe..