EE. You know those guys. They have a big fat network and 4G pumping through the UK. However, if you're on Pay As You Go, you may have shied away from the 4G fun.
Tonight we're first with news from EE about their new 4G Packs. They start from just £1 a week and all of them come with 4G included.
You'll be able to buy the packs on the EE website. There's Talk and Text Packs, Data Packs and "Everything" Packs. You only pay for what you actually need.
So, for your £1 a week you can get 100MB of 4G data, 10 minutes of calls and 10 texts. It might not sound a lot, but that's per week and that's their "Data Pack". If you want the "Talk and Text Pack" you'll get 25 minutes of calls and 50 texts every week for your £1.
Other packs include the "Everything Pack" for £15 (lasting 30 days) which gets you unlimited texts, 2GB of Double Speed 4G data and 500 minutes of calls. The full details can be seen in the pricing guide below. Click on it to get the larger version..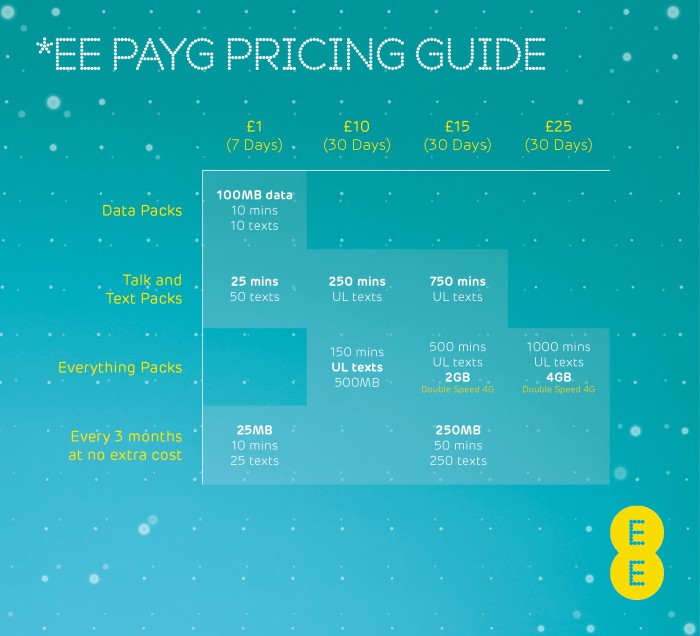 EE have revealed that 70% of Pay As You Go users spend less than £10 per month, and now you can get just what you need without the additional gumph. Best of all, you can never go over your data allowance. If you do want more data you can buy an add-on to continue browsing
Oh, and if you've used EE Pay As You Go for three months they'll give you £20 off a new phone from an EE shop. You also get the usual EE Wednesdays two-for-one cinema tickets too.
Here's the comparison to other offerings. If you're after more details, head to the press release below.