The bulb you screw into your light fitting has one simple task – to provide light. It's a standard and rather boring task but, with the new eco-friendly bulbs costing more than the old-style bulbs, why not add something extra?
This, for £59.99 (although I've seen them cheaper), is a light bulb which has a trick up its' sleeve. It's a Bluetooth speaker too.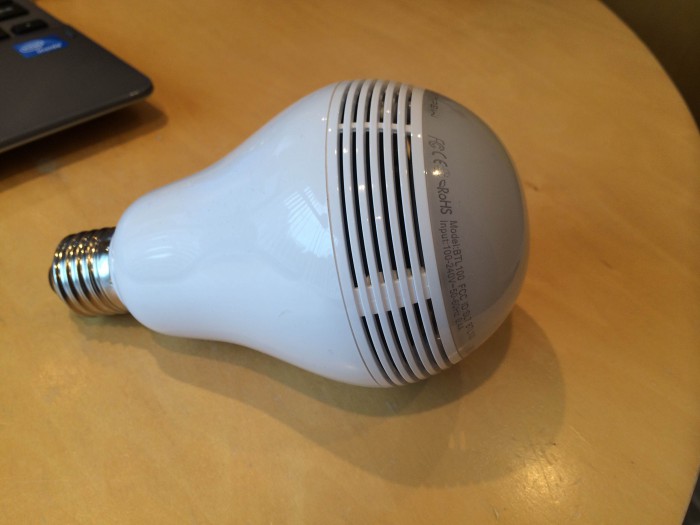 The bulb has a standard E27 Edison fitting and that bulb is an LED fitting, so good for the environment probably. You can screw it in and use it as a normal bulb – no problems there – flick the switch on the wall or lamp and it'll do what bulbs do best. However, if you leave it powered on all the time you can use it as a Bluetooth speaker and control it with your phone. The Bluetooth audio is easy to setup, and I found that the initial turn-on was enough to get it hooked up. A simple search on my phone and it found the PLAYBULB pretty instantly.
After this you can stream anything that comes out of your phone. On Android I had no issues streaming audio from pretty much any app – internet radio, streaming music services, local music, anything. On iOS the only way I could get it streaming music reliably was by sending music from the PLAYBULB app itself, but both platforms have an app (the Android and iOS versions are both free).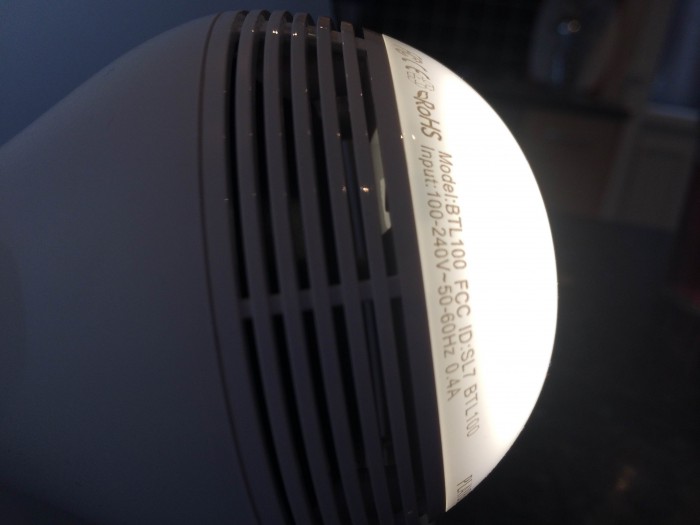 Power needs to be supplied to the bulb for the Bluetooth speaker and (obviously) the light to work. It's something you need to get used to and probably tell others in the household not to turn the lamp / light off that you've screwed this into. However, once you have the app you can connect to multiple bulbs and alter the settings on them. Adjusting the brightness via a big dial and being able to turn the bulb on and off via your phone is a good enough start, but then you also get the ability to program your bulb – setting it to get brighter or to dim at certain times. You can also adjust the volume of the speaker automatically too, so you could perhaps have some soothing music waking you up first thing in the morning and some equally soothing tunes sending you off to sleep.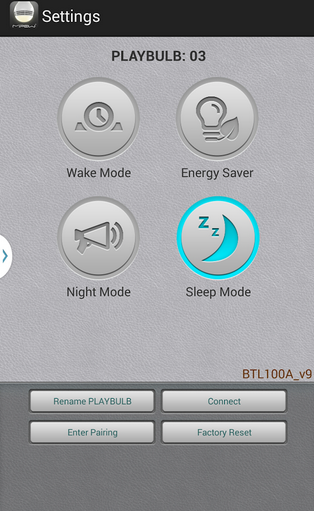 On this screen you can also do a factory reset, switch the bulb into pairing mode again or rename it. Below you should be able to see some of the settings inside the "Sleep Mode" shown above. If you're lucky enough to have several bulbs you can have a light dimming or getting brighter in different rooms at different times – all controlled via timer or your smartphone, making it effectively an alarm clock replacement. Pretty cool as we head into the winter and you have to stumble downstairs into a dark kitchen perhaps.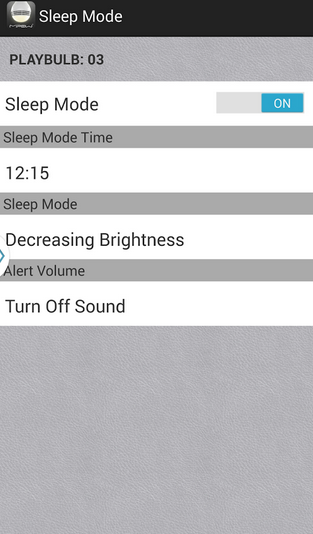 As you'll see in this review, I did have the bulb in an old lamp that had been sitting in the garage. It was the only fitting I had that was E27, however there are adaptors that'll convert the bulb to your fitting, so you don't need to throw away a lamp just to get this bulb in. It is a little larger than your average bulb, so if you've got a quaint lamp with a small shade you could have some issues. Also, with spotlights being so popular at the moment, this may end up living in a bedside lamp or a lamp in your lounge perhaps. However, although it is larger than your average bulb, it's not that cumbersome.
As is usual for our Coolsmartphone tests, there's a full video demonstration below which is well worth watching…
The audio quality from this bulb was good and it did indeed fill a room quite sufficiently. There wasn't a great deal of bass response from it and it's not exactly going to make your ears bleed, but it was definitely much louder than the standard phone speaker.
Overall, a pretty interesting and clever item which will definitely be sitting on my bedside cabinet. If you're thinking of buying a bulb or alarm clock any time soon, why not combine the two and get this instead? They're available from places like Currys if you're thinking of getting one.
MiPow PLAYBULB review
Overall - 8.4
8.4
A smart solution which acts as a bulb, a speaker and an alarm clock all in one.