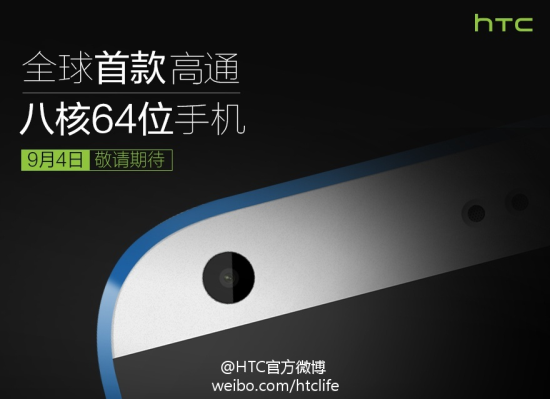 HTC are a company that have given the mobile device world a number of firsts, LTE, 3D screens, front-facing stereo speakers, Duo camera to name but a few. HTC will once again be a 'first' on releasing the first 64-bit Android phone — nearly a year after Apple released the world's first 64-bit smartphone.
HTC today confirmed that it is all set to release the first 64-bit Android handset — the Desire 820 on September 4th through its Weibo account via a teaser image.
Earlier this month, pictures of the handset were leaked onto the internet, but the accompanying rumours stated the device was likely to have a Snapdragon 410 processor. However, the teaser image in Chinese says that this phone from HTC would be the first 64-bit octa-core Android device, which points at the presence of a Snapdragon 615.
This Snapdragon 615 chip, however, is not a high-end one, they are rumoured to arrive at the beginning of next year. The Desire 820 is due to be released at IFA early next month,
When we hear more we'll let you know
Source GforGames