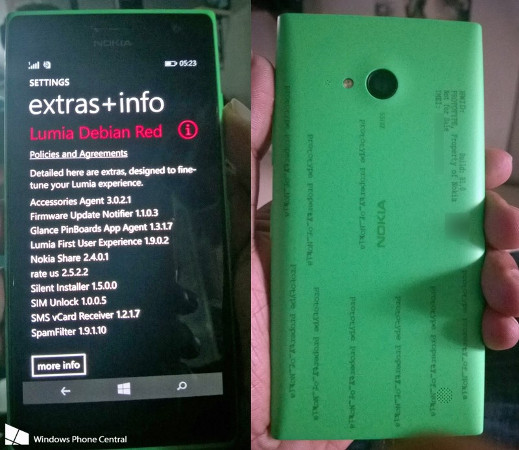 Rumours of a Nokia selfie smartphone have been circulating for some time.  Rather comprehensive details have now emerged via two leaks, which show the Lumia 730, codename 'Superman'.  Whether this is an ironic reference for what will be a mid-level handset is not clear, perhaps it will somehow wear its pants (or mobile phone equivalent) on the outside?
In any case, the phone has pretty impressive specs for something aimed at the mid-level market:
* 5MP front camera.
* 4.7″ 720p screen.
* 2000mAh battery.
* 1.2Ghz quad-core processor.
* 1Gb RAM.
* 8Gb internal storage with micro-SD card.
* 6.5MP rear camera.
* Dual-sim.
Perhaps just as interesting as the new handset is the OS version shown in the photograph – Lumia Debian Red.  This is Lumia firmware, just as Cyan is the current iteration.  Whether or not this is an internal name for is also unclear, but perhaps an update to Cyan is currently being tested on it.
According to the sources, the phone is to be released imminently and has already been shown off internally.
Source: WPCentral.