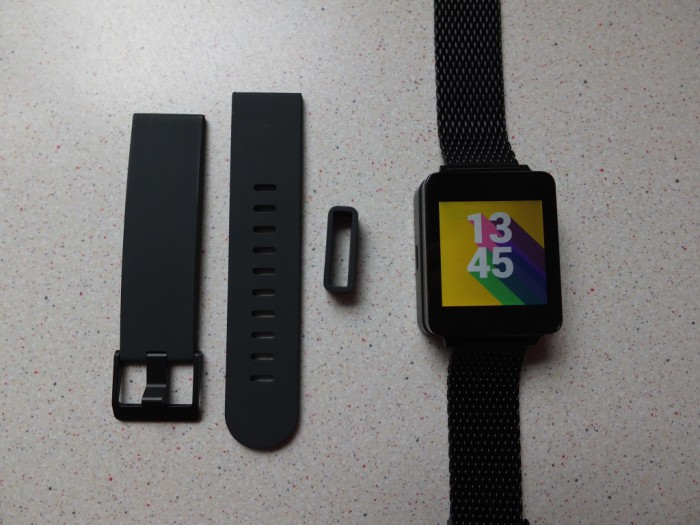 A watch fundamentally is foolproof, you look at it wanting answers and it duly obliges, although for many years this has been a rather simple transaction. i.e what is the time? It is 5am. Simple. This idea hasn't been played about with for a long time. With a few watches experimenting with the date or a stop watch.
Then a few years ago phone manufacturers decide to have a play and see what they could do. Over the last few years we have seen the likes of Sony, Pebble, Samsung and even Motorola create their own Smartwatches, which all run different operating systems and require developers to use separate SDKs to create apps for each watch, which has create a disjointed mish mash of apps, app stores and websites offering hacks and apps for each different watch. Not the best way to be going on in this day and age. Google decided that something had to be done about it, they have proven over the years that Android lends itself well to being installed on all variety of different devices be it phones, tablets, televisions or even fridges. So creating a version of Android that will run on watches should be a doddle.
Enter Android Wear, the Android OS that should hopefully unify Smartwatch manufacturers and enable them to rollout standard software to the shiny new watches and also allow consumers to install Android Wear apps on their watch that they have been using on their phones already.
A few weeks ago at Google I/O the LG G Watch and the Samsung Gear Live were showcased and a short time after that you could actually buy them. I decided to go with the LG G Watch for reasons I'll go into shortly. I've had the G Watch for a good few weeks now and it's high time to bring you my review. Starting of course with my good and bad points.
Good Points
Having notifications on your wrist soon becomes something useful.
Changing watchfaces as often as your underwear is definitely a thing.
Android Wear has massive potential to be something great.
Core functionality seems really intuitive.
Some apps actually enhance the functionality of your watch and phone combo.
Easily replaceable 22mm watch strap means that you can choose from thousands of new straps.
Bad Points
The screen is virtually unreadable outdoors in dimmed mode.
Settings and apps are hidden away making the initial "getting to know you" period a little awkward.
The charging dock being the only way to charge the watch is ridiculous.
The current app selection is ridiculous, some developers just don't seem to get what the point is.
Battery life just isn't acceptable (it last a day and a bit).
There isn't a way to easily turn the watch on with having to use the dock.
No light sensor so brightness has to be adjusted manually.
Design
The LG G Watch is the most simplistic and minimal of the newly unveiled Android Wear watches, it is basically just a small black metal and glass box with a dark grey rubbery strap (a white and gold combination is also available). There are no buttons, no dials, no clips, sockets or anything really.
There are three design features around the phone that need mentioning.
Firstly the microphone is under the screen in the middle, this is used for voice commands and needs to be either near to your face if you're in a noisy room or not so close if your in total silence. Sat in my office all alone at 4.50pm I could rest my arm on my desk and calmly ask the watch questions about the weather.
Secondly the strap on the phone is removable, it features standard 22mm spring pins which with the right tools can be easily removed and replaced. Having been a Pebble Steel owner for the last few months I decided to get a metal strap and also another rubber style on in case the original one broke. The options here are endless you could have a different coloured strap for every day of the week.
Thirdly the five pins on the back are used to charge the watch, which you'll be doing a lot and after a few days the whole regular charging thing starts to become a bit annoying, a Qi solution would have been preferable but at least it doesn't with a weird clip bracket like the Samsung Gear Live does. The charging dock itself has a micro USB connector on it.
Here are some shots of my LG G Watch, please note that the strap is a replacement strap. I typically changed the original strap and couldn't remove this new strap without a proper tool. So you'll just have to imagine how it looks with a dark grey rubber strap.
Specification
Yes a watch has a spec list. It's basically the spec you'd find on a cheap phone like the Motorola Moto E. It gives you an idea of its potential when you realise it has 4GB of internal memory and a Snapdragon 400 processor.
Key Specifications:
■ Chipset: Qualcomm®Snapdragon™ 400 processor
■ Display: 1.65-inch LCD IPS (280 x 280)
■ Memory: 4GB eMMC / 512MB RAM
■ Battery: 400mAh
■ Operating System: Android Wear
(compatible with smartphones running Android 4.3 and above)
■ Size: 37.9 x 46.5 x 9.95mm
■ Weight: 63g
■ Connectivity: Bluetooth 4.0
■ Sensors: 9-Axis (Gyro / Accelerometer / Compass)
■ Color: White Gold/ Black Titan
■ Others: Dust and Water Resistant (IP67)
Software
An Android Wear device connects to your phone or tablet using Bluetooth, that device will need to have the Android Wear app installed on it. That app deals with syncing of apps to the watch, fiddling with settings governing dimming of the watch screen and also muting different app notifications.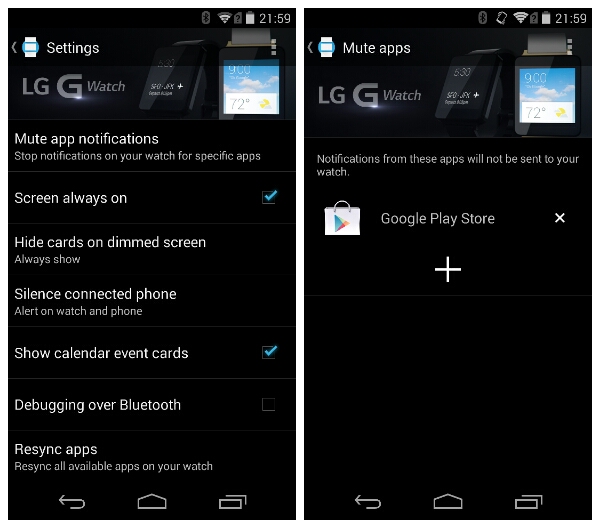 Finding apps to use on your watch is a bit of nightmare at the moment, from within the Android Wear app there is a compatible apps link which takes you to the Google Play Store and shows you a handful of dull apps that won't really highlight quite what the watch is capable of.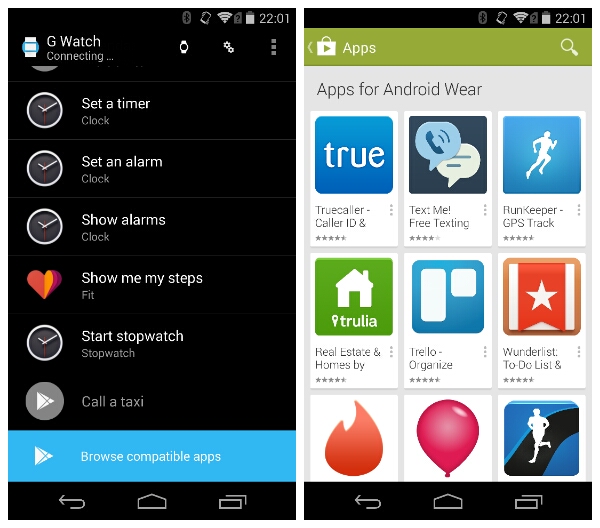 Searching for Android Wear in the Play Store brings up a whole load of compatible apps, such as calendars, calculators, watchfaces, note taking apps, volume controls for your phone, some more calculators, camera remote controls, basic games, flashlights, apps to find your watch, web browsers, app launchers to run on the watch, file managers, phone diallers and then a whole load of apps that run on a phone and have an element that runs on the watch like Google Keep. What an Android Wear device is capable of is down to the imagination of the people who have faith and invest in it at this early stage of the process and also the imagination of developers making apps to run on it.
There are third party Android Wear app stores, that basically just link you back to the Play Store to install them. It's a similar situation to what Google have created with tablets and their Chromecast, whereby finding suitable apps is a pain in the behind. Hopefully Google will improve the Android Wear section of the Play Store.
In Use
Imagine every single notification that ever pops up on your phone appearing on your watch. Well now imagine that some of those notifications are actionable, such as emails that can be deleted, replied to using voice recognition or opened up on the phone. Well now imagine all of the superfluous junk that appears in Google Now appearing on your watch too, such as the weather, parcel tracking information, random people you don't know birthday reminders, the number of steps you've taken recently, driving directions to anywhere that you dared to look up on Google Maps, how long it flipping takes to get home and no doubt some other stuff that I've yet to be pleasantly surprised with.
Once set up the LG G Watch starts to barrage you with notifications, the nice thing is that you can mute various apps from pushing notifications across to the phone. For instance I got annoyed with the Play Store telling me every morning that there was app updates to install, I don't mind it telling me that but not on my wrist at 5am, seriously there is a time and place. Another annoyance was Google+, get involved in a heated discussion about a music video and your wrist is going to vibrating more than is acceptable for a wrist. In both of these cases I easily muted the relevant apps and I was back to being reasonably happy.
What I found the most useful thing was how some notifications were actionable, so I'd get a junk email from a website where I occasionally buy stuff, my phone was in my rucksack, I glance down at the watch, a quick swipe to the right and tap delete. The email is no more. That power alone sold me on Android Wear.
But that feature highlighted how app developers really need to get on board with Android Wear. Most notifications that appear aren't really actionable, leaving you to pick "open on phone" from the list of options. Things could be so much better, but to give it it's due, Android Wear has only been around for a few months now and I imagine developers are waiting to see if it takes off.
Now and again I found myself being pleasantly surprised with Android Wear. On about day 2 of using it I complained on Twitter about the watch not having Google Play Music integration. Then lo and behold a few days later I was listening to some music on my phone and I spotted a new card on my watch, it was music controls. I was surprised that Google didn't really let you know about it.
Having the luxury of using several phones during an average week creates problems for me. Once paired and setup with a specific phone you'll need to factory reset the watch if you want to use it with a new device. If you chop and change between setup devices it works as it should, you'll just need to reset it for each new device. The only problem is when the phone syncs the installed apps to the watch, you may find apps disappear from your watch. This is only really a minor problem and no doubt Google will fix this in future updates.
I should really mention the battery life at some point. There are two options here, if you want the watch to be dimmed when you not interacting with it and bright when you look or touch it expect the battery to last you a day and a bit. If you want the watch display to be off when not used and only to turn on when you look at it or touch it you'll get closer to two days. The other factor in play is how many notifications you get, my watch was connected to my main phone, which meant that I had hundreds of emails and tweets come through onto the watch each day. Either way the battery life isn't good, it is one of the things I really hope they fix in future generations.
Voice Recognition
Voice recognition on the G Watch is a weird thing. It has several functions, mainly it is used for the "OK Google" command, it is used for attempting to get the watch to run Wear apps. A command such as below will take a note and add it to Google Keep.
"OK Google, take note, buy extra milk this week"
Which is quite handy, there are voice commands for setting alarm, reminders, navigation and also running the third party apps. Which is where the fun starts. If you say the following to the watch:
"OK Google, Open Compass"
It opens up the compass app. But if you install some other apps on the watch getting them to open with voice commands isn't possible. The main way I opened up apps was using an app called "Wear Mini Launcher" which basically gives you an app drawer which is only a quick swipe away.
The next thing that voice is used for with the watch is for doing web searches, even this is compromised though. A quick command as follows soon gets complicated.
"OK Google, where is Girona?"
As the results are basically a web page which you need to open on your phone. Yet a question about tomorrows weather or how old your favourite popstar is and you'll get the answer you want. It's all about being realistic with what you search for really.
Voice recognition works OK in a quiet room and I didn't have to move the watch up to my face, but if there is background noise you may need to move it a bit closer.
Conclusion
Overall I liked the LG G Watch, it certainly has some useful features, yet I feel the hardware is a little compromised. With a poor battery and screen meaning you'll end up in situations where you just can't use the watch. I feel that Android Wear is the main thing to concentrate on here, it has massive potential that is only really limited to peoples imagination.
I look forward to seeing how Google update Android Wear in the future and I also look forward to seeing the second generation of Android Wear devices, with better battery life, better hardware and hopefully better designs.