I have been a big fan of Google Glass for a while, pretty much ever since I saw the demo at Google I/O back in 2012. At the time it was tested jumping out of a plane whilst streaming via Hangouts.
Now, whilst that is not something everyone will want to do with Glass, I did see a LOT of potential in the future once more people get hands on the devices.
The biggest two sticking points I could think of were either the worry of wearing such a device all the time and having people concerned over privacy due to the front facing camera.
The second issue is the fact you have to hand over a large sum of money to own one – £1,000 to be exact!
Just before my trip to America, Google opened up the Explorer programme to the UK. This was in addition to the US, who have had Glass for just over a year or so. It enabled us here to finally have the Glass experience if we wanted.
During my last few days in Los Angeles I decided to put my money where my mouth was and order my own device, safe in the knowledge that Google offer a 30 day returns policy if I found problems or decided Glass was not for me.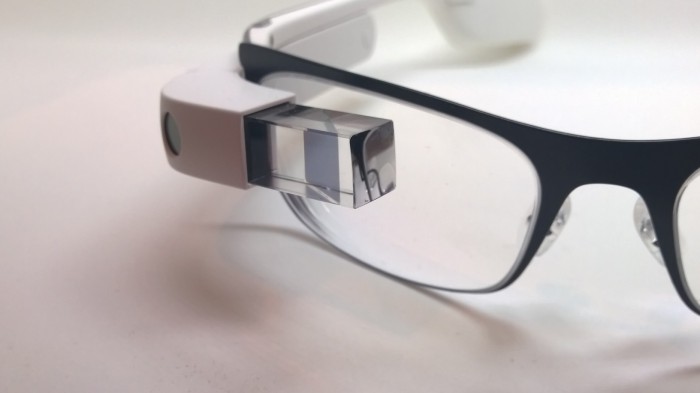 Ordering should be REALLY easy. In fact it's as easy as ordering any other Google Play device online. You visit the store, select your items, confirm payment details (which are already stored on Google Wallet) and away you go.
I was also about 30 minutes away from the Los Angeles Google Basecamp where they offer demos from experts, show off the frames and accessories on offer plus how to install apps.
If you are interested in Glass I really suggest booking an appointment if you are anywhere near one of these Basecamps, it allows you to try Glass without the cost, even just for an hour.
I arrived back home and my Glass was waiting for me. I decided to go for the 'Cotton White' one because it didn't stand out as much as the blue or orange ones, and white was a nice clean colour.
I also took the free frame option due to needing prescription lenses and ordered an 'Active' pair of shades for the summer.
Setup was easy. You download a 'MyGlass' app for iOS or Android on your phone, turn on Bluetooth and turn on Glass.
Pair the two like you would any other Bluetooth device, select the email account you want to use with it and follow the little tutorial about using the swipe pad on the side of the device to navigate.
Once setup you have a Settings option to customise it even more. This even extends to having the option to set an angle for activating the display when you tilt your head.
Having tried on Glass twice now, I knew I needed my prescription lenses as when wearing the device the text was a little blurred to me. So, using the free frame I got with the order, I made an appointment at my local Specsavers to get this done.
This was also a very easy process, which was a big surprise as Glass was a new thing over here and not many places would have seen what this actually was yet.
After getting an eye test to make sure my needs had not changed, the person doing the work tried on my Glass to see what the screen was like so they could make any adjustments needed.
Google provide a little card in the box which you give to the optician. This states the best type of lens and some other important information to help them get the suitable lenses needed.
My test was free and installing the lenses in my frames set me back £79, much cheaper than a friend of mine Tomi from GadgetsBoy, who was quoted £130 from Vision Express.
After handing over my frames and the money I was told it will be ready in 1-2 weeks, but really was done in about 3 days as I got the call to say they were ready shortly after.
Changing the frames on Glass is really simple. It's just one single screw to let you slide off the glassless frame.
Now I was all set with my Glass and my lenses (so I could actually see what I was doing), it was time to charge and head out into the real world to see how good these really were and how well they can be used in real life situations.
The funny thing is when I was wearing Glass I was always looking around at my surroundings to see what was going on, maybe part of me was concerned people would be looking and thinking 'I hope he is not recording me!' and another part of me concerned I had a £1,000 device on my head in case anyone snatched it off and ran.
I am a big guy….I would not catch them!
Whilst I did get a few looks, I could tell they were more in the way of wondering what it was or from people who knew what it was but had never seen Glass in real life before.
I let some of the team I work with try them on to see what they thought, all thought it was a cool idea but they nearly fainted at the price tag.
Living near the seaside I went out after work one day and started using Glass for taking photos and recording some videos.
Whilst I could have used the 'ok Glass….. take a photo' voice command, the amount of people around at the time I felt I would be a little silly talking to myself, at least on Wear you raise your watch closer so it looks like you are talking to something…not just yourself.
Glass has a rather small battery located in the end of the unit. Considering it has a camera, Bluetooth and WiFi connections, plus it has to power a little screen – I was a concerned how long it would last.
With Glass you will want it to search, take photos, use notifications and with this in mind you might not even get a day of battery from it.
I took it with me to work, showed it off for 5 minutes before turning it off until I finished.
I then turned it back on and set off to the harbour area for photos and searching, and by the time I got on the but to get home the battery was down to 5%.
Glass is there to be used, you have a whole world on information sitting just above your eye when you want it but in reality the battery makes using this daily a big issue.
If you start using Glass a lot early on, by lunchtime you are left with a £1,000 pair of glasses to help you see better (if you have your own lenses in). If you've not got prescription lenses then you'll end up taking them off and putting them back in the large pouch case it comes with.
The Good
Sense of pride having something not many have
5 megapixel takes OK photos and videos
Great having search, hands free
Prescription frames if you need them
The Bad
Limited applications make use right now
Privacy concerns from people not sure what this is
The price!
The battery!
Conclusion
My time with Google Glass was very interesting. Did the excitement of owning such a unique tech device live up to my expectations?
Well I have to say.. Yes
But did the device make me think it was something I can use daily now?
I have to say… No
The biggest reason for me is the introduction of Android Wear in new smartwatches and what they offer. When you compare the two there is more you can do daily on Wear than on Glass. with the exception of taking photos of videos.
Using Glass for 2 weeks, I took photos of many different scenes using the 5 megapixel camera, did a few Google searches, used to see multiple notifications and reply to some messages.
Photos can be uploaded over your mobile network to Google+, so you have them online to share whenever you want which is a great idea if you have a good data allowance.
But in reality the search, notification and voice dictation features were all better on a wrist watch with Wear than on Glass sitting on your head. This is why I came to the conclusion that, whilst Glass is VERY unique, still right now it is not really a mainstream device due to lack of services compared to Wear, and Wear is about £850 cheaper!
What I must say though is a big well done to Google for thinking of something very unique and going ahead with it, making tweaks here and there, but also mainly for daring to do something different.
Many manufacturers are making Smart watches now, they also have tablets, music players and mobile phones, but something like Glass is a big risk if it were not for Google being right behind it all the way.
If you want a device for quick notifications, able to do quick searches and reply to messages then Android Wear will be the device for you.
Glass will be a great product in the future, once the price has lowered and more services are available to the end user.
Until then, I enjoyed my time with Glass and is something I can tick off my always wanted to do list.