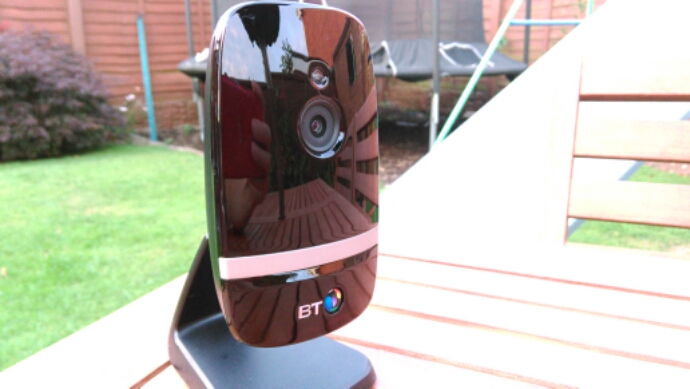 Things must be going well here at Coolsmartphone. People don't just want to send us phones to review any more, they want to send us security camera kit too. This one is clever (and we agreed to review it) because it works with your smartphone or tablet.
There's quite a bit of information about this but I'll try and keep it fairly brief. It'll basically sit in a room or office and monitor surroundings for you. You can connect to it on any web-enabled device and view what's going on, and you can do that from anywhere with a web connection. It's also clever enough to detect movement, and it'll both record the movement in a video and take a picture too. All this is stored in a secure cloud and you then get notified via email when motion is detected in the room or office you've placed the device.
As you can see below, the camera sits on a stand and you can adjust it as required.
First up though, let's go through the setup. True to form, I've put the instructions in the bin. It's the best place for them to be honest and this is how we roll at Coolsmartphone. To be fair though, just before I binned them, I did notice that they were very easy to follow and quite friendly. I'm sure many people don't read instructions purely because they feel that they are going to be quite difficult or confusing. Not so, believe me. Not so.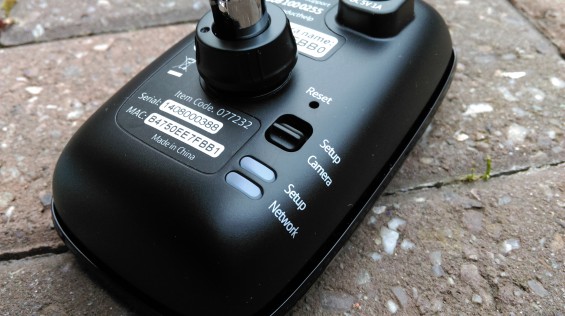 The setup process involves you switching the camera to .. err.. "Setup" mode. Flick the switch, then connect to the hotspot it kicks out and put in some details.
Here I am doing just that. The "Step 2" that is being referred to below is basically switching the camera to "Setup" as I just mentioned. That'll stop the camera trying to connect to your WiFi and will instead pump out a hotspot of its' own.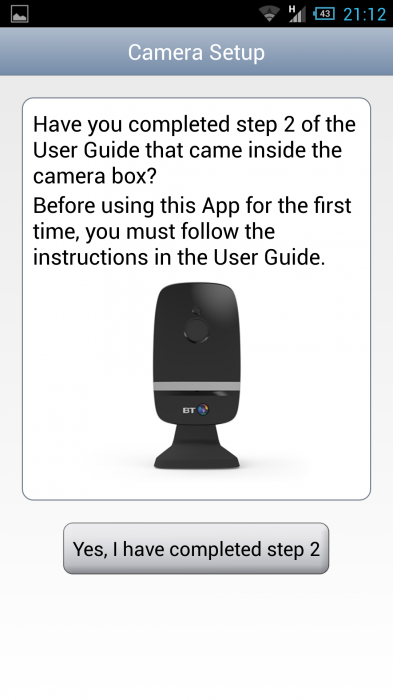 You then grab your smartphone of choice (Android or iOS) and connect to the WiFi hotspot. The name of the hotspot will be written on the back of your BT Smart Home Cam, so just connect to that and it'll go to the next stage. The camera will then ask you for the details of your home WiFi so that it can connect to the internet itself. You're presented with the WiFi networks it can see and then you just select your own and enter the required passcode for your home.
Here's me giving the camera a name and entering the details it'll need to create a BT Home Smart Cam account..
That account, by the way, is required if you want to setup storage or connect to the device remotely. All the images and videos that the camera takes are stored in the BT cloud, so you can setup a free account so you can remotely connect and take snaps or video, but to store video and images that have been triggered you'll need to sign up for a full account..
During my review I've happily used the full account for more than two weeks. It seems that BT currently supply this as part of the £99.99 retail price, provided you're aware that the captured videos and photos are deleted after 30 days. As you can see by the message above, this can be renewed every two weeks, which is a little fiddly granted. BT call this cloud storage their "Premium Service" and tell us that…
Premium service is currently a free to use trial service. BT is currently reviewing whether to continue with this service and at what price it will be offered to users. The standard product features will always be free.
With no ongoing pricing currently, renewing it every two weeks isn't a massive burden.
At any time, regardless of whether you've activated this cloud storage or told it to do motion detection, you can log in via your smartphone using the BT Smart Home Cam app from your app store. This will let you log into the camera, see live video, and record video to be saved directly to your smartphone. You can snap a picture or simply just watch live HD video of your kitchen / garage / street or whatever you've pointed your camera at. Best of all, there's no firewalls or stuff to worry about and, if you want, you can login via a web page from a PC or another web-enabled device by just browsing to myhomecam.bt.com and sticking the username and password in that you set up.
Here's me checking my camera. In this shot, it's facing the street outside as part of my testing. I can snap a photo at any time or record some video footage..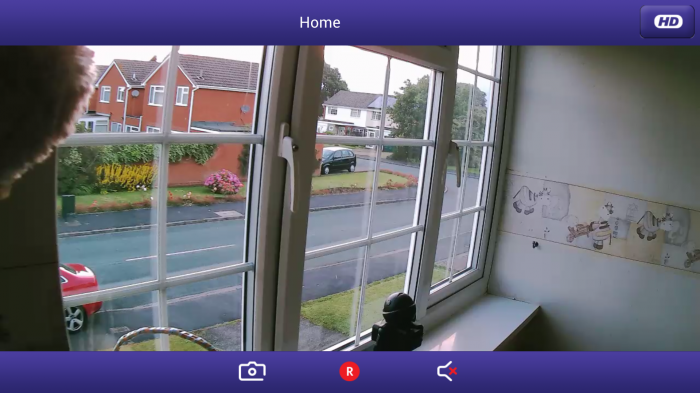 You get audio too, so you can hear exactly what's going on. Oh, and it'll do infrared too, so it works in the dark. Those four magic LEDs on the very top picture do the magic. In the shots below I've put the camera in my garage, which is really cluttered and messy. However, with the Night Vision turned off it looks like this..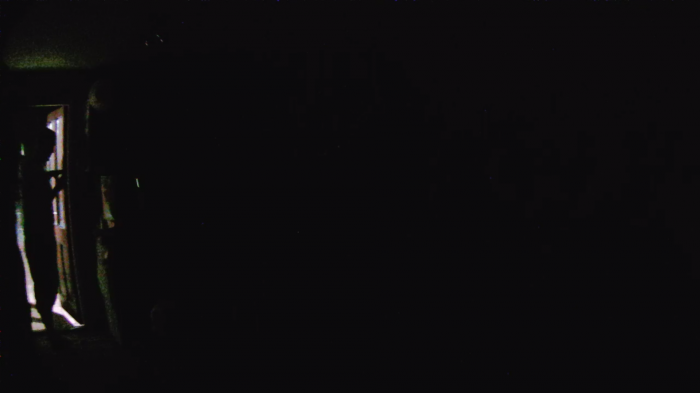 Then here's how it looks with the infrared enabled..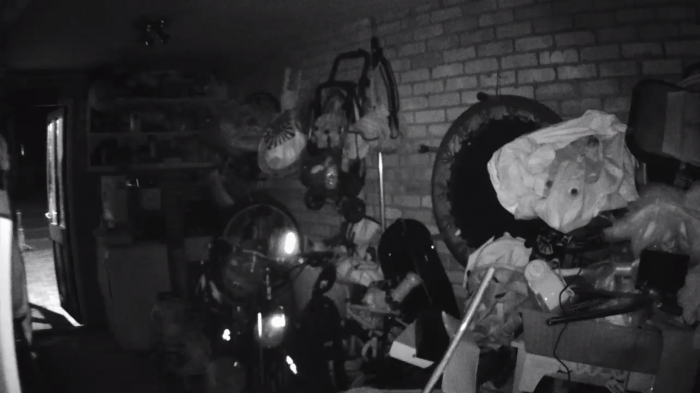 The back of the garage there is about 12″ away, yet it's illuminated and you can see the shelves.
There's a raft of options. You can also adjust the motion detection sensitivity if the camera gets a bit too over-zealous.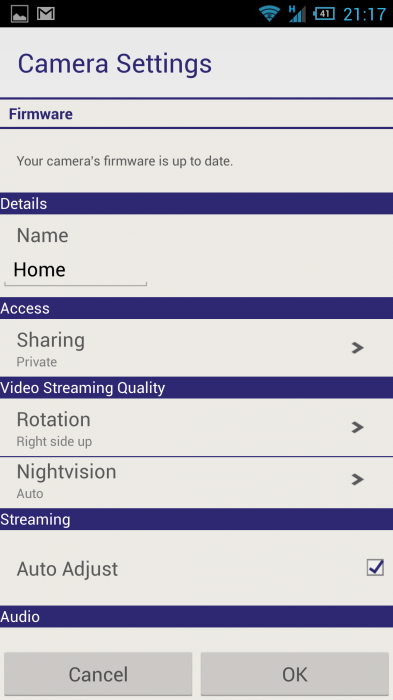 You can share your camera with family and disable audio if you wish. If you turn on the "Save Clips" option (which is off the bottom of the image below) it'll email you every time movement is detected. If you position the camera incorrectly, or forget to turn this option off when you're in the room itself, you'll get a LOT of emails and notifications..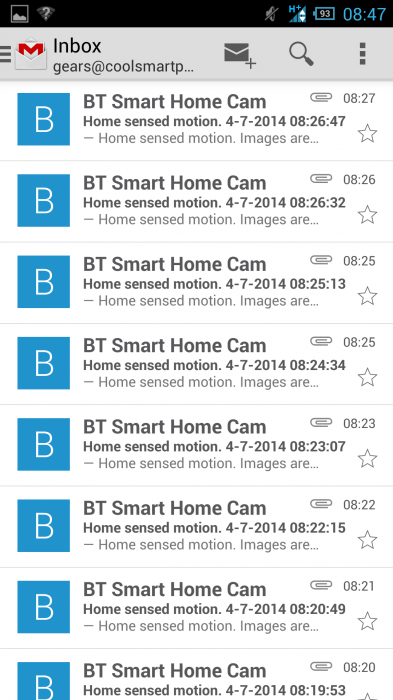 Yeah. I did that. Here's some of the footage that got stored. All of these videos are kept in the cloud and, when you view them, they'll get streamed to your device.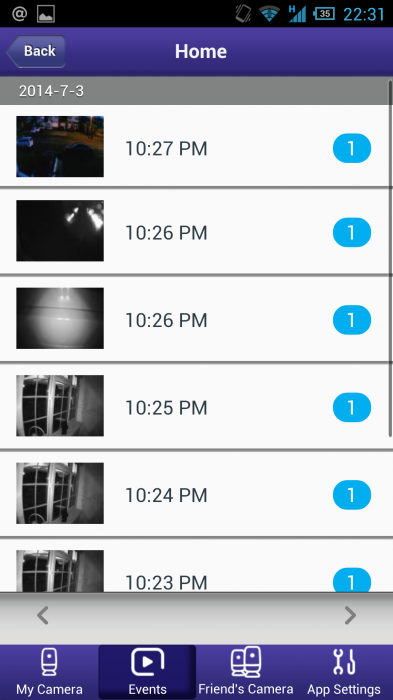 Here's a video showing the app in action..
Conclusion
For notifying you of movement, you really need to ensure that this is only used when you're away from home or out of a certain room for a certain length of time. If you're going to use the notification / motion detection then you're best to use it just for holidays and business trips when your home is empty as, without a scheduled on / off system to deactivate the motion detection when you're using the room (daytime hours for example), you'll end up with a lot of false positives.
This is an ideal solution if you'd like to keep an eye on your baby,  your pet or look at your home from far away. The ability to stream live footage to any smartphone is pretty great, and if you're at work then it's an ideal way to have a quick look at your home from where-ever you are. You can also use it to check on your child from downstairs perhaps.
Overall, for £99.99 it's a fantastically simple camera which makes connecting to your home easy and quick. No firewall worries, no great technical problems to get past – just a solution that works.
BT Smart Home Cam review
Ease of use - 8.7
Build quality - 9
Price - 8.3
8.7
Although this doesn't offer high-end security, this is a well-done smart camera for your home