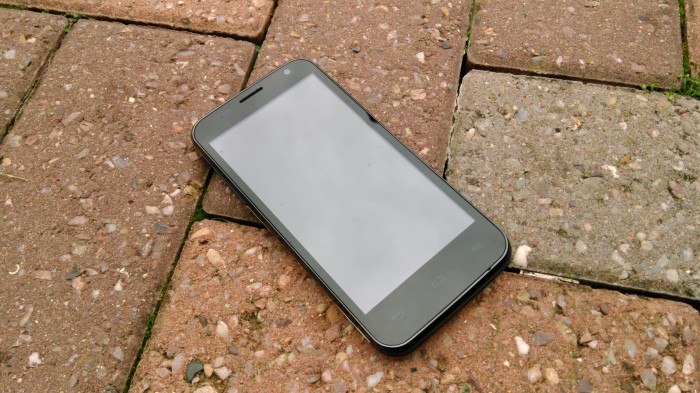 Made by a company called "Yulong" (no, we've never heard of them either), this is the rather cheap (£75 on Pay As You Go) Vodafone Smart 4.
Inside there's a dual core 1.2GHz CPU and just 512MB RAM. It has a pretty decent amount of on board storage though – 4GB – and seemed to perform well enough in our testing, even after we installed our usual apps.
The 4.5″ 480×854 pixel screen isn't obviously going to out-perform one of the higher-end smartphones, and icons do appear larger on the screen, but for less than a quarter of the cost, you've got to expect the odd compromise here and there. That said, the screen performed well enough in daylight.
You get a lot of the usual smartphone features, including GPS, Bluetooth 4.0, a microSD card (for up to another 32GB) and WiFi. The data connectivity when you're out and about is 3G – you'll need to be looking at the Smart 4 Turbo for the 4G-capable one.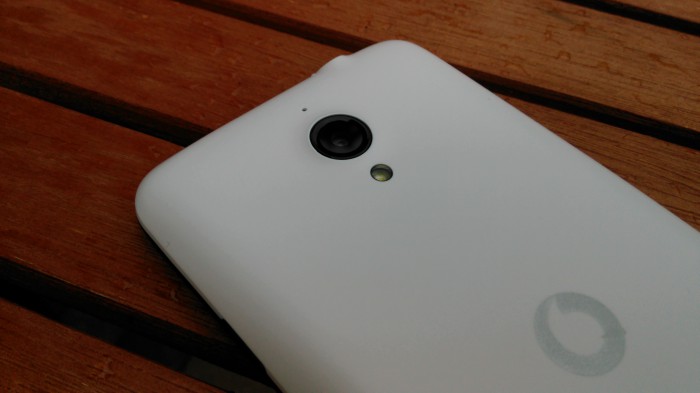 The camera equipment comes in the form of a 5 megapixel rear shooter with a flash and front VGA unit. Unfortunately that rear cam is fixed focus and it struggled when taking photos featuring light and dark. To be fair the images did show up better when they were viewed on a PC after. The screen itself doesn't do them a great deal of justice and they can look worse than they actually are.
I managed to get a half-way decent shot by standing in broad daylight with the phone held dead steady, otherwise it'll blur.
Here's a few examples….
Tour
The two-tone handset has a removable rear panel where your micro SIM and microSD card lives. Under the battery is the only reference to the real makers – Yulong. The antenna is mounted in the rear panel and attaches to two contact points.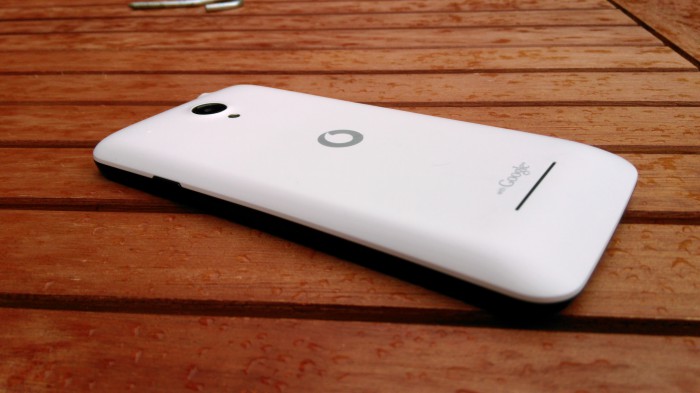 The top features the charging point and audio port. I'll leave it up to you as to whether you like these ports up top or down south. Personally I'm just glad that both are together.

To the right, a small power button. Despite the size, it is easy to locate and press.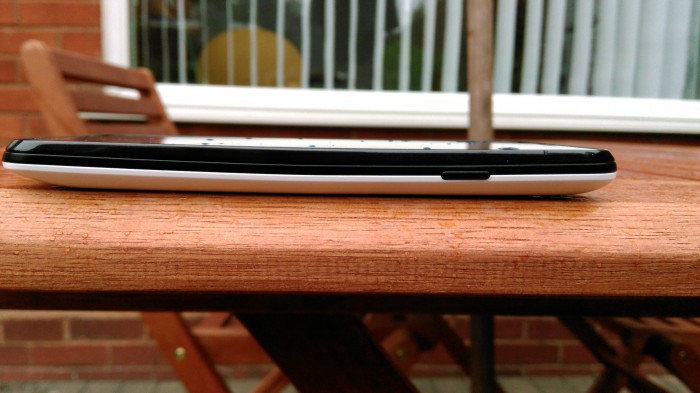 The left edge has the volume controls which again see pretty understated and functional.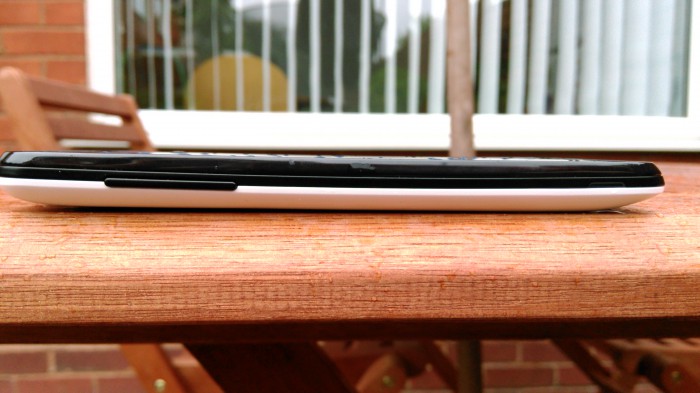 The bottom comes to a point and the microphone sits on the black polished front plastic under the touch-sensitive keys. These are a little large, and do give off a feint air of "basicness" about them, but again they work well enough and will help you navigate Android 4.4.2.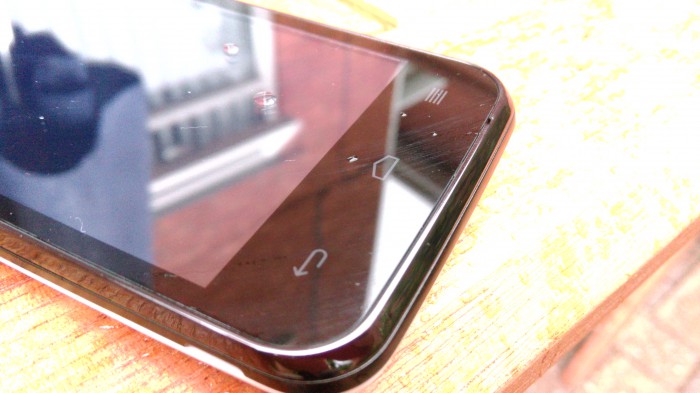 At the top of the screen there's the proximity sensors, earpiece and VGA front camera for the odd selfie and video call with apps like Skype etc.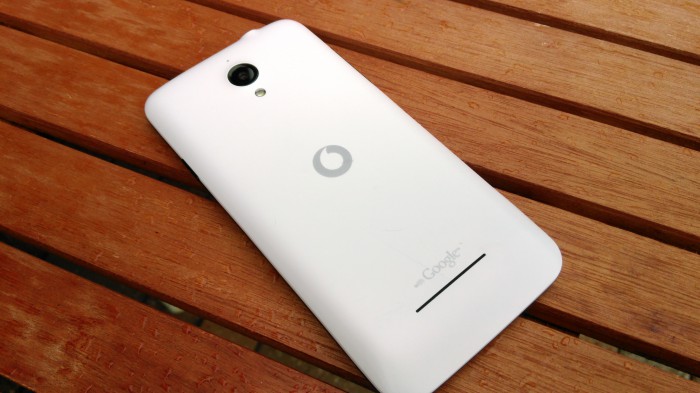 The rear white battery cover has the external speaker, secondary microphone, 5 megapixel camera and flash.
To be honest with you, for a company that we've never heard of, the build and spec of the phone isn't at all bad. It holds well in the hand and doesn't look tacky or embarrassing when it's on the pub table next to other handsets.
Inside
Having the latest version of Android is a bit of a bonus and, although it might get a bit stressed when you start multitasking heavily, the two CPU's chug along fairly happily. It's not a wild speed experience, but at the same time you won't be screaming at it to hurry up. Fast enough for most people.
The usual Android apps are here, along with the Google goodness you've grown to expect along with some useful and not-too-in-your-face Vodafone extra bits too.
This being Android, you can sync your life with GMail and create appointment and contacts safe in the knowledge that everything is sync'd with the infamous Google Cloud. Apps, widgets and folders can be created on the home screen and you can change the way that the phone looks via the endless customization options which allow the alteration of the Vodafone Smart 4 into your phone.
The browser, the text system and the other expected and highly-used parts of the phone work well. I used Chrome quite a bit on this phone and it performed without issues – it rendered Coolsmartphone quickly enough and I can (as with almost all apps) share pages via text, Facebook, Twitter or other apps on the handset.
Overall
The only issue I really found with this handset was the camera, which just wasn't up to the mark and produced disappointing results. The handset itself is well put together and performs incredibly well for a £75 device. It looks good and, if snapping photos isn't something you necessarily do a great deal, it's a nice phone with good specs and a reliable Android experience for not-that-much-cash.
At this price point you know that you're not going to get super-ultra-fast performance, but it did chug along well enough and it's just the right size to use one-handed. A good price point, good performance and some good on-board Vodafone apps with all the latest Android tricks.
Vodafone Smart 4 Review
Battery - 82%
Camera - 37%
Software - 85%
Build quality - 84%
Screen - 77%
A decent enough handset which unfortunately let down by a fixed-focus camera which gets easily confused.