The new Lumia 930 is going on sale tomorrow here in the UK (Thursday 17th July) and many of the networks have decided to stock it, including EE on their 4G brand.
What is amazing is the PAYG deal they have managed to put together, the only condition being that it must be either black or orange that is.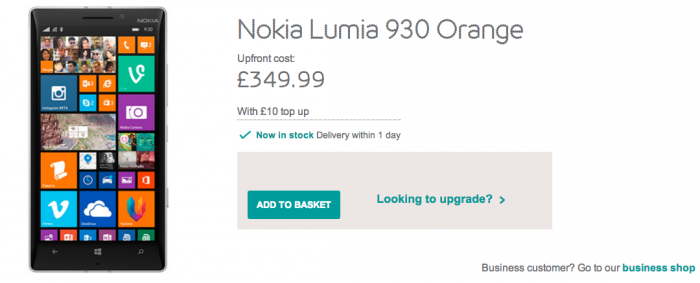 For just £349.99 you can own your very own Lumia 930 on PAYG, complete with wireless charger in the box so you can enjoy the benefits of wireless charging.
If you need a SIM-free device then Carphone Warehouse sell for £479.99, or buying 'PAYG'  from Phones4U gets you the same unlocked device but at a cheaper price of £429.99 with choice of Black, White, Green or Orange.
However, if you are an EE customer and want to own a Lumia 930, then direct is the best bet with an unbeatable offer whilst stocks last.
Not only will you get a great price, but a great handset too. It features a 5 inch 1080p display, 20 megapixel PureView camera, built in wireless charging and the latest version of Windows Phone which is 8.1 right out of the box.
We have a Lumia 930 in for review and will be bringing our initial impressions in the next few days.
Link: EE