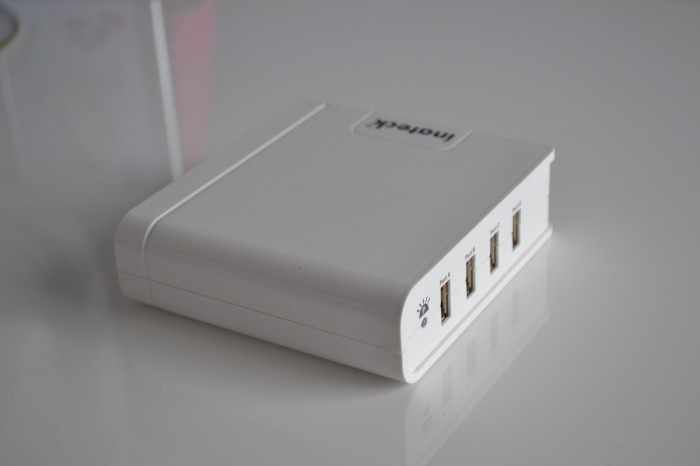 My night time ritual goes something like this, put the cat out lock the doors make sure all the windows are closed and then walk around the house looking like Mr T from the A-Team with a multitude of charger leads and plugs round my neck, as I seek out walk sockets to plug in the following iPad Retina, iPad mini, Wife's iPhone, My Note 3, My Nexus 7 and sometimes my pebble smartwatch and any other gadget or toy that needs charging.
I'm sure I'm not the only one of us facing this predicament. It was with this in mind that I jumped at the chance to review the Inateck 4 port powered USB Desk Charger.
Design
The desktop charger comes in two colours white and black and size wise is a little bigger than an Apple TV measuring in at 100mm x 105mm x 32mm, on one edge are the 4 powered USB ports and an extremely bright blue led, on the opposite edge is a on/off switch and the 240V input. I was sent the white unit through for review and apart from the Inateck branding on it, when glancing over you might think that the unit was made by a certain fruit company.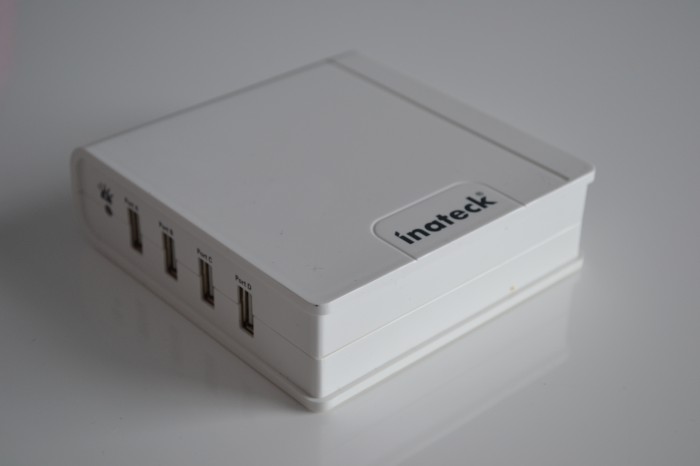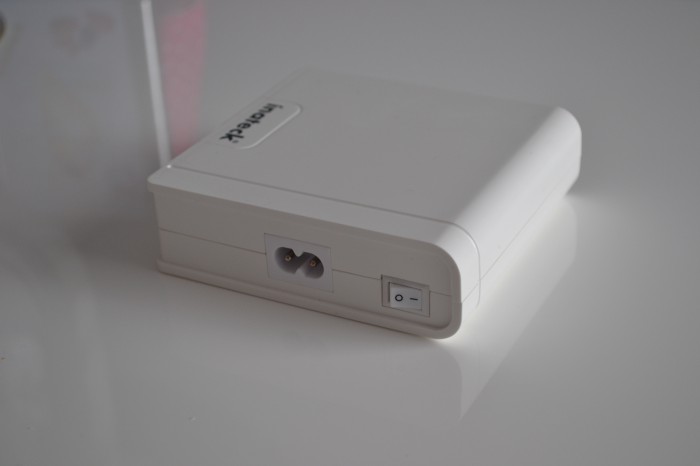 In Use
The output for the Desktop Charger is rated at 4x5v 1.5A Charging Port, Charging devices at 5V6Anmps (30 watt) which means absolutely nothing to me, so I plugged in my iPad Retina, my iPad mini, Note 3 and Nexus 7 and boom they all happily charged, I'm a happy man.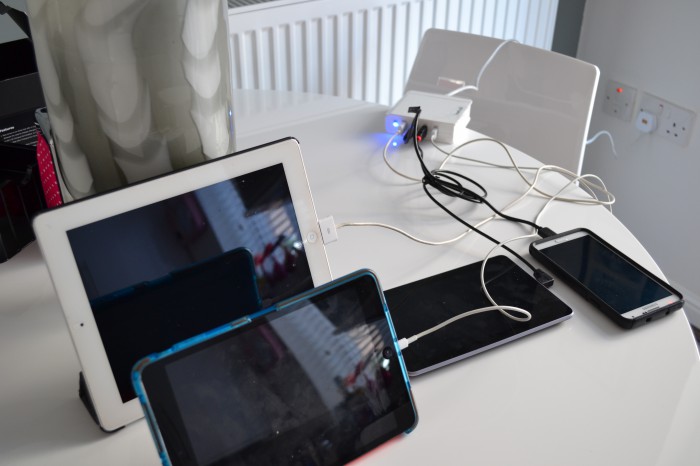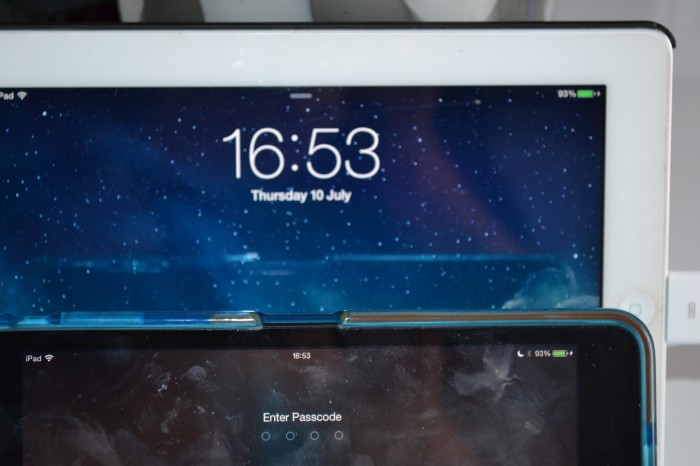 Two iPads happily charging along with a Note 3 and a Nexus 7
I could only find two small drawbacks with the charger, these being.
1. The blue led is impossibly bright, enough to almost light a room, so not good if want to use the charger in the bedroom at night.
2. The charger couldn't charge my HP 11 Chromebook, but to be fair the 11, although stating that it will charge from any micro USB phone charger this is not the case as it needs a whopping 3amp output charger, I haven't found anything other than the OEM charger that works.
Conclusion
The Inateck Desktop Charger does what is says on the tin, and although being relatively inexpensive, retails for under £20, it does not appear cheaply made. As I said I could only find two small drawbacks, and one of these was specific to one of my devices and the second can be fixed with a little bit of tape. Whenever I'm sent review devices through, I always think would I buy this with my own money ? In the case of the Inateck Desktop Charger it would be a yes, I have already thought of a use when going away in holiday I'll only need one travel plug to charge loads of my kit.
Check out the Spec's on the official Inateck Page or order one from Amazon UK