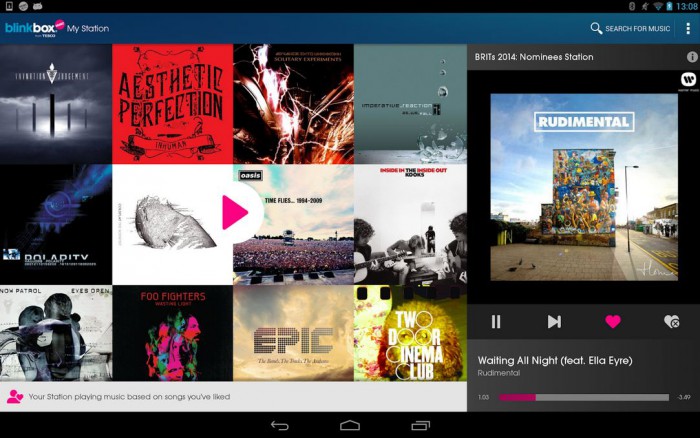 Tesco have sent me something. I think it's because I've started shopping in Aldi more. Who knows, but they are trying to grab my attention. They own blinkbox music, which is another offering alongside their blinkbox TV and movie streaming service. Considering they've not sent the Coolsmartphone team free Tesco beer or free Tesco curry I'm trying not to promote this one too much, but their offer does seem to stack up well against the opposition.
Launched only last year, there's a free mobile version (supported by ads) similar to Spotify, however if you do want to pay then it's only £1 per week and that'll let you save 100 tracks to a "locker" so that you can listen to them offline.
If you don't want to pay, then you can still save stations to your phone and listen offline. You can save up to 10 and there's over 12 million songs available to stream or download. You can either let the app create a radio station for you or select one of the music radio stations from a range of genres – pop, rock, indie, dance, urban, reggae, motown, chill out, jazz and many more.
If you've not tried a streaming service before, or you want to compare it to one of the existing ones out there, have a look at the comparison chart below to see how it fairs with the competition. Or, if you just want to download the app and give it a try, head over to your usual app store or the blinkbox music website.
We'd also love to hear your opinions if you're using this. Just don't ask us about the Windows Phone version, because there isn't one – only the TV and Movie version. Oh, and do click the images if you can't see the text.