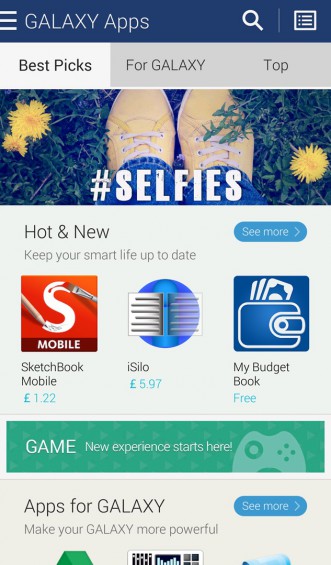 I tell you what Android needs. Another app store. That's what it needs. Yeah. Never mind the fact that there's already the Amazon App Store, GetJar, AppsLib, F-Droid and various other ones that appear on those "couldn't quite get Google certification" handsets. We need more.
Luckily Samsung are here to announce another one. However, it's not a totally new player – the Samsung Galaxy Apps store replaces the previous .. err.. Samsung Apps store. They tell me it's more than just adding the word "Galaxy" in though…
The new store features apps that will allow greater customisation of your mobile device, as well as offer various promotions and discounts. Samsung Galaxy Apps features an intuitive interface comprised of three sections; Best Picks, Top, and For Galaxy.
In an attempt to make their devices a little more appealing, they've got "Galaxy Specials", which lets you download apps specifically created by using Samsung SDKs. Basically, if you've got a Galaxy device, it's here that Samsung want you to be looking because a lot of the apps have been designed with these handsets in mind.
You can get a little more detail on their new site and we have the full press release below, which includes words such as "experience" and "exclusive".
🙂