It had to happen, but we really didn't think it would be so soon. A new wearable has been announced by LG which is designed for pre-school and primary school children. It's designed to help parents keep track of the child's location at all times, presumably should they misplace them.
The KizON wristband is equipped with GPS and Wi-Fi, plus kids can dial a preset number in case of emergencies.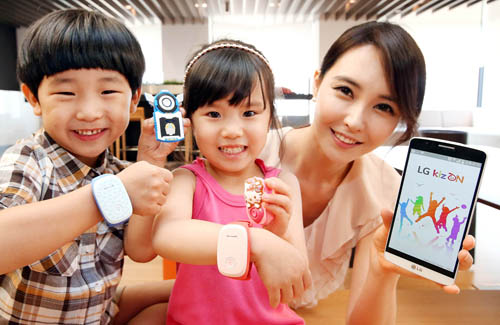 We're sitting on the fence on this one. Whilst the safety aspect and that terrible moment when you lose your child in a crowded supermarket are both admirable reasons for getting one, it might mean that some parents rely too much on systems like this and allow pre-school kids to venture further afield without someone being present. That and the fact that kids will probably just remove the tag, sorry, wristband.
The launch details state…
With One Step Direct Call, parents can easily communicate with their children as well as providing them with information on the location of their children throughout the day.
The device is to launch in South Korea on July 10th and boasts a 36 hour battery life, 64MB RAM / 125MB ROM and will be available in blue, pink and green. Pricing is yet to be announced and it'll be offered up in America and Europe later in the year.