A couple of weeks ago we posted an article about the release of a selfie stick and I was lucky enough to be sent one to review. Now I'm not a selfie fan, okay I'll admit I hate them, so I might not be the best person to review it … but hey, here we go.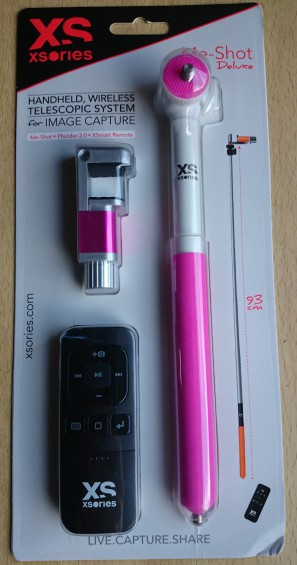 The Me-Shot Deluxe comes in three parts, the stick (the Me-Shot), the holder (Pholder 2.0) and a little remote control (XSmart Remote) to allow you to take the picture. The stick starts off at 23cm but extends out to 93cm. At the end of the stick is a universal 1/4″ screw which you can secure the holder or attach a camera directly.


The holder can be attached in two different ways and allows you to secure your phone and point it in any different angle. You can rotate the holder 180 degrees over the top of the stick. The holder has silicone pads to hold your phone which are opened and closed using a large, easy to turn knob.
The holder is very secure and even finger tight it will hold a weighty smartphone without a problem, although I wouldn't recommend swinging it round your head just in case. It will probably even hold a tablet, but if I see anyone using one for a tablet selfie then I will explode.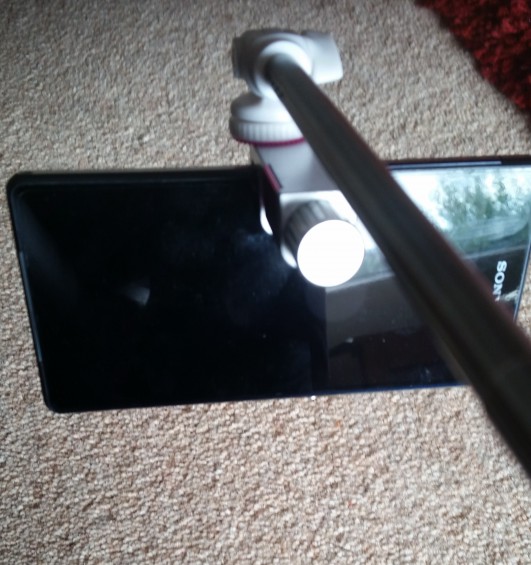 The final part is the remote and for me this is the most interesting part of kit. It connects to your phone via Bluetooth, you just switch it on via a little sliding switch on the side. You then put it into pairing mode using a wireless switch on the hidden keyboard, pop in the PIN displayed on the phone screen and that's it. I connected it to both a Sony Xperia Z2 and a Samsung Galaxy S5 without a problem, the instructions also say it will pair with an iPhone or iPad without a problem but I wasn't able to test this. I did try it with a Nokia Lumia 1020 running Windows Phone 8, and it doesn't work, it just doesn't hold the connection.
The remote is small and easily pocketable, at the top is a 4 directional switch with a central button which can use for media controls – play/pause, skip forwards, backwards and volume. These worked well on both phones I tried. Below these are 3 other buttons – one that acts as a home key on Android, an enter button used to take pictures and a keyboard button that I couldn't find an actual use for. The slide action on the keyboard is smooth but the buttons underneath are a little fiddly. The whole thing is powered by two small round batteries (included), the type you get in clocks.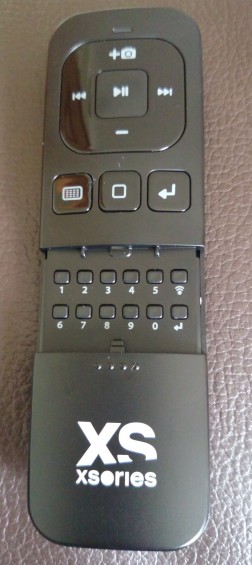 Once you are connected, just launch the camera app, select your desired mode and you are ready to go. The press release and box give two suggestions for the stick and remote, you can either use it for selfies (shudder) or use it to get shots you wouldn't otherwise be able to get eg above crowds (not normally a problem for me with my long arms) or to get closer to animals. You can use the remote with a variety of phone camera modes, for example panorama and dual shot on the S5, burst mode and the zoom on the Z2 all work fine. However it does only work with the camera, it won't work with video capture even if you select a video only mode on the handset.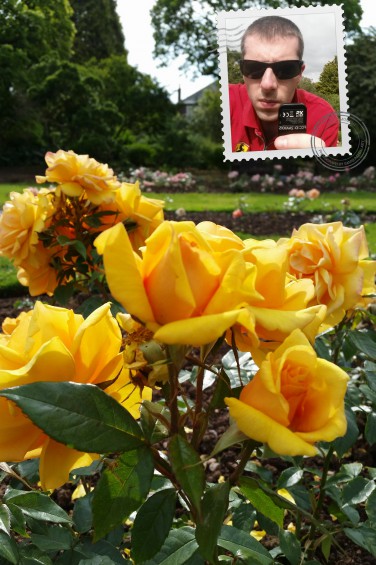 On the negative side I did have a few issues where it wouldn't always take a picture, mainly on the Z2, but that might be user error or problem with the phone. It seemed to work fine 90% of the time. The other problem was that once it was connected to one phone, I had to completely re-pair it each time I wanted to switch phones – not a problem for most people I'll admit.
Overall I really liked the device and, whilst I personally wouldn't use it to take selfies, the remote is great for taking pictures without having to be handling the phone. No more running around after setting a timer, and the stick allows you to take shots you wouldn't normally be able to take. I have a few ideas, like putting a Z2 underwater and taking remote pictures whilst staying dry. If the remote had a viewfinder it would be even better, although probably a lot more expensive.
Verdict: Top device, what what!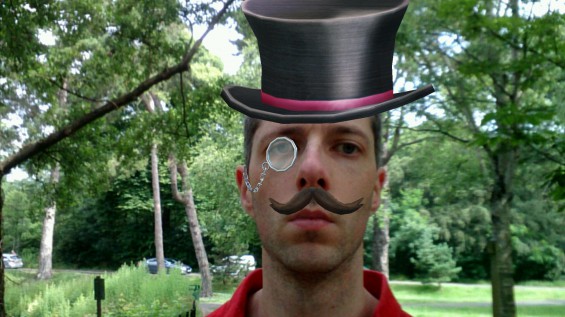 Many thanks to Xsories for the review unit, you can see their full range of products here or jump straight to the Me-Shot Deluxe here.